Mounds of History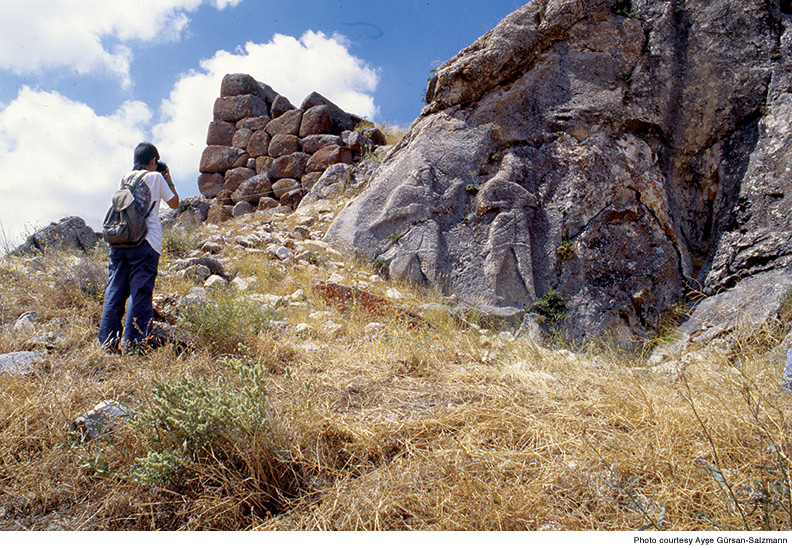 Turkish villagers learn the importance of preserving ancient burial grounds in their backyard.
---
When she was a student growing up in Istanbul, Ayşe Gürsan-Salzmann G'69 Gr'92 never learned about Gordion in history class. And though the Bronze Age city is now considered one of the world's most important archaeological sites and lies just 40 miles from Turkey's capital, Gordion only claims "one short paragraph" in Turkish history books today, says Gürsan-Salzmann, deputy director of the Penn Museum's Gordion Project.
It is the place where King Midas, of the famed "golden touch," ruled the kingdom of Phrygia during the late eighth century BCE. It is where Alexander the Great cut the intricate Gordion knot in 333 BCE. It holds the largest concentration of tumuli, or burial mounds, in central Anatolia (more than 120); the oldest stone floor mosaic ever found (9th century BCE); and the oldest standing wooden building in the world (740 BCE), notes project director C. Brian Rose, the James B. Pritchard Professor of Archaeology.
"The wood doesn't decompose," he explains. "It's under a 170-foot high mound of earth, and that keeps the temperature at a constant of less than 50 degrees Fahrenheit. … We monitor it all the time."
The Gordion Project is Penn's largest and longest excavation. Penn has been leading the digs since 1950, when professor Rodney S. Young launched excavations under the auspices of the Penn Museum ["Beyond the Golden Touch," May|Jun 2016]. Fifty years prior, the site had been discovered by accident when German engineers working on the Berlin–Baghdad railroad spotted large, flat-topped mounds littered with pottery shards. But after three months of digging, the site was abandoned for half a century.
"When Penn's excavations first started in the 1950s, this was a very poor village," says Gürsan-Salzmann, who began a long-term ethnographic study of the surrounding villages in 1995. "They were doing a lot of agriculture and herding, but there was no electricity, and they didn't have access to vehicles, so they couldn't really go into town to buy anything."
Some of the tumuli are in the middle of citizen-owned land, she explains. "So some people have actually halved a tumulus, using it as an agricultural field."
"There wasn't enough knowledge," Gürsan-Salzmann says, "of what a tumulus is, and that it's not just a geological formation."
Those who did recognize the tumuli's importance as burial sites would sometimes start digging into them themselves, looking for things they could use—or artifacts they could loot.
As she talked to the villagers, she realized only a small fraction had any understanding that Gordion represented a slice of history—or their own history, for that matter. They told her, "'We really did not know that the house where we live sits on a historical monument,'" she says.
Interactions like this triggered the idea of starting the Gordion Cultural Heritage Education Program (CHEP), which launched in 2014 to inform the local population of the importance of the site and garner a personal connection to it.
"I believe protection of cultural heritage and preservation is not only about artifacts," says Gürsan-Salzmann. "Its core elements are people and their identity." CHEP was conceived, she adds, "as a preventative measure against the destruction of people, monuments, and cultural values."
Directed and coordinated by Gürsan-Salzmann, Rose, Penn archaeobotanist Naomi Miller, and Halil Demirdelen of the Ankara Museum of Anatolian Civilizations, the program is now in its sixth year of inviting local students, teachers, administrators, and their families to work and learn at the dig site.
Participants are invited to help with basic conservation, such as cleaning ceramics and other small finds. They are taught lessons in history, botany, and anatomy. A favorite activity involves reconstructing the whole skeleton of a Phrygian sheep from a pile of bones.
"Basically, they're exposed to or involved in virtually every aspect of the excavation," says Rose.
One year, adults and children alike worked on cleaning and restoring a mosaic floor made from pebbles. When a student asked about the source of the pebbles, he was elated to learn they were from a stone quarry only a half hour away. The group took a field trip to the quarry and found "pebbles that matched almost exactly the same pebbles that were used in this mosaic floor," says Gürsan-Salzmann. These were carried back to the site and used in restoration.
Other excursions include a trip to the Ankara Museum of Anatolian Civilizations—an "essential," says Rose, since it contains objects from the so-called Midas Mound—as well as to nature reserves to learn about indigenous flora and fauna; and the medieval town of Beypazarı to view traditional handicraft activities, such as lacemaking, marbling, and woodworking.
"The goal is to get the community engaged in understanding that the land on which they live was lived on before," says Gürsan-Salzmann. And it's working.
Since beginning with four students in 2014, interest in the six-week program has quadrupled and shifted to a majority of teachers, who are excited to pass the information on to their students.
In feedback gathered at the end of the first season, one student wrote, "I learned that the earth I step on is not just earth; it embodies many civilizations that connect humankind."
Another shared, "It is members of a foreign university who are doing the work of conserving Gordion, to preserve 'our' heritage for us. So the least we can do is learn how to keep it alive."
Local interest in the site has also grown. "In fact," adds Gürsan-Salzmann, "there is an increase in the last two years in the number of Turkish university students and professional experts who have been participating in excavations, conservation, and research at the site."
And the program has expanded beyond the village boundaries. In 2017 and 2018, CHEP staff were invited to organize workshops for teachers in the district capital. The workshops drew as many as 40 attendees. Afterwards, Gürsan-Salzmann says they were thrilled to learn that some schoolteachers were planning to incorporate visits to Gordion into their courses. A math teacher suggested a problem-solving session that would calculate how much earth was needed to build the conical Midas Mound. A teacher of economics wanted to teach the ancient system of trade, which is thought to have been based on barter. Others discussed the possibility of training local high school students to be weekend guides at the archaeological site.
In the beginning of her ethnographic study, Gürsan-Salzmann recalls, "The recurring questions were, 'What are the Americans doing at the site all these years, and what do you gain from doing it? Are you still finding something precious?'"
Now, she says, the villagers have an understanding that they themselves are the primary stakeholders. "And as such, they have to learn to preserve Gordion and its landscape just as they are preserving their recent historical monuments." —NP