Will The Real Quakers Please Stand Up?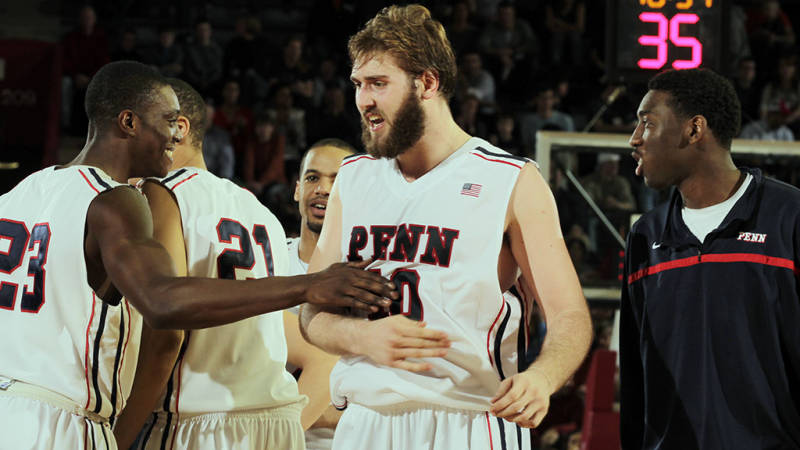 It was supposed to be a special day for Penn basketball.
Hours after ESPN's College GameDay came to the Palestra to film its well-known pregame show before Temple played La Salle, Penn hosted Saint Joseph's in the back end of a unique day-night doubleheader at college basketball's most historic gym.
The building was buzzing with energy with St. Joe's fans on one end and Penn fans on the other … the ball was tipped for the second Big 5 game of the day … and then … and then, well, Penn failed to show up.
Sure, that might be a sports cliché. But, in this case, it's also fairly close to the truth as the Quakers gave up wide-open three-pointers all night, falling behind by as many as 38 points in an eventual 85-68 loss to the Hawks on Saturday and prompting Penn head coach Jerome Allen to call it an "old-fashioned beat-down."
During the course of a season, losses like these happen. Villanova, the fourth-ranked team in the country, just lost in similar fashion to Creighton. But there are two reasons why Saturday's setback is especially troubling and perplexing for Penn.
One, as mentioned above, it came on a day where the old gym on 33rd Street was filled with excitement – excitement that quickly fizzled (at least on one side of the gym) when the Quakers were run out of the building in the first half.
"We don't realize the fact we have the power to shape a lot of people's experiences by having the opportunity to play college basketball," Allen lamented after the game. "It was a great crowd all day. I just wish we connected to that type of atmosphere on a consistent basis."
And two, the loss came just one week after Penn put together its most complete performance of the season in a 77-74 Ivy League-opening win over Princeton – a win that was supposed to turn the Quakers' season around. I asked Allen if the stark difference from one week to the next made Saturday's result feel even worse, and here's how he responded.
"You would like to try to have some consistency in terms of results and try to put things together," he said. "Win or lose today, I was hoping we would have played the right way just in terms of improvement – and that wasn't the case."
The perplexing part of Penn's most recent loss – and its ugly 3-11 record to date – is that the Quakers, in many ways, look like a team that should be able to consistently compete with most teams on their schedule, and certainly most Ivy League teams.
When healthy, Penn has a guard few Ivy players can stop off the dribble (Tony Hicks), a center few Ivy players can contain inside (Darien Nelson-Henry) and two talented seniors who have been through their fair share of grueling Ivy League weekends (Fran Dougherty and Miles Cartwright). Throw in athletic swingman Julian Harrell, a few veteran reserves like Henry Brooks, Greg Louis and Steve Rennard and a couple of promising freshmen (who made a lot of plays in the second half vs. St. Joe's to keep the score respectable), and it looks on paper like the Quakers should have a solid squad on the rise.
That, at least, was why they were picked to finish second in the Ivy League. And that's what they showed in upsetting an 11-3 Princeton team, which St. Joe's head coach Phil Martelli called "one of the best wins of the year in college basketball."
But it's also hard to argue with a 3-11 record and other troubling stats, one of which is the team's 16.7 turnover-per-game average (the third worst average in the country).
Simply put, there have been good Penn teams and, especially in recent years, bad Penn teams. But it's hard to remember a Penn team as maddening as this one.
So when the Quakers resume their season with a home game against NJIT on Saturday and then continue with 13 straight Ivy League contest, the question is should we expect the team to play like they did against Princeton and make a run at the program's first league title since 2007? Or will they look more like the one that was soundly drubbed by St. Joe's a few days ago?
Or, put another way, can a team go from a non-conference loser to an Ivy League winner?
– Dave Zeitlin C'03