A Gamble That Paid Off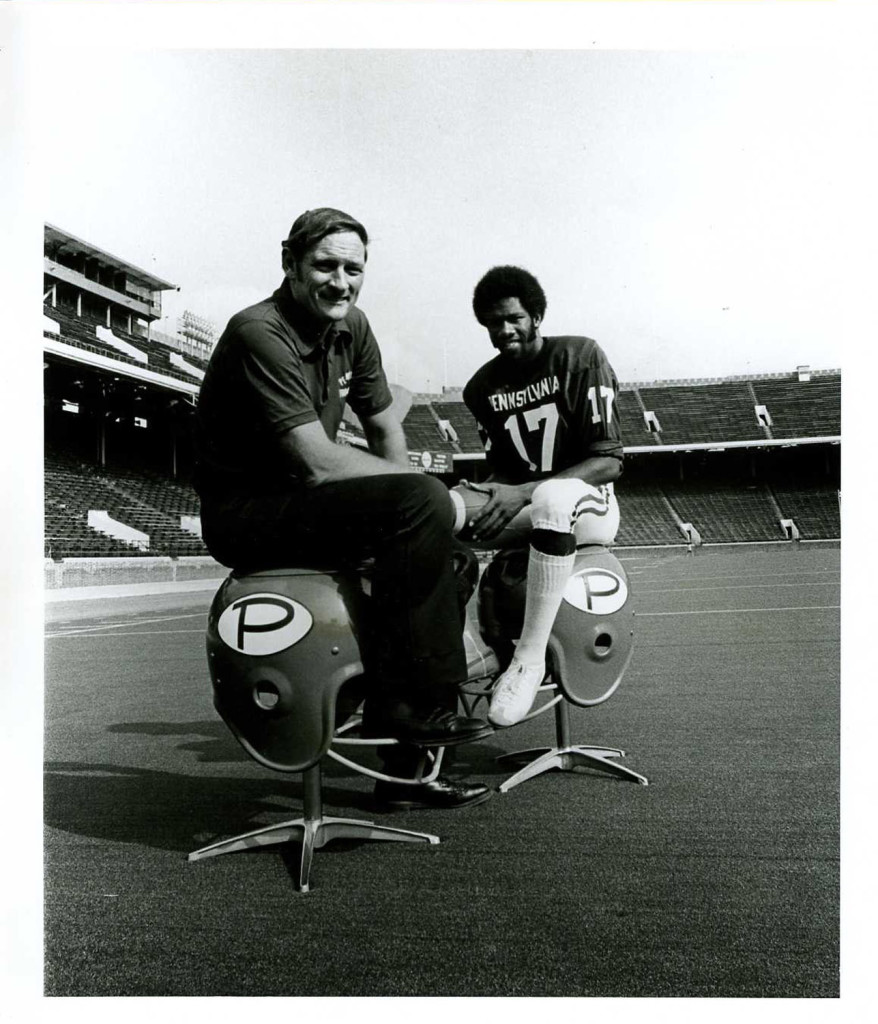 While Harry Gamble is best known in Philadelphia for his stint as general manager of the Eagles from 1985 to 1995, he also served as Penn's head football coach throughout the 1970s.
And Gamble – who passed away at the age of 83 on Tuesday – certainly left an indelible mark on the University. Here's a look back at five reasons why:
1) Despite never guiding the Quakers to an Ivy League title, Gamble still molded some of the most accomplished offensive players in program history. By the end of his tenure, he had coached Penn's then-all-time leading passer, Marty Vaughn W'75 WG'81; all-time leading receiver, Don Clune C'74; and all-time leading rusher, Adolph Bellizeare C'75. Clune, an All-American who went on to play in the NFL, still holds the Penn record for receiving yards in a game (284 – vs. Harvard in 1971) and ranks third in career receiving, racking up 2,419 yards in just three years. And Bellizeare, who passed away in 2011, still holds the Penn record for career all-purpose yards (4,004).
2) Led by those players, Penn enjoyed one of the best offensive days in program history, amassing a staggering 627 yards in a 42-8 rout of Columbia on Nov. 17, 1973. Vaughn led the way in that game, throwing for over 300 yards and four touchdowns, two of which went to Clune. And running backs Jack Wixted C'76 and Bellizeare combined for nearly 200 yards on the ground. The 627 yards was a program record until 2000 when the Quakers broke it – barely – with 628 yards against Cornell.
3) As an assistant coach at Penn from 1962 to 1966, Gamble must have known the value of having a great staff. And in 1977, he hired an assistant coach that would forever shape Penn football – and the entire University. That hire? A man by the name of Dan Staffieri, who went by "Coach Lake" and became a legendary figure at Penn until his death in 2010. While he started off as an assistant on Gamble's staff as well as the head coach of Penn's freshman team (which eventually dissolved), he later became the program's emotional leader and morale booster, touching the lives of many (mine included) with his grandfatherly spirit, creative signs and trips down Locust Walk riding in a giant Penn helmet and yelling through a bullhorn. Gamble truly did "better than his best" with that hire.
4) When Gamble himself was hired in 1970, one of the things mentioned in the Associated Press article was how he always wore shorts to practice, no matter the temperature. The reason? Gamble explained that the shorts are "something to make the players forget how uncomfortable they may be on a bad day." For Gamble, having that kind of relationship of players was always important. When I interviewed him for a story I wrote on Bellizeare's legacy, he made sure to immediately talk about the running back's character. "He'd come into my office and I might be having a down day," Gamble said. "But he'd say, 'How you doin', Coach,' with that smile, and my whole day would begin to change."
5) It wasn't just players lifting his spirits; he'd do the same for them. By all accounts, Gamble was a genuinely nice and classy man – which was important for those that took the field for him. In the Daily Pennsylvanian article about his death, Wixted recalled how his father told him during a recruiting visit that Gamble was the "kind of person that he would want his son to play for in college" – and he stressed the word person over the word coach. Wixted soon found that to be true. "It was an honor for me to play for him," he told the DP. "He was always true to his roots and a humble man."
– Dave Zeitlin C'03