Freshman Phenom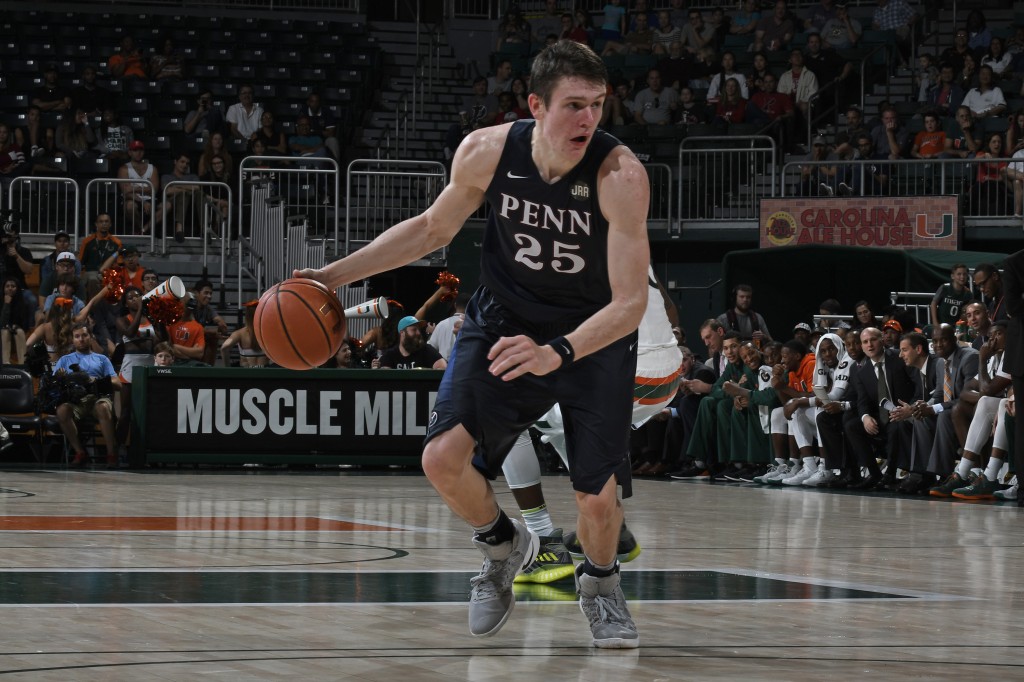 As Temple's best player rose up for a corner three, a Penn freshman raced from the paint, outstretched his long arms, and blocked the shot. Moments later, that same Penn freshman scored a bucket on the other end of the court to help the Quakers come very close to pulling what would have been a big upset over the Owls.
At the postgame press conference following Penn's 70-62 loss at Temple on Saturday, Owls head coach Fran Dunphy could not get that one sequence out of his mind, bemoaning the fact that his leading scorer Obi Enechionyia "lost his mind" and didn't try for a shot fake. But he also credited Quakers freshman AJ Brodeur for a "terrific block."
Dunphy hasn't been the only one to sing Brodeur's praises of late. Villanova head coach Jay Wright gushed about him a few days earlier. A few days later, Lafayette coach Fran O'Hanlon lamented how "much bigger than us" Brodeur seemed — even though he's listed as the same height as Lafayette's starting center. And Penn head coach Steve Donahue, who served on the same staff with O'Hanlon in the 90s when Dunphy was at the Quakers' helm, said Brodeur has a chance to be one of the program's "all-time greats."
Throw all of that praise in with the fact that Brodeur is already among the leading scorers in the Ivy League just seven games into his college career and the Quakers may very well have the most promising freshman big man since Ugonna Onyekwe W'03.
And Brodeur has been relishing every minute of it, particularly his memorable sequence vs. the versatile Enechionyia (who, interestingly enough, Dunphy once compared to Onyekwe).
"I love getting those blocks on those three-point closeouts," Brodeur said from the Liacouras Center floor Saturday. "That's something a lot of shooters don't see coming. But not quitting on the play is something Coach [Steve Donahue] stresses a lot in practice. If I can get a piece of it like I did on Obi's shot, there's no better feeling in the world to show that hustle pays off. And then continuing and hustling down the court and getting a basket, simple things like that really make basketball such a fun game."
It's certainly clear how much fun Brodeur is having — and Penn fans must be having fun watching him too.
Four days after scoring 17 points and grabbing seven rebounds vs. Temple, he had an even better game, finishing with 22 points, seven rebounds and five assists in an 81-52 rout of Lafayette at the Palestra.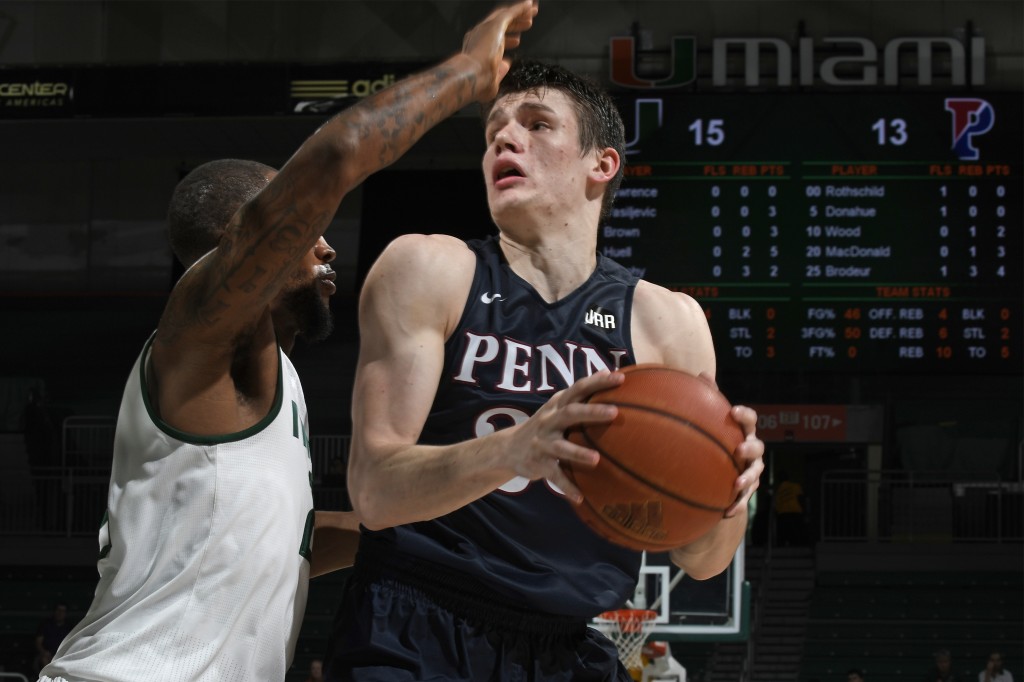 Perhaps the best part of his performance was that he was held mostly in check in the first half because of Lafayette double-teams. But showing off his smarts, he began to beat the doubles with good passes to Penn's perimeter shooters, which then opened up the opportunity for him to showcase his wide array of polished post moves against the Leopards' overmatched interior defenders. (You can watch some of them here.)
As good as his post moves have been, though, he wants you to know that there's even more coming.
"It's obviously in the scouting report on me to force me left," he said after the Temple game. "But when the time comes, I'll break out the secret weapon that is my left hand."
Brodeur made an equally enticing promise after the Lafayette game, telling reporters that his "game is still not where I want it to be or where I need it to be for us to be a championship team this year." The fact that a freshman is putting the onus on himself to lift the Quakers to their first Ivy League championship in 10 years shows what kind of person and player we're dealing with here.
But that's down the road. For now, Brodeur is simply enjoying taking the court against teams like Temple and Villanova and making a mark on the Philadelphia hoops scene for the first time.
"I'm loving it," he said. "I'm loving the whole Philly basketball atmosphere. I can't wait for more Big 5 games later. The Villanova game was incredible. I've never experienced anything like that. That was my first time even being at the Palestra during a basketball game. When I came to visit, I didn't get to see a game. Being able to play in that for my first game at the Palestra in front of 7,700 people, the returning national champs — there's nothing like that in basketball at all.
"And coming here to play down the road at Temple, another great team, seeing the stands get packed night in and night out — it just makes basketball real fun for me. It's one of the reasons why I wanted to be at Penn in the first place. One day, basketball's gonna end for me. And I want to be able to enjoy it as much as I can while I'm here."
— Dave Zeitlin C'03