(Un)cancel Culture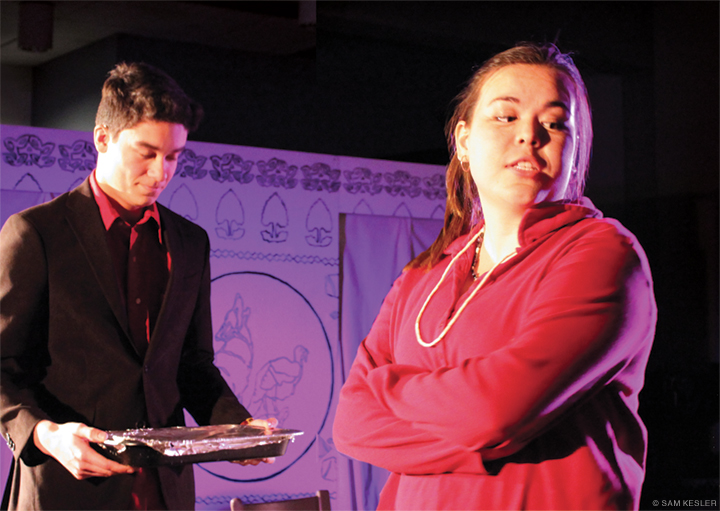 A College junior brought the Native American experience to stage.
---
"What is more relevant to the campus than the people whose land we're standing on?" asks College junior Connor Beard. When looking for a play to direct for Front Row Theatre Company—a student-run group known for its "socially relevant" productions on campus—Beard knew he wanted to depict the Native American experience without leaning on stereotypes. He wanted to show that Native Americans are not extinct, nor do they only live on reservations. "I don't think people realize that indigenous people are really everywhere," he says. "Even on this campus there are tons of indigenous people."
He discovered the play Manahatta, whose name is derived from the Lenni Lenape word meaning "Island of Many Hills." (Today it's known as Manhattan.) He reached out to the playwright Mary Kathryn Nagle, a citizen of the Cherokee Nation of Oklahoma, and the two of them worked together through correspondence to produce the play on Penn's campus. It was performed, at a rooftop lounge at Harrison College House, over the course of a weekend in late February (before COVID-19 halted student activities for the rest of the spring semester).
The play follows main character Jane Snake, a member of the Lenni Lenape tribe who leaves her reservation to find success on Wall Street in the early 2000s. As the first Native American to ever work at her firm, she is under immense pressure to outperform her peers and earn her place, while her family back home faces financial struggles and the risk of losing their home during the 2008 housing crisis. Meanwhile, flashbacks to colonial-era Manhattan tell a parallel tale of European settlers beginning trade with the Lenni Lenape, greedy for the items Native Americans have to offer and making unfair deals to get them.
Over the course of the 90-minute play, the two timelines, with every member of the cast playing dual roles, crisscross back and forth, as each character is unsure how to navigate a changing world and make tough decisions that threaten catastrophic ramifications for their homes and families.
Each performance of Manahatta began with a land acknowledgement that the producer recited before the actors took the stage. It was meant to remind the audience of the original inhabitants of the land they're on—a practice Beard believes the school should adopt for every event. "I think it's crucial that groups don't do it in a performative way, like that's just something else to get out of the way before they get into this event," he says. "It needs to be something that people think about and are familiar with."
For Beard, Manahatta was a way to show what it means to be a Native American existing in the modern world, as well as the historical significance of reclaiming Native space in America. A member of the Lumbee tribe and cochair of the group Natives at Penn ["Native Pride," Jul|Aug 2019], Beard is proud of the obstacles he and others with indigenous roots overcame to make it to Penn. "Because of that," he says, "I have definitely felt an obligation to succeed. … I need to show my ancestors that them fighting tooth and nail was not for nothing."
Several members of Beard's family came to see his production, including his younger sister, Grace, who he says had never before seen a "show that has been that relevant and meaningful to her."
In many ways, Beard can also relate to Snake's struggle to find her place among peers. "I need to carry the weight of my community with me," he says. "And I need to succeed in order to show what I can be and what my community can do." —Sam Kesler C'20