Editing 'Tiger King'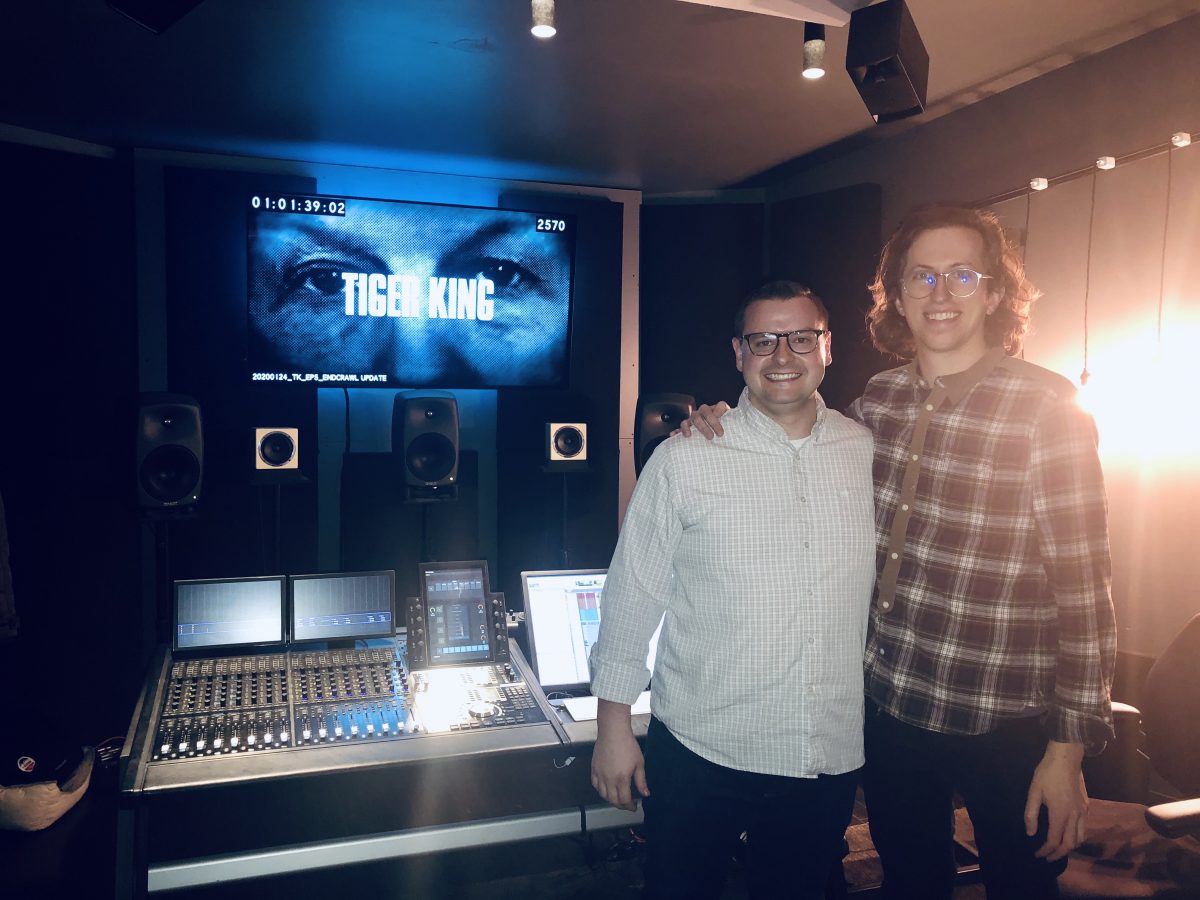 On the morning I call cinema studies alum Dylan Hansen-Fliedner C'14 to talk about his involvement on the wildly popular docuseries Tiger King, the show has already set yet another record. That day, April 14, 2020, marks its 23rd consecutive day as the top title on Netflix—far outpacing any other movie or series since the company began sharing such data in February.
More than 34 million people streamed Tiger King in only its first 10 days on Netflix. At this point, it's spawned countless memes, think pieces, news updates, armchair detective work, a Saturday Night Live impression, casting suggestions for a forthcoming scripted series, and even this Dough Exotic mugshot-faced pizza.
None of this is lost on Hansen-Fliedner, who's been following along as the bizarre story he spent so many hours immersed in shoots to the center of the zeitgeist. As one of the show's editors, he helped shape the episodes into the smash-hit series they became—though he acknowledges that the timing of this career high is bittersweet.
"It's such cognitive dissonance to experience it while so many people are suffering and so many people are stuck at home," he says. "But it's been a thrill to watch people find joy in it, to watch celebrities react to it, and most of all, to see my friends and family react to it and share what I have been living with in my work life for so long."
For those who haven't tuned in, the show follows "Tiger King" Joe Exotic, who for years ran a big cat-focused zoo and, in April 2019, was convicted of a murder-for-hire plot to off his nemesis, Carole Baskin—an animal activist who is the CEO of Big Cat Rescue. It's exactly as wacky and absorbing a ride as it sounds, and Hansen-Fliedner had a close-up view from early on.
"From the very first time I saw early footage, we were all just cackling together in the editing room," he remembers. "It was just so funny and so bizarre. It reminded me of when I saw Best in Show for the first time and I was just laughing so hard at these characters. Then when the murder-for-hire thing got involved, I just knew it was this perfect hodgepodge of everything Americans love: people who are obsessed with being reality stars, murder plots, and crazy exotic animals. It was like a perfect storm of a project."
By the time he was hired on Tiger King, Hansen-Fliedner had already been landing consistent work as a documentary film editor since graduating from Penn. In fact, his Tiger King involvement came thanks to Fisher Stevens, an executive producer on the show whom Hansen-Fliedner had already worked with on two documentaries, both released in 2016: Bright Lights: Starring Carrie Fisher and Debbie Reynolds and the climate change-focused Before the Flood.
Currently working from home on new (and still-under-wraps) projects with the Tiger King creative team, Hansen-Fliedner talked with the Gazette about his experience editing the series, his favorite scenes that didn't make it into the final cut, why he thinks so many TV producers failed at making a Joe Exotic reality show, and how Penn helped lay his path to Tiger King.
What did your days look like as an editor on Tiger King?
I don't think we ever did a final tally of the number of hours, but there was just endless footage to watch. The bulk of it was dealing with new shoots that were happening over the course of the year while we were editing, and then often going back and revisiting earlier scenes now that we knew where certain plot points were headed.
We had weekly meetings talking about what story elements had to be completed and when, and how we would divide them up. But it wasn't a very traditional editing room because we all worked on every single episode. Most of the core team was in an office in SoHo in New York, and we had boards on the wall with index cards of what plot points we needed to cover in each episode. Then the directors would constantly be flying in and out to go film and then comment on our edits.
You've edited other documentaries before, but what was uniquely challenging about working on this particular project?
All of the material was so entertaining, but we had to figure out which entertaining bits were serving our story and which weren't. The hardest thing is realizing that, yes, the material was great, but you had to tell a coherent story at the end of the day. The biggest challenge was cutting some of our favorite scenes that just didn't serve the narrative.
Another challenge was trying to pace out the information the audience receives. It's such a disorienting world to drop into the middle of. You really have to be careful how and when to build the layers of how this big-cat world works.
The trial was really hard, too, because we didn't have any cameras in the courtroom. We had to figure out how to make the trial feel like an unfolding-in-realtime event, with some fun and suspense, without actually having any footage in the courtroom.
As far as footage you had to cut, is there a scene you're most disappointed didn't make it into the show?
My favorite scene that got cut was a very funny scene that revealed Joe not singing his own music. Another scene I really liked was about Joe believing he could create a saber-toothed tiger by breeding tigers and lions, and if he cross-bred them far enough in time, he would get back to the saber-toothed tiger. That was a pretty funny scene, but one of those things that just didn't fit the arc of the storytelling, so we had to leave it out.
Throughout 2019, when you were fully immersed in this project, what did your friends and family say when you described what you were working on, and how did you explain it to them?
All my friends who I tried to explain it to have [since] said, I never really understood what you were talking about, but now I get it, and why you were so excited, and why you skipped all of our parties and stayed in the editing room so long. The thing I'd always say to people—it's one of the first clips we show in the show—is: did you know there are more captive tigers in America than there are in the wild around the world? That's a crazy statistic that makes people's heads explode a little bit. That was where I left it. I didn't go into too many of the details with friends because I didn't want to give away what was going to happen in the show.
You weren't the first team to tackle a show about Joe Exotic.
I think there were at least four or five reality TV producers who had tried and failed to make a show about Joe. For the sake of narrative economy, we condensed it to Rick [Kirkham], because it would have started to get redundant if we went down the path of telling every single reality producer that was there.
Why do you think no one else was able to break through with this story?
I really think it was the murder-for-hire thing that broke it, because it gave it this concrete end point and this anchor around which to tell the story. It became the story of Joe's quest for fame, as opposed to just documenting this crazy zoo. It's not a reality show. It's a documentary—looking at it from this higher level of remove. If the murder-for-hire had never happened, the filmmakers of Tiger King may very well have still been filming today—it's so endless. The murder-for-hire gave us a frame to tell this story in a very discrete, seven-episode way.
We first spoke in 2014, when you were trying to finish up Driving Not Knowing, filmed while you were a student at Penn. How much of your interest in film editing began at Penn?
It all started back at Penn when I took a class called Editing Image and Sound with David [EAS'86] and Nancy [C'87] Novack, who are both documentary filmmakers.
From that moment on, I knew I wanted to be an editor. I continued working with them for my first five years out of college on projects they were directing or editing.
What was it about editing in particular that you loved?
I just loved being able to figure out how to make it a movie once you go out and shoot it. The editor has such a crucial role. It grabbed everything I loved about film theory and academic writing, because when you're editing a documentary, you have to think of it sort of like a term paper: you're always thinking about your thesis, and every shot has to be a supporting sentence along the way. It feels like I'm learning something new every day—I'm always a student of the material. I was always drawn to film theory and writing. Now with film editing, I can reach such a wider audience.
Before we wrap up, I wanted to get your take on two questions everyone has been discussing in the wake of the show. First, do you think that Carole Baskin killed her former husband?
I can't definitively say that. I think that there is reason for suspicion. I think we put that in the show. But like the detective said, there's no concrete evidence that names her as a specific suspect. I think there's a lot of things that don't add up in her story, and I'm glad that they're reinvestigating the case now.
And the other one: Do you think Joe deserves to be in jail?
I don't think he deserves to be in jail for 22 years. I think that's a ridiculously long sentence for the crimes he was convicted of. I think he does need to come to some sort of reckoning with what he did over the years: the way he treated those animals and the way that he threatened Carole. I think some level of punishment is good, but I absolutely don't believe it should be 22 years.
—Molly Petrilla C'06