The Right Course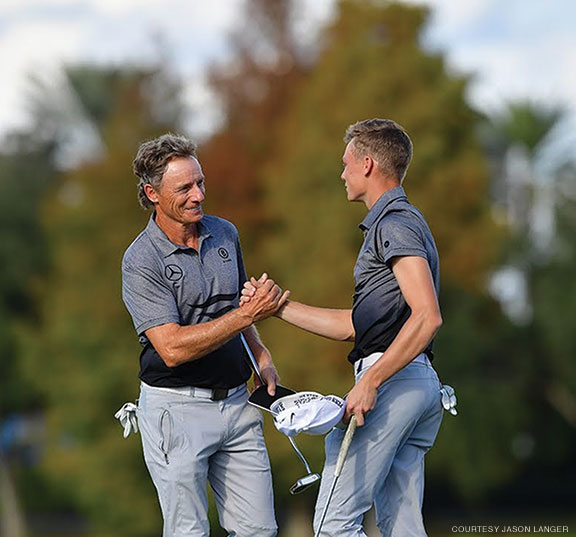 ---
The son of a golfing great hopes to lift the Quakers to Ivy greatness.
---
Throughout his long and storied career, Bernhard Langer has hit all kinds of big shots to win tournaments. But on December 8, the two-time Masters champion added another title to his resume without even striking the final ball. Instead he stood at the edge of the green, one hand at his side, another shielding his eyes from the sun, as he watched his son, Wharton sophomore Jason Langer, calmly sink a 15-foot eagle putt to lift the Langer duo to victory at the 2019 PNC Father Son Challenge in Orlando, Florida.
"Like his dad in all the right ways, he's clutch!" the announcer exclaimed as the elder Langer hoisted both arms in the air and hugged his son, who wore a Penn hat for the occasion. Afterwards, the 62-year-old World Golf Hall of Famer told reporters covering the PGA Tour-sponsored event, "I've seen clutch shots in majors and Ryder Cups, all over the place. For our family, it doesn't get much better than that one." Jason shared that sentiment, calling his 270-yard blast to set up his winning putt on a playoff hole "probably the best shot of my life."
"It was just a really special weekend," he says, "and the finish made it that much more special."
The younger Langer is hoping for more special finishes as he prepares for his second spring with the Penn men's golf team. The season opens on March 9 in North Myrtle Beach, South Carolina, and the Quakers will have a secret weapon for the Spring Break tournament. Bernhard, who's still active on the Champions Tour (for PGA golfers 50 and over), is taking a break from his professional schedule to put on a clinic there for the Penn golfers. "He'll do it in a great way," Penn men's golf coach Jason Calhoun says. "His course management and how he sees things around the golf course is probably what the kids will tap into the most."
Bernhard—who Calhoun notes is famous enough in the golf world to be called by just one name—has already been to a few Penn tournaments, sharing tips at times but usually happy just to watch his son compete. "He's just like a normal parent, except for the fact that I've got to try to keep other parents away from him," the Penn coach says.
Jason, of course, knows his dad's fame well (and got a recent taste of it when a couple of links-loving Penn professors emailed him out of the blue after watching the tournament the Langers won). Sometimes, "if I need some inspiration or I'm trying to procrastinate doing some homework," he'll open up YouTube and watch a 27-year-old Bernhard, in a "full red jumpsuit and blonde mustache," win the 1985 Masters. Eight years after that victory, Langer captured another Masters title, joining an exclusive list of multi-time champions of one of the most prestigious events in sports. Jason wasn't alive to see his dad slip on the famed green jacket, but he has gone to Augusta, Georgia, to attend every Masters since his birth, calling each trip "my favorite week of the year."
Jason, along with his mother and three siblings, followed his father to many other golf tournaments. As a kid, he split his time between Florida and southern Germany (where Bernhard is from), and was homeschooled in part because of all the traveling. Soccer was his favorite sport for most of his childhood, but he got more serious about golf as a high school sophomore at Calvary Christian Academy in Boca Raton, Florida. He hoped to go to a good academic school with a top college golf program like Duke, Vanderbilt, or Stanford, but "I wasn't at that level at the time," he admits. "And I'm honestly still not." So he zoomed in on the Ivy League.
After Jason sent what Calhoun calls "one of the most well-written emails I've ever seen," the Penn coach reached out to him to begin the recruiting process. Only later did it dawn on Calhoun that he was speaking with the son of one of the world's leading golfers throughout the 1980s and 1990s. That's because Jason hadn't mentioned it. "That tells you a lot about Jason," Calhoun says. "He wanted to do it on his own."
Although Jason didn't qualify for last year's Ivy League Championship as one of Penn's top five golfers, Calhoun believes he's primed for a breakout in his sophomore year. "He came in last year trying to do a little too much, and I think he's settled into who he is—not who his father is," the Penn coach says. Calhoun adds that Jason has improved his tee shots dramatically to go with a "phenomenal short game," and that he shares his father's instincts around managing a golf course. "Do I think he can win an Ivy championship and be a top Ivy golfer? Absolutely."
Jason admits he's not thinking about trying to turn pro like his father, so an Ivy League title—for himself, or the team—tops his list of golfing goals. And if his father, who he says is "definitely a part of the team" because of the advice and coaching he offers to the Quakers, is there when that happens? "That would make it that much more special," he says.
---
A Day for Dunphy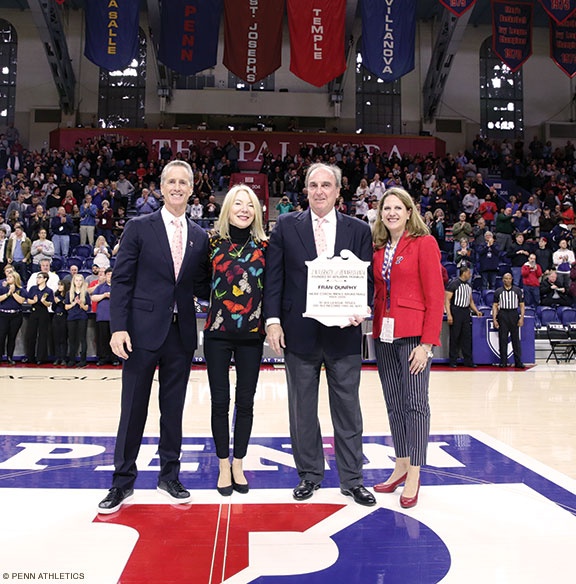 Moments before Penn and Temple took the Palestra floor for a Big 5 men's basketball game on January 25, a coach who led both of those teams for a combined 30 years was honored at midcourt. Fran Dunphy graciously smiled as he accepted a plaque from University president Amy Gutmann, athletic director M. Grace Calhoun, and Penn's current head coach, Steve Donahue, but was happier later when he climbed to the top corner of the Palestra to watch a game the Quakers would win, 66–59.
"It's what I'm most comfortable with, being amongst the people, not being seen," Dunphy says. "It's a different culture in the corners, as high as you can go. And the popcorn helps."
Dunphy has tried to blend in with fans a lot since stepping down as Temple's coach at the end of the 2018–19 season following a 13-year run with the Owls and 17 seasons at the Quakers' helm. He's attended every Temple home game and a few Penn games. He's been to Division III college games and high school games. He went to Lafayette to see a Colgate team coached by former players Matt Langel W'00, Mike Jordan C'00, and Dave Klatsky W'03 take on a Lafayette squad coached by former assistant Fran O'Hanlon.
Spend five decades in the college basketball business, and you end up with plenty of friends to see. Dunphy, though, would just as soon not be seen when he goes into any arena or gym.
"He doesn't like things to be about him," says Scott Kegler C'95, one of several Penn players from the 1990s and 2000s who returned to the Palestra to honor their former coach. Adds Brian Grandieri C'08, who recently played golf with Jeff Schiffner C'04 WG'12, Andy Toole C'03, and the 71-year-old Dunphy, "I don't think he's ever been about the limelight—that's just who he is."
It was hard, though, to avoid being noticed as he walked the Palestra concourse on January 25, as fans of Penn and Temple stopped to shake his hand and thank him for what he accomplished for both programs.
"I will say I miss the juice of competition," says Dunphy, who led the Quakers to 10 Ivy League titles. "You can't just stop something after so many years and not miss it. But I'm at peace sitting up there and watching two good teams play."
Dunphy is keeping busy in other ways, too. He still teaches at Temple, speaks to groups, and does a lot of charity work. He also has a grandson who'll soon be 2. The toddler hasn't been to the Palestra yet but he might make his first trip in a year or two, to sit with his grandpa in the top corner. "We'll see how much he likes the popcorn," Dunphy says.
—DZ