Two Roads to Rhodes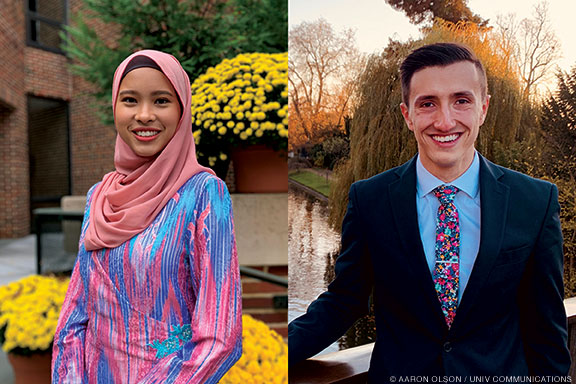 Penn's latest Rhodes Scholarship recipients talk about their paths to the award—and what they hope to accomplish with it.
---
When she was a child, Nurul Ezzaty Binti Hasbullah's father often joined his friends on Land Rover trips in Malaysia's forests. They all brought their sons; he brought his daughter Ezzaty. "He always made a point to make me feel included," says the College senior. "He never made me feel different because I was a girl, or expected more or less from me because I was a girl."
Growing up in a suburb of Kuala Lumpur, she never got the sense that she was any different from any of her male peers, thanks to her dad's insistence on equal treatment. Her parents' encouragement carried through to her college applications, when she applied to Penn on a whim. Now she has been named a Rhodes Scholar representing Malaysia, and aims to use the opportunity to shrink gender disparities in her native country.
At Oxford, Binti Hasbullah plans to study evidence-based public policy evaluation, with an emphasis on gender-related social issues in Malaysia. She contends that the country's policymakers suffer from a "gender data gap"—in other words, that some problems persist because policymakers lack sufficient information to recognize their existence or extensiveness. For instance, Binti Hasbullah says that many Malaysian girls drop out of school prematurely due to the onset of menstruation—but that a dearth of hard data discourages policy interventions. She wants to help change that.
At Penn, Binti Hasbullah has served on the Muslim Student Association board and Dining Advisory Board, and currently co-chairs Rodin College House's community service programming team. She has volunteered far and wide, including collecting health data in Guatemala, tutoring refugee children in London, and painting murals with schoolkids in West Philadelphia.
Winning a Rhodes has also given her a boost of confidence to reconsider a path she'd once dismissed as an unlikely dream: running for elected office in Malaysia. She previously planned to go into consulting—following in her mother's footsteps—but the award has revived her interest in political life. As a representative, she says, perhaps she could inspire others to reach higher.
She reflects on the fact that her sister was refused the role of high school class monitor because that position was typically reserved for male classmates. "I try to tell my sister, 'No, don't accept that!'" Binti Hasbullah says. "There's no reason why a girl can't be a class monitor, or a girl can't be the forefront leader of anything."
—Sam Kesler C'20
---
The childhood vacations that Stephen Damianos C'19 and his family took in Greece were filled with lazy beach afternoons and spanakopita. As he got older, though, something quite different seized his attention: the waves of refugees fleeing violence in the Middle East. More than 1 million landed in Greece in 2015 alone, a figure representing 10 percent of the country's population. The North Hampton, New Hampshire resident—another foreigner claiming space in Greece—couldn't help but wonder how fair it was that he could lounge around while so many of these men, women, and children slept on the streets. So he decided to take action.
As a student at Penn, where he majored in political science, Damianos—who was chosen to be one of the 32 American Rhodes Scholars to represent the US—founded Penn Undergraduates for Refugee Empowerment (PRE). The club aimed to connect the University community with refugees in Philadelphia, and to help refugees find the services they need to thrive in the city. Growing to more than 100 student volunteers under Damianos's tenure, PRE offered tutoring and translating services through partnerships with local resettlement groups. The experience was humbling, and drove Damianos to focus on longer-term needs of refugees, especially education.
In the summer of 2018, he returned to Greece with FORGE for Humanity, a small nonprofit that works to support single male refugees. There, he ran "CVs with Stephen," helping men identify their professional skills and highlight them on resumes and in job interviews. But what he found was a mix of eagerness and insecurity. Many men his age seemed reluctant to articulate their talents and passions.
"It became so clear to me that these people were socialized to believe that they were worthless and that they had no skills and had nothing to give others," he says. "It would take these long conversations where I would ask about what makes them happy or what they would do in their free time to get them to open up. Refugees want peace, but they also want pencils. They want to be in a classroom capacity, learning and growing."
As a recipient of a Rhodes Scholarship, Damianos hopes to advance his own education to that end. "I very quickly realized while I was working with refugees [in Greece] and in Philadelphia that people would come to me with questions that I did not know the answer to. There were solutions to problems that I didn't even know existed," he says, as well as unsolved problems he hadn't been aware of.
Once he finishes a masters in development studies at Cambridge, where he matriculated after graduating Phi Beta Kappa from the College last year, he plans to pursue a doctorate in migration studies at Oxford. Damianos envisions law school after that. He cites former UN High Commissioner of Human Rights Zeid Ra'ad Al Hussein—who is currently the Perry World House Professor of the Practice of Law and Human Rights at Penn—as a role model. He thinks in terms of direct action, and practical ways he can amplify his personal impact.
"I get overwhelmed with things like curing cancer or ending a civil war—I think I can't do much about that," he says. "But I can teach a refugee how to speak English, I can advocate for their employment rights … and in this way, I can change someone else's world. And they can change someone else's world. And together, we can change the world."
—Beatrice Forman C'22