The Beautiful Game
Penn's men's soccer team brings home an Ivy championship—and an NCAA tourney win to remember.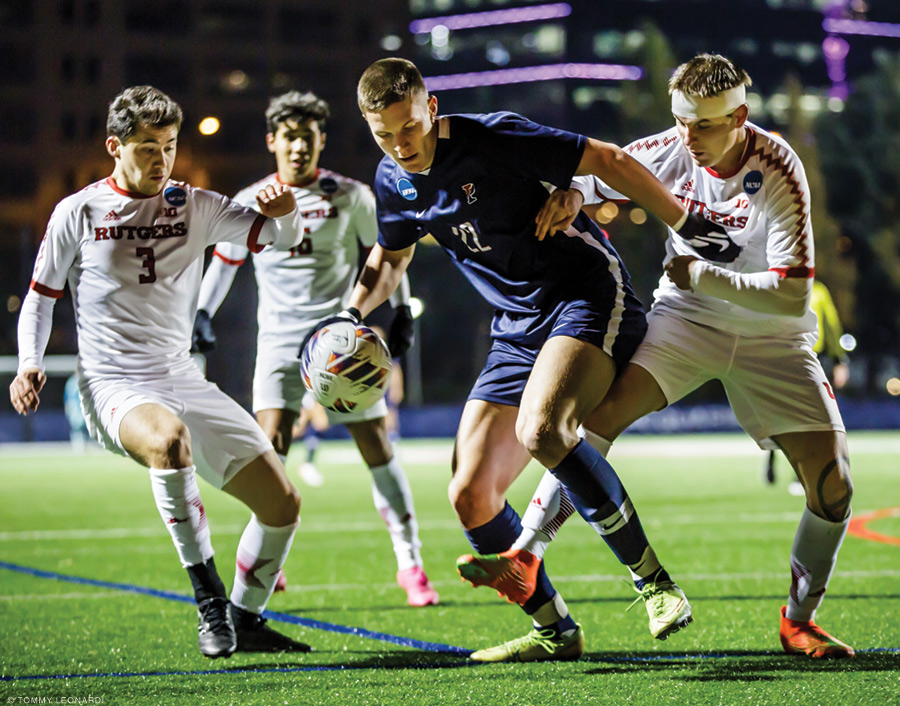 ---
When Leo Burney first heard the news that the Penn soccer program would lose its home at Rhodes Field for up to two years due to the construction of an indoor track and field center, the sophomore defender was "definitely pretty sad about it."
Tucked away in the shadow of the Schuylkill Expressway, Rhodes Field is a premier facility for not only the University's men's and women's soccer teams but also for professional and international squads looking for a semi-hidden training pitch during visits to Philadelphia.
It didn't take long, however, for Burney and his teammates to discover the advantages of having its home games at Penn Park. Although playing on artificial turf instead of Rhodes's Bermuda grass was a drawback (injuries are more common on turf), Penn Park provided a beautiful city backdrop and easier access for fans and curious passersby strolling through the park.
Never was that more evident than on November 17, when more than 750 fans packed the makeshift stands beside Penn Park's Dunning-Cohen Championship Field to watch the Quakers, fresh off an Ivy League title, host Big Ten champion Rutgers in the first round of the NCAA tournament—screaming, cheering, and heckling the whole time. "The atmosphere of the game was incredible," Penn head coach Brian Gill says. "It was everything we could have asked."
"In my five years here," midfielder Ben Stitz C'22 adds, "I haven't experienced anything like that. That sort of atmosphere definitely gives you a little extra push you need in terms of energy, sharpness, and mentally being locked in. It was a lot of fun."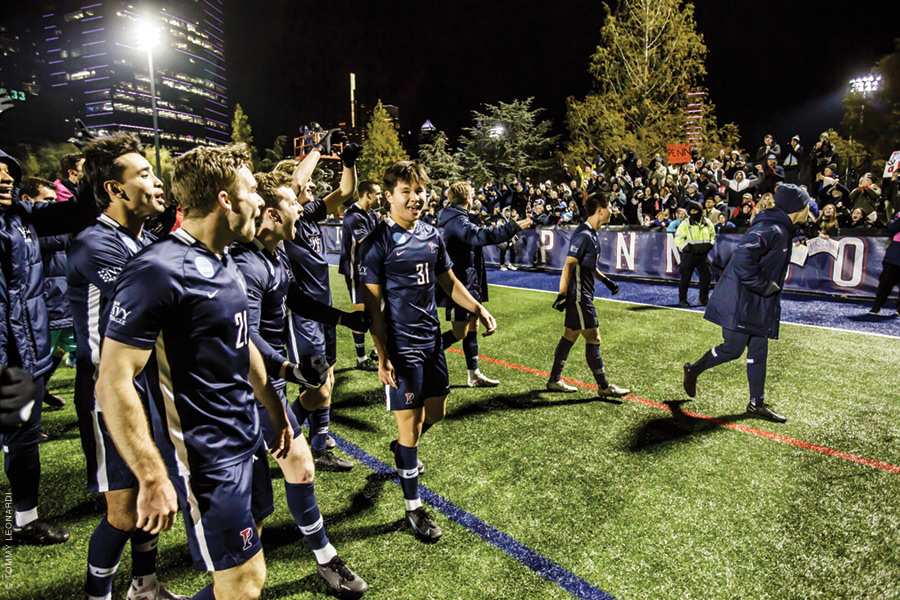 Fueled by the raucous support, the Quakers put together their most complete game of the season, dominating the Scarlet Knights from start to finish in a 3–0 win, the program's first in the NCAA tourney since 2010. Stitz scored a pair of goals in the victory and Burney helped stymie the Knights' attack, despite drawing heckles of his own from the sizable contingent of Rutgers supporters who made the short trip down the Jersey Turnpike. "I was getting quite a lot of taunts about my hair," he says. "Apparently my head's flat."
For most of the season Burney flattened the opposition, playing all but 24 minutes to anchor the backline and chipping in five goals on the offensive end. He was named the Ivy League Defensive Player of the Year while classmate Stas Korzeniowski, a 6-foot-4 striker who finished with 11 goals (tied with Stitz for the team lead), brought home the conference's Offensive Player of the Year honors. Gill was the unanimous selection for Coach of the Year, leading the Quakers to their first league title since 2013 after a preseason poll had projected them to finish fifth. Penn's 13 wins tied for the second-most in a season in program history—an accomplishment even more impressive when you consider the team started 1–1–1 after an early setback at Albany. "That would have been an easy point to have some doubts about the season," Burney says. "But even then the whole group felt we could do something special."
The Quakers then reeled off eight straight wins, including a 4–0 start in Ivy play. They finished 13–3–2 overall and 6–1 in the league, capped by a 3–0 win over Princeton in the regular-season finale—the program's first against the Tigers since 2013. They also defeated Columbia for the first time since 2011, made it onto the United Soccer Coaches top 25 poll for the first time since 2010, and won all four of their matches at Penn Park without conceding a goal. Their 3–2 victory at Cornell was a particular highlight with Burney stunning the nationally ranked Big Red with an 89th-minute winner.
"Our team this year was the most fluid it's ever felt," says Stitz, who finished with eight assists to go with his 11 goals. "Guys just understood each other—on a soccer level but also on a person-to-person level."
Penn's historic 2022 campaign ended with a 2–1 road loss to Syracuse in the second round of the NCAA tournament. But the Quakers gave the third-seeded Orange all they could handle, taking a first-half lead and sending the game into overtime against the eventual national champs. "We were very sad after the game because I felt like we could have gotten a result had a few things gone our way," Burney says. "But that was pretty soon replaced by pride—for the team, for the season, for all the relationships made and moments we'll have together for the rest of our lives."
A product of the youth academy of Major League Soccer's Seattle Sounders, Burney is walking proof of the recruiting prowess of Gill, who took over as head coach in 2018. As some of his academy teammates went straight to the pros, Burney flew across the country to join an Ivy program he was told that he could help turn into a national power. "Obviously it's paid dividends," says Burney, who's played almost every minute of his first two college seasons. "He's comfortably one of the best players in our league," Gill says. "And I'd put him up there as one of the best in the country." (Burney and Korzeniowski were both named All-Americans, the program's first in 20 years.)
Stitz had arrived from Baltimore years earlier, contributing right at the start of Gill's tenure, and later taking a semester off during the pandemic so he could return for a fifth year and go out as an Ivy champ before graduating in December. Now, the 22-year-old midfielder fosters professional dreams of his own—a goal that Gill believes is realistic even though nowadays pro teams are more likely to grow and train their own teenage prospects rather than drafting players out of college. "There are other guys who just need a different kind of development," Gill says. "I think [Stitz] is ready for an opportunity, and I think he'll reward whoever winds up taking a chance on him." As proof, Gill points to the players on the US men's national team at the World Cup who played college soccer, including starting goalkeeper Matt Turner. Like others around the country, the Quakers enjoyed watching Turner and the USMNT—together, in their locker room—on the sport's grandest stage. They also reveled in the Philadelphia Union advancing to the MLS final, whose conclusion they watched at Penn Park following their win over Columbia on November 5.
All in all, it was a memorable fall season for the sport of soccer, and "I can't help but think that, in our own ways, we contributed to some of the excitement," Gill says. And when his players watch Union and USMNT games, the head coach adds, "my hope is they'll see and hear some common-thread stuff they can apply to their own games" heading into next season—when the Quakers will look to make an even deeper NCAA run and keep the sport on center stage at Penn Park, for all to see. —DZ