Grand Finale
Running back Trey Flowers enjoys an epic ending to his Penn football career.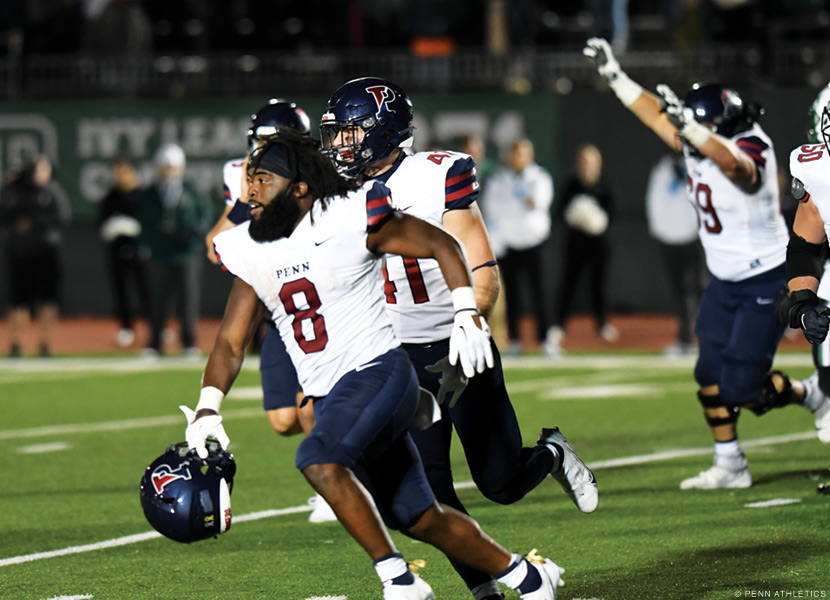 ---
Near the end of his final college football game, Trey Flowers C'22 looked to the stands at Princeton Stadium toward a Penn alum, who shook his head with disappointment.
Flowers knew what that meant: Yale had just defeated Harvard to eliminate Penn from Ivy League title contention. "After that," Flowers says, "you're just playing for the guy next to you. You're just playing for your name at that point."
Princeton fans will remember Flowers's name for some time to come.
With five seconds left in the November 19 showdown, Flowers caught a five-yard touchdown pass from quarterback Aidan Sayin to complete a 12-point fourth-quarter comeback and lift the Quakers to a dramatic 20–19 road win over the favored Tigers.
And although the play didn't give Penn a piece of the Ivy title, as it would have if Harvard had defeated Yale that day, it did deny Princeton a share of the crown. (Coming into that final slate of games, Penn, Princeton, Yale, and Harvard could have finished as four-way league champs. As it turned out, Yale won the conference outright at 6–1, with the Quakers tying for second with a 5–2 Ivy record and 8–2 overall.)
It also gave Flowers a final moment to remember.
"Man, I just felt like everything I worked for paid off," he says. "Not in the sense that we won a championship … but it definitely felt like a championship game."
A fifth-year running back, Flowers never did win a championship at Penn but was a contributor since his freshman season in 2018. As an upperclassman, he endured the pandemic-canceled season of 2020 followed by a brutal 3–7 (1–6 Ivy) campaign in 2021, opting to return for a fifth year this fall in part because "I knew I hadn't done enough to be able to transfer."
Flowers credits the turnaround from 2021 to 2022, in which the Quakers won five more games and scored 75 more points, to new offensive coordinator Dan Swanstrom. He also praises trainer Victor Szwanki for ensuring a painful toe injury the running back suffered in mid-October didn't prematurely end his college career. Flowers ended up missing three games but returned for the final three—enough to be one of Penn's seven first-team All-Ivy selections. "Every time I scored a touchdown after that, I gave [Szwanki] a hug," Flowers says.
Penn head coach Ray Priore, in turn, credits fifth-year players like Flowers who "made the commitment that they were going to turn things around." Priore was particularly impressed with the big plays that Flowers made in the Quakers' double-overtime win at Dartmouth, including the game-winning touchdown, that set the tone for what would be a strong Ivy season, save for a narrow defeat at Brown and a disappointingly lopsided loss to Harvard in Penn's Franklin Field finale.
And for Penn's season to conclude with a Flowers touchdown catch against an archrival, which followed another fourth-quarter touchdown drive, was "as enjoyable of a moment as any in my time here," says Priore, who's been Penn's head coach since the 2015 season and has been with the program since 1987. "It was as good as any championship we had won before."
A 22-year-old sociology major who graduated in December, Flowers hopes to remain in football, whether it's playing professionally or coaching. But before continuing on his next gridiron journey, he has another task: finding a trophy case for the ball he caught on his final play at Penn. "I still have that football," he says with a big smile. "I definitely do." —DZ