Survival Skills
An alumna teaches the culinary basics, one meal at a time.
---
"Cooking is no different than any other learned skill," says Jennifer Clair C'94, founder of Home Cooking New York (HCNY). Starting in 2002, HCNY has grown from a one-woman cooking school, offering private classes in the kitchens of her Manhattan students, to a brick-and-mortar school in Soho, where classes are taught by Clair and four other chef-instructors.
One of the most popular classes, Six Basic Cooking Techniques, teaches the essential culinary skills in just two and a half hours, culminating in a full sit-down dinner. After teaching that class hundreds of times to thousands of students, Clair decided it was time to create a "cooking class in a book." The result— Six Basic Cooking Techniques: Culinary Essentials for the Home Cook —offers precise instructions on everything from resting meat to shocking vegetables, with photographs illustrating each step. Throughout, it's peppered with "Students Ask" questions and "Chefs Say" tips, such as "How long do ground spices last?" (Answer: a year or two, but take a whiff to be sure.)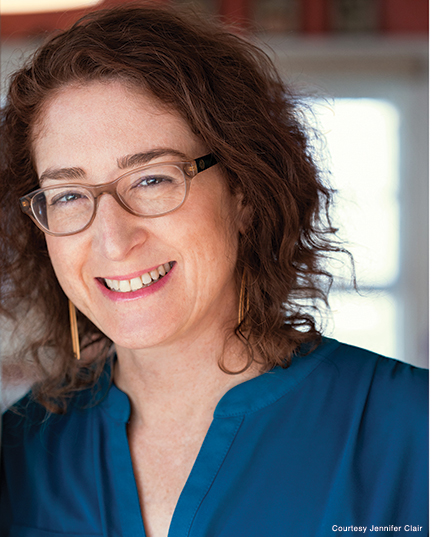 Clair learned to cook by asking such questions herself. Majoring in intellectual history at Penn, she says, "allowed me to explore all the ways people ate and drank, through art history classes, sociology courses, and, of course, a semester abroad in Florence, which sealed the deal for me" to study culinary arts. Following an internship at Saveur magazine and a gig in the cookbook division of William Morrow & Company, she worked as a recipe editor at the Wall Street Journal and a food editor at Martha Stewart Living Omnimedia. Next was Peter Kump's New York Cooking School, from which she graduated in 1998.
In 2009, Clair opened her first brick-and-mortar cooking school in Chelsea. Eventually HCNY outgrew that space, prompting her to build the commercial kitchen of her dreams at the edge of SoHo and Chinatown.
After 15 years of teaching, she was ready to add another challenge: HCNY Press. "It's thrilling to be on the roller coaster again, learning a new business from the ground up," she says.
Gazette editorial assistant Nicole Perry spoke with Clair in May, shortly after the book's release.
---
Who taught you how to cook?
My mother was a big influence, since she made home-cooked meals every night and never acted as though it was difficult or drudge work. She truly enjoyed cooking for us, as a way to show love, and that really set the stage for me, in terms of a positive food experience. Many women of her era were dieting or burdened by the kitchen, but she loved the kitchen. I was formally trained at cooking school, but so much of what I learned about food came after that: working in various food jobs and doing research about cooking techniques and styles and, really, just eating my way through New York City and Europe—asking questions every step of the way.
How did your trip to Florence switch your career focus to food?
I had been spending most of the prior two years at the mercy of the dining hall and Wawa, and I couldn't believe how well I could eat in Florence with practically no effort. Just being in an environment where food was so much a part of the daily routine: you shopped each day—food for sale was always spilling out onto the streets, not tucked away in some vast supermarket—and the food was so fresh and easy to prepare. I took my first cooking class there, with an ex-pat named Judy Witts, who had married an Italian man. She hosted groups of eight college students in her home each week, and she walked us through traditional Italian dishes. I could not wait until class each week, to just sit and learn from her—and eat!
What are the challenges of taking a recipe from the kitchen to the classroom to the page?
This is my Achilles' heel: translating how I cook into a written recipe. I am a very skilled recipe writer—four years in the exacting food editorial department of Martha Stewart Living drilled that into me—but when I cook or teach a recipe that I have written, it is so hard for me not to deviate from the written word. I have an inner force that always wants to try something new. Yet if I don't follow recipes exactly in class, students raise their hands and call me on it. I try to explain that there are so many ways to cook a recipe, and that they all work—and that is the beauty of cooking.
How did you settle on six cooking techniques?
I wanted a number that felt doable in a two-and-a-half-hour class, but not too overwhelming for students coming in with little kitchen confidence. I wanted to cover some of the foundational skills that covered the widest range of food. Meat and vegetables encompass a large part of what people eat, so that was where I wanted to focus. Knife skills was a no-brainer—you can't cook without cutting something. Cooking meat and making pan sauces were the next two, and they went hand in hand. You can't cook meat without leaving some juices or drippings behind, so pan sauce skills are key to making the most of them. The last three techniques are focused on cooking vegetables properly. Not all vegetables are the same, so I wanted to teach all the techniques that would create the best of every kind of vegetable out there: roasting, blanching, and cooking leafy greens, which is really its own category.
What do you tell beginning cooks who don't think they're very good?
It's no different than any new activity you want to be good at—learning Italian, training for a marathon, playing tennis. You just have to get in there and practice.