Substance over Style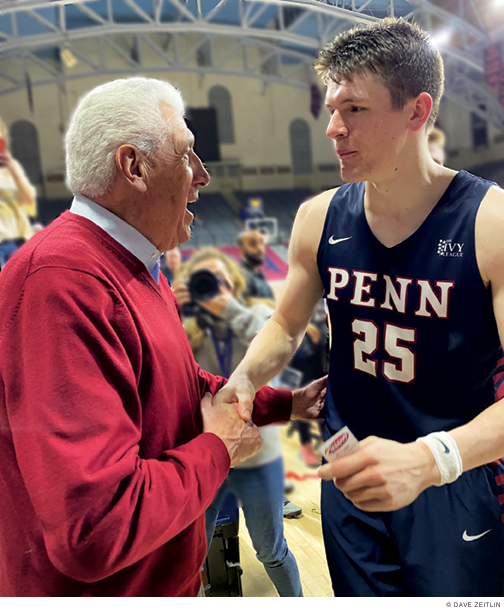 Without any flashiness, AJ Brodeur leaves his mark as an all-time Penn basketball great.
---
Sitting six rows above the Penn basketball bench, a silver-haired 88-year-old man in a red sweater clapped politely when, with just under 10 minutes remaining in the Quakers' regular-season finale on March 7, senior AJ Brodeur set a screen, slipped behind a Columbia defender, received a bounce pass from classmate Devon Goodman, and calmly finished a layup at the rim.
In almost any other situation, it would have been a nondescript play in a comfortable victory. But that basket gave Brodeur 1,829 points for his college career—two more than the red-sweatered gentleman, Ernie Beck W'53, had scored from 1950–53.
Until that moment, Beck had been Penn's all-time career points leader for a whopping 67 years—the longest-standing scoring record of any NCAA Division I program in the country.
"Well, records are made to be broken," says Beck, who led the Quakers to the 1953 NCAA Tournament before a seven-year career in the NBA. "I can't complain. I like [Brodeur] as a player. I watch him on TV. I love his moves, and he's a wonderful passer."
Although it's difficult to compare players from different eras (and also to compare career stats, since Beck was only eligible to play three seasons on varsity), Brodeur is, in many ways, a fitting choice to rise to the top of Penn's scoring chart. Like Beck, the senior was a brutally efficient interior player who had great footwork in the post, wore down defenders, and always got a good shot. And on the other end, he was a true rim protector—the "best defensive player in the league," according to head coach Steve Donahue.
Over the years, his old-school moves garnered him a reputation as something of a throwback. ESPN commentator Fran Fraschilla once tweeted that Brodeur has an "old guy at the Y" type of game.
"I love that," laughs Brodeur, who grew up modeling his game after former San Antonio Spurs star Tim Duncan, a fundamentally sound center who won five NBA championships without much pizzazz. "I think that sets you apart from the rest, in a world where everyone is trying to make spectacular plays or shoot threes. Keeping it simple around the rim, being efficient—I think that's something that's going away. It's such a useful and effective way to play the game."
Beck appeared to agree. When the top two scorers in Penn basketball history embraced at the Palestra after the March 7 game, Beck congratulated the senior but made sure to tell him there was still work to be done. That win over Columbia, after all, clinched Penn's spot in the four-team Ivy League Tournament, scheduled to be held the following weekend at Harvard.
But so much was about to change. Three days after Penn's 85–65 win over Columbia, the Ivy League canceled its tournament due to the COVID-19 outbreak, the first athletic conference to do so. Feeling like his college career was snatched away prematurely, Brodeur was angry and frustrated—emotions that would soon be put into a new light when all other games, including the NCAA Tournament, ground to a halt as well. "At first, it was a why me? situation," he says. "Now it's a lot more serious and I'm glad everyone's really coming together to fight this thing."
Yet even if college seniors from around the country share his pain, it hasn't stopped Brodeur from wondering what might have been. After winning their final three regular-season games, could a Quakers team led by seniors Brodeur, Goodman, and Ryan Betley, and Ivy League Rookie of the Year Jordan Dingle, have won two more to capture the Ivy tourney crown for the second time in three years?
"We were playing in such a way that I don't think there was anyone in the league that could have beaten us," Brodeur says. "We were playing the best basketball we had played all year."
Even with his final season cut short, Brodeur's college career was still nothing short of spectacular. In addition to his points record (1,832), Brodeur played and started every game over four years (119) to leave as the program leader in both of those categories. He also set records in blocked shots (196) and field goals made (752) and was third all-time in rebounds (928) and sixth in assists (390). Among his most impressive feats: Brodeur, who made a habit of executing perfect backdoor passes from the top of the key, led the Ivies in assists this season with 5.2 per game.
"That's definitely one thing we'll never see again in this league—the ability to play as physical as he did on the low block and have the ability to lead the league in assists," says Donahue, who's called Brodeur the most "complete" player he's ever coached. "And it wasn't even close. That's unheard of. … I look at a lot of high-level analytics, and there's really no one like him in the country."
Donahue had known for a while that Brodeur could become a special college basketball player. He started recruiting him while still coaching at Boston College, and those early contacts paid off when Brodeur, a Massachusetts native, spurned Harvard, Yale, and several high-major programs to become the centerpiece of Donahue's first recruiting class at Penn.
Starting with his first game, when he became the first Penn freshman to record a double-double in his debut, Brodeur not only put up huge numbers but changed the culture of a program that had dealt with four straight losing seasons.
As a freshman in 2016–17, he helped the Quakers overcome an 0–6 start in league play to qualify for the inaugural Ivy Tournament, where they nearly stunned top-seeded Princeton in the first round. The following season, Penn snapped an 11-year drought to win the Ivy League and make a long-awaited return to the NCAA Tournament. In his junior campaign, Brodeur led Penn to a Big 5 title, highlighted by a huge upset of defending national champion Villanova. And this year, his steadying leadership on a team ravaged by injuries proved critical as the Quakers reeled off impressive early-season wins over Alabama and Providence before making a dramatic push to make the Ivy League Tournament, as they had done the previous season.
Brodeur capped it all off by being named the 2019–20 Ivy League Co-Player of the Year.
"When he picked us, I had a sense we had a chance to have one of our all-time great players," Donahue says. "And I sensed we needed to make this fun again as we started to build [the program] back. And here's a kid that's a great player who really has fun playing basketball. That was a big part of how we were able to turn the corner."
Donahue believes Brodeur can play at the next level, pointing out to NBA scouts that "I think what gets lost in all this is he's a very good athlete." The Penn coach sees a path for the soon-to-be Wharton graduate that involves playing in the NBA G League, catching the eye of some team looking for a "really good role player," and making the end of an NBA roster. Brodeur has considered playing in Europe too, but it's hard to set long-term goals given how the world might look on the other side of the pandemic.
For now, he just wants to find a way to keep working out on his own and thinking back to his final game in college—in which he not only became Penn's all-time scoring leader but also passed Geoff Owens C'01 (who was in the building too) to set the career blocked shots record and top it off by becoming the first Penn player ever to record a triple-double (with 21 points, 10 rebounds, and 10 assists).
It was the perfect ending he didn't realize was an ending.
"Going back and thinking about it, that's the way I'd want to go out," he says. "Now I think it's even cooler to have had that game." —DZ