Sounds of Settlement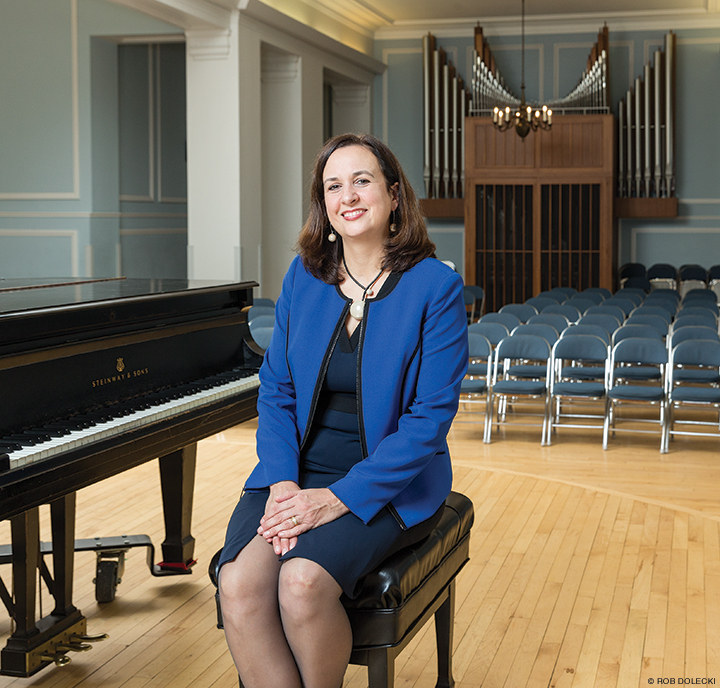 A nimble hand leads the venerable Settlement Music School.
---
One evening last June, about 150 students from six Philadelphia public schools gave a concert in the city for families and friends. Among the many highlights were an orchestral rendition of "When the Saints Go Marching In" and a girl singing "Over the Rainbow."
The concert was the culmination of the Music Education Pathways program (MEP), a year-long collaboration between the Philadelphia School District and Settlement Music School. In it, students receive intensive after-school music instruction from Settlement faculty, as well as whatever instruction their own schools can provide. Needless to say, the parents were thrilled, both with the quality of the instruction and the effect on their children of performing with the orchestra and choir.
"My daughter came out of her shell," said one mother, while the mother of a boy said his behavior had improved: "He doesn't want to get detention and miss his lessons."
Equally pleased was Helen Eaton C'93, Settlement's CEO, who started the MEP program four years ago.
"Students in MEP experience the same high-quality education that our students who come to our branches receive," explains Eaton. "We have had partnerships for several years with a number of schools in the city. At one we provide an intensive after-school band program. One student was chosen to do a side-by-side with Carnegie Hall's National Youth Orchestra 2 when they were in Philadelphia last summer. He would never have been able to do this had we not brought the teachers and program directly to him."
Founded in 1908, Settlement is one of the largest community schools for the arts in the United States. The 200 members of its faculty and staff teach and provide activities to some 5,000 students at its six branches in Philadelphia and South Jersey. Prominent Settlement alumni include Questlove, Kevin Bacon, Stanley Clarke, Chubby Checker, and an adult student named Albert Einstein, who traveled from Princeton on weekends to play chamber music.
Since taking the reins in 2010, Eaton has expanded community engagement with student programs and performances at social service agencies, homeless shelters, parks, libraries, and retirement communities. She also brought the Kardon Institute for Arts Therapy under Settlement's wing in 2014 to serve students with special needs. It's now the largest provider of arts therapy in the region.
Eaton originally thought she would pursue a career as a musician. After becoming first-chair viola in the Penn Symphony, she went on to study the instrument at Juilliard. Several experiences, including teaching English to foreign students at Juilliard, led her to become a teacher and administrator. She served as president of the Chicago Children's Choir from 2007 to 2010, and as dean of programs at the Merit School of Music. She has been devoted to increasing children's access to music.
"Community engagement started with my work at the Merit School of Music," says Eaton, who was recognized by Musical America as one of the nation's Top 30 Professionals of 2016 and a leading innovator in musical education. "While I was dean of programs, Merit was the largest partner to the schools in Chicago."
Settlement provides more than 10,000 weekly individual lessons, classes, and activities in music, dance, and visual arts to children and adults, Eaton notes, not to mention "over $2 million dollars in financial aid—more than any other community arts program in the nation—to 60 percent of our student population."
"I'm really proud of this work, the partnership with schools," she adds. "Our intent is to never replace music teachers in public schools, but to provide additional musical opportunities."
Jeffrey Kallberg, the William R. Kenan Jr. Professor of Music and associate dean for arts and letters at Penn, joined Settlement's central board of trustees two years ago. It's fair to say that he's a fan.
"What I learned after joining the board is just how broad the reach of Settlement is, reaching students from toddler-age to adults in their nineties, and in a number of different communities, including those traditionally under-served in music education," he says. "Helen is passionately committed to bringing music and music education to a wider audience. I was impressed then at the depth of her commitment, which seems to me borne both out of a profound empathy—she really loves music, and wants all populations to be able to share in its gifts—and a deep-seated belief that ensuring a robust future for classical music means diversifying those who are responsible for performing it."
Eaton sees the fundraising part of her job as an "opportunity to connect with people and to provide opportunity for donors to connect with institutions I really care about." She recently helped Settlement receive significant grants from the Andrew W. Mellon Foundation and the Pew Charitable Trusts. The Mellon Foundation's $2.5 million gift to Settlement and other city organizations, including the School District of Philadelphia and the Philadelphia Orchestra, helped increase diversity in the classical music field by supporting a cohort of 75 students chosen from throughout the region. The Pew grant for $500,000 will be used to develop new methods to engage with 21st-century music students.
"Working at Settlement has opened so many doors for me, meeting people who are new to the school and people who have been involved for generations," says Eaton. "People want to be generous and they want to get involved, and it's a matter of understanding what they care about most, and then finding a connection to your institution."
—Jon Caroulis