Saving Animals the Minimally Invasive Way with SEVS
It began with a phone call about a very sick dog.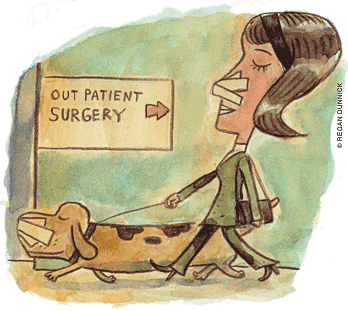 Dr. Chick Weisse V'98, clinical instructor in small-animal surgery, was making his rounds at the Veterinary Hospital of the University of Pennsylvania a few years ago when somebody brought in a toy-breed dog with "severe respiratory distress." The dog had a progressive, degenerative disease in which the cartilage-support rings of the trachea (windpipe) weaken and eventually collapse.
While most surgical-treatment options for animals today are "very invasive and associated with relatively high morbidities and mortalities," Weisse notes, there was "some scant research in 'stenting' these dog tracheas with minimally invasive procedures using interventional radiology." (A stent is a small tube that keeps the airway open, and interventional radiology has been defined as "image-guided minimally invasive surgery.") The results were mixed, but given the other options, he thought it might be worth a shot.
So he called the interventional-radiology unit at HUP to see if anyone would be willing to help him perform that procedure. As it happened, a "consummate animal lover" named Dr. Jeffrey Solomon M'94 GM'98 GM'00 WG'02 answered.
Solomon, who had enrolled in the MBA program at the Wharton School after finishing his fellowship in interventional radiology at HUP, was still on staff at the hospital.
"One morning I happened to pick up the phone and there was Chick asking me to stent the trachea of a dog," he recalls. "I love animals, and I thought it was a great opportunity. I ran over to VHUP in between classes and we did the case. Chick and I struck up a conversation about other diseases that could be treated with similar techniques."
The two "immediately saw the potential for collaboration in developing these techniques in animals," says Weisse, who is now director of interventional-radiology services at the veterinary hospital. After they had performed two or three procedures together, a lightbulb went on over their heads: form a not-for-profit 501(c)3 organization to bring cutting-edge, minimally invasive health care to animals. The result was the Society of Endovascular Veterinary Surgery (SEVS), which is "dedicated to pioneering the science of minimally invasive therapy through educating and training veterinarians, conducting research, and establishing standards of care." According to its Web site (www.sevs.org), SEVS "aims to save lives, ease suffering, and improve the quality of life for animals," and offers "hope to animals by fusing technology and innovation with care and dedication."
"We felt that there was a need for an organization like SEVS because most animal not-for-profit organizations focus on herd health," says Solomon, now an assistant professor of radiology at Penn's medical and veterinary schools. "We wanted to recognize the value of the special bond between pet owners, and therefore we focus on improving the health of individual animals."
Enter Jared Finegold W'01 WG'02, who was in the same cohort of the MBA program at Wharton as Solomon. The two quickly became friends.
"Very early on Jared struck me as one of the brightest guys in my class," says Solomon. " I was very excited when he called me one day saying that he wanted to help get SEVS started, because I knew his background in entrepreneurship would be invaluable for us."
"We both thought that there would be great interest from both pet owners and veterinarians about what we were doing, but the types of procedures we do can be very expensive," says Finegold, who started a software company called Tenebril, Inc. during his sophomore year at Wharton, and more recently formed Veterinary Endovascular Technologies, a manufacturer of medical devices for the veterinary market. "The not-for-profit would be a great way to educate veterinarians and provide some assistance to pet owners." Wharton "taught us how to effectively run organizations, both for-profit and not-for-profit," he points out, and that knowledge has been "critical in growing and marketing SEVS during our first year." They got more help on the legal side from the Law School's Small Business Clinic.
"The resources here [at Penn] are incredible," says Solomon. "There are experts in human and veterinary medicine, business, law, engineering, and more within a couple of blocks. All it takes is a little bit of collaboration and idea sharing to produce great advances."
Inevitably, some will ask why such high-tech care should be lavished on animals, given the poor health-care provided to many of the world's human beings.
"When thinking about what SEVS does, one also has to consider the place that pets have in our lives," says Solomon. "Last year Chick and I were asked to perform a procedure on a sick dog from North Carolina. The owner was an elderly person who lived alone. She was ready to take out a second mortgage on her house to pay for the procedure until Chick and I found out and did it for free through SEVS. It is very disturbing to watch a pet suffer and it is only natural to want to help. People can be as invested in their relationship with their pets as they can be with other people. SEVS recognizes this bond."
"Many of the diseases we are treating in animals are naturally occurring models of human disease," notes Weisse. "This means that much of the information we learn by performing these procedures may be useful in creating treatment protocols for humans." Furthermore, he adds, their research enables them to "learn how these diseases respond to these therapies while treating clinically sick pets, rather than trying to induce these diseases in healthy lab animals." (SEVS only performs procedures on clinically diseased animals—not lab animals.)
For all of them, the work they do for SEVS has been a terrific experience. "We have traveled all over the country giving lectures and helping out with cases," says Solomon. "We have met great people. I am always most impressed with just how appreciative the pet owners are. For me, just seeing the look on people's faces after we have helped their pet is fantastic." 
—S.H.