'Summit' Highlights Alumni Presence in Media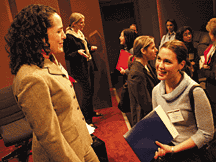 Jobs are scarce, competition fierce, bosses often shortsighted and paranoid, and the balance between creativity and commerce weighted heavily toward the latter, but the 200-plus alumni gathered in New York in November for the first Penn Media Summit were in agreement that the media world—encompassing news and entertainment, print, movies, TV, radio, music, and the Internet —is a great place to work. (Besides, as one participant said, isn't every business like that?)
Introducing the day-long event, which included four panel discussions at the Museum of Television & Radio, followed by a reception at the Penn Club of New York, Allan Block C'77, managing director of Block Communications, offered that its purpose was not so much to hear the panelists but to "connect with people you don't know" from related fields. But attendees who did listen got an earful of war stories, inspiration, and practical advice.
In a panel on "The New Media: The Road Less Traveled," Warren Lieberfarb W'65, president of Warner Home Video, who was introduced as the "father of DVD," mixed all three elements in describing his "30 years taking risks" in the movie business. He warned those who might be seeking a career in the movie studios: "If you are a change agent and expect that these are merit-based cultures, be prepared to do battle." In fact, he added, the studios are "more like feudal England."
Studio executives are "extraordinarily well-compensated, love La-La Land and doing lunch, and are very good at avoiding responsibility and transformative decisions," Lieberfarb said, noting that they opposed every advance in technology and distribution that has come along, from increasing the number of movie screens, to market research, to the advent of cable TV and VCRs, to the most recent perceived threat, the Internet.
David Pullman C'83, founder, chairman, and CEO of The Pullman Group, LLC, who pioneered the securitization of intellectual property with what have become known as "Bowie Bonds" ["Alumni Profiles," April 1997], said that the Internet represented a new revenue stream for artists, through payments for such things as background music for ads, and has given consumers the ability to more easily find and order obscure titles.
Dotcom boom-and-bust veteran Ted J. Werth W'94 C'94 ["Alumni Profiles," July/August 1999]—who started the early online city guide, Total New York, and is now co-founder and chief strategic officer of Digital Club Network (www.DCN.com), which webcasts and records concerts for later release as CDs —said that old, large companies were at a disadvantage. "If you have everything, you have everything to lose," he quipped, and urged them to adopt the mindset of new companies.
Lieberfarb, who described the Internet as "a technology in search of a business model," said that its "functionality and convenience"—especially with the enhancements of broadband technology—made it so valuable that eventually it would find one, either through subscriptions or better tracking of visitors to make an ad model practical.
Among the issues raised in a panel on "Women in Journalism" were the difficulty of finding a balance between work and family and the reality of the "glass ceiling" in media companies.
Moderator Darby Mullaney C'88, a reporter with CNBC before taking time off in 2002 to care for her newborn daughter, quoted from a recent study by the Annenberg Public Policy Center showing that women hold fewer than one in five board seats and one in four top executive positions at the largest communications companies.
According to Eileen Naughton C'79 WG'87, who was named president of Time magazine last February, her sex neither helped nor hindered her rise in the company, any more than had the fact that she "was the first person in the corner office who doesn't golf." She called the balancing of family and work "a workforce issue," adding that women and men as managers have to be open about it.
For network television news producer Lisa Cohen C'82, who worked for Primetime Live and other shows on ABC for more than 15 years and the past three years at CBS's 60 Minutes II, work vs. family "right now, is a juggling act." She now looks for stories that keep her close to home and do not demand long-term commitments of time.
Jean Chatzky C'86, financial editor for NBC's Today show and editor-at-large for Money magazine, squeezes her TV appearances and writing into a four-day work week to carve out some time for her family. Though she would like to be the editor of a magazine some day, she said, she has put that ambition on hold in favor of the flexibility of being "able to go to a parent-teacher conference or soccer practice."
Some of the panelists admitted to discomfort at being pigeonholed as women in journalism rather than simply as professionals in their field. A similar question came up in "Diversity in the Media," as the panelists discussed television programs targeted to sexual or ethnic minorities. While such programs can be termed TV "ghettos," they can also be seen as "liberated zones," since they bring material that is otherwise kept at the periphery to the center, said the Annenberg School's Larry Gross, the Sol Worth Professor of Communication and author of Up From Invisibility: Lesbians, Gay Men and the Media in America.
Matt Blank W'72, chairman and CEO of Showtime Networks, Inc., said that such programming was not a moral imperative "but good commerce" for his network, which has had its greatest successes with shows like Resurrection Boulevard about Latinos and the gay-themed Queer as Folk, its highest-rated show. People watch programs targeted to their group differently, said Blank, since those shows are important to them and offer a unique type of acceptance. "That," he predicted, "will transform to economic equity for us."
While the faces in front of the news camera may be more diverse, the world behind the camera remains overwhelmingly white, according to Gregory Branch C'89, a broadcast journalist who has worked with ABC, CBS, NBC, and PBS. In TV, he said, it is the producer, not the on-air reporter, who shapes the vision and content of news stories —and few producers are blacks or other minorities. Frustration over that narrowness of vision led Branch to co-found Network Refugees, Inc., described on its Website (www.networkrefugees.com) as a "a not-for-profit corporation that connects experienced television and film producers with economically disadvantaged people, to work together on documentary and film projects."
In the day's final panel, "At the Intersection of Commerce, Culture, and Creativity," former Philadelphia Magazine editor Eliot Kaplan C'78 put the balance at about "90 percent commerce." Kaplan, who was managing editor at GQ before his seven-year stint at Philadelphia Magazine, recalled battles with the magazine's owners over his occasional deviations from the standard cover image featuring an attractive, scantily clad woman.
Nowadays, Kaplan is editorial talent director for Hearst Magazines, recruiting editors, writers, and art directors for the company's 16 magazines and start-up ventures. With advertising in a deep slump, "branding is the mantra," he said, and it is very difficult to start anything new. Editors today "must be more cognizant of packaging," he added, and there is less demand for literary journalism. While lots of good work is being done, magazines like The New Yorker, Atlantic Monthly, and Harper's "all lose money," he said.
Todd Lieberman C'95 said that the balance between art and commerce is one he strikes every day as president of Mandeville Films and Television, where he oversees more than 30 film and TV projects. After some acting and a stint working for a public-relations firm, he went into film distribution, working in international sales and distribution before taking on his current position.
Lieberman noted that larger companies are buying smaller ones, forming big conglomerates, with the "extreme of commerce getting in the way of creativity." Warner Bros. Studio, for example, he said, wants a "franchise" such as the Harry Potter series.
Christopher Dixon C'69 called branding "a way to minimize risks and cover costs." After starting his career as an independent TV and film producer, Dixon said he decided to switch to analyzing the media when he "had five projects shot down in one day." Currently, as managing director in the telecommunications group and global media coordinator at UBS Warburg, he supervises 35 analysts around the world looking at media, he said.
Dixon compared the present to his early days in the industry, when "there were only four outlets" for television projects. "It's fascinating the amount of technology out there and outlets out there, and it's going to be exciting." Referring to the generally poor job market—media companies have been among the hardest hit by the sharp downturns in advertising, the Internet bust, and the overall decline in the stock market—Dixon added, "Now nobody has a job to give—so go out and do it."