Resuscitating HealthCare.gov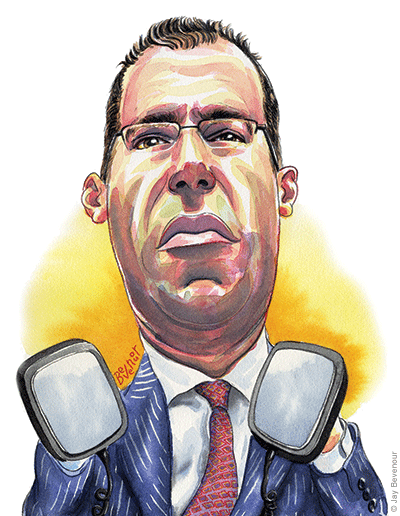 Class of '88 | When Andy Slavitt C'88 W'88 first began to help the failing website that had the nation's collective blood pressure spiking, all he saw was chaos.
Contractors and software engineers were desperately trying to correct the technical problems plaguing HealthCare.gov, the much-maligned federal health portal that threatened to derail the Affordable Care Act, President Barack Obama's signature healthcare law. But in the wake of the website's disastrous October 1 rollout, they were also pointing fingers at each other—and fuming each time they read about their own failings.
Later that month, Slavitt, a group executive vice president at Optum, a Minnesota-based UnitedHealth Group subsidiary, found himself at the center of the maelstrom. That was when Quality Software Services Inc. (QSSI)—whose parent company is Optum—was chosen by the Obama administration as the general contractor to oversee the repair of HealthCare.gov. Slavitt and a team of specialists flew to Washington and set up what he calls a "war room" at QSSI's offices in nearby Columbia, Maryland.
He compares the room to an "air-traffic-control room," with clusters of desks for about 50 people and huge screens in the front that everyone could see. That's where he spent virtually every waking hour from the last week of October through Christmas, trying to fix the glitches that prevented many consumers from shopping for new healthcare plans, comparing coverage and determining whether they qualified for subsidies.
He faced a daunting task: to get everybody on the same page and have the website working before it was too late.
"In the last week of October, things were in a world of hurt," Slavitt recalls. "Technology problems are generally all solvable. It's just a matter of whether you can organize and prioritize and get people to work together—those tend to be the harder things to fix sometimes."
By then the website "was only up about 40 percent of the time—and there wasn't enough instrumentation to know when the site was down," he says. Two weeks later, as he realized "the magnitude of some of the infrastructure problems," the site had actually gotten worse. So had morale.
"Back then it was all I could do to keep people focused and positive and moving forward," he says. "There were some rough moments."
With an unblinking eye toward creating an organized system of accountability and transparency, Slavitt set up a "five-week gameplan" with specific goals for different contractors. He arranged twice-daily phone calls with vendors and provided the media with daily updates. And he made sure he was available 24-7, getting hourly texts in the middle of the night as well as 5 a.m. wakeup calls from White House staffers checking on the progress.
"He's as calm under pressure as anyone I've seen," says his chief of staff, Christine Gibson. "He's as calm without sleep as anyone I've seen."
Slowly but steadily, those rough moments began to smooth out. By December 1, when the White House's self-imposed deadline had promised full functionality, the site was signing up "tens of thousands of people per day," Slavitt recalls. Later in the month more than 100,000 people enrolled on a single day.
Marilyn Tavenner, administrator for the Centers for Medicare and Medicaid Services (the government agency running HealthCare.gov), describes Slavitt as a "key part of our leadership team" in the collective effort "to help millions of Americans get affordable health insurance in a whole new way."
"It's not my day job, but it was important enough to make it my day job over the past few months," says Slavitt. "It's important to the country. It's important to healthcare. It's important to all of us. Very few people would benefit if Obamacare failed. If it failed because the website crashed, it would have been bad for everybody.
"The most gratifying thing of all is looking at people who had not had insurance and were getting insurance for the first time," he adds. "That was the goal."
In many ways, that's been the goal for Slavitt ever since he started working in healthcare policy 16 years ago—a career path fueled, in part, by a tragedy. Coming out of college, Slavitt initially held jobs in consulting and investment banking. But after his old roommate at Penn, Jeff Yurkofsky C'88, died of a brain tumor in 1998, he decided to switch course. Alarmed by the hefty medical bills left behind for Yurkofsky's widow—even though his friend had health insurance—Slavitt started his own healthcare company, Health Allies. He describes it as "one of the first retail consumer healthcare companies," and explains that he was able to convince hospitals, physicians, and other providers to offer services to individuals at the same rates they were charging insurance companies. A few years later, Health Allies was acquired by UnitedHealth Group, and Slavitt began his rapid ascent through the ranks.
He learned to diversify his interests when his late father, Earl B. Slavitt W'61 L'64, told him that if he wanted to go to Wharton he also had to earn a degree from the College. (Slavitt recently started the Earl B. Slavitt Civic Engagement Education Program, in which Penn students help kids in West Philadelphia learn to read.)
"I've always viewed Penn through the lens as someone who was able to do the complete interdisciplinary thing—where I could be a finance major one day and the next day I was reading Shakespeare and Greek literature," he says. "I don't think it's too much of a stretch to look at situations of complexity—whether it's HealthCare.gov or anything else—and say that Penn is the kind of place that prepares you for that."
Slavitt will continue to use those problem-solving skills as a senior adviser to HealthCare.gov until things are completely stable. And Optum's success on the federal site has prompted several states to enlist its services in helping with their own insurance exchanges.
"I think people like the fact that we ran toward the crisis instead of away from the crisis," he reflects. "There was so much uncertainty—that's probably the thing people appreciate the most. We weren't saviors. We didn't save the thing. People involved from the government standpoint were really the ones who did it. We were just glad we were able to play a part in it."
—Dave Zeitlin C'03