Digging Egypt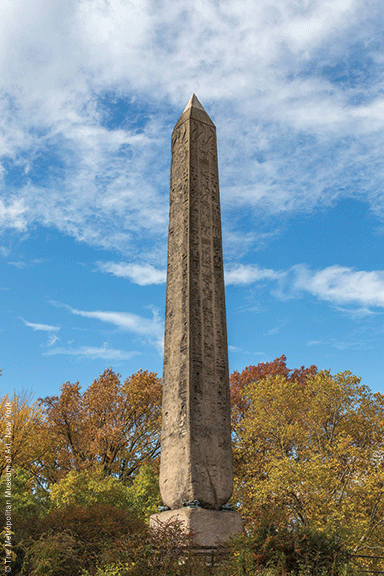 Class of '91 | Diana Craig Patch Gr'91 could have been a nervous wreck.
It was early December, and the Metropolitan Museum of Art's newest exhibition, Cleopatra's Needle, was opening. (It runs through June 8.) Three months earlier she had been appointed the Lila Acheson Wallace Curator in charge of the Department of Egyptian Art, and with that fancy title came the responsibility for overseeing the museum's 39 galleries, 26,000-plus objects, 15 staff members, and eight curators dedicated to Egyptian art. This was her first show at the helm.
She had only been working for eight months on the exhibition—which, for all her expertise on ancient Egypt, was on a topic she knew relatively little about: the history and symbolism of obelisks. When her boss first approached her with the idea of an exhibition that would coincide with the renovation of Cleopatra's Needle—the obelisk that originally guarded a temple in ancient Egypt and is now a tourist attraction in Central Park—Patch's initial thought was: Why are people so interested in this?
At the opening, however, she was perfectly at ease, explaining how obelisks have gone from being talismans erected to keep evil spirits out of temples to objects of popular culture across Europe and America, and answering all manner of questions from detail-obsessed visitors with a smile.
She also seemed giddy at the new knowledge she had picked up while putting the exhibition together.
"At the Met you have to be broad," she says. "You have to cover a lot of time periods. You have to cover a lot of materials. You know you are serving a public who wants to know about everything, and you have to do what needs to be done.
"It's a challenge," she adds, "and I like challenges."

In a sense, Patch's job is a marriage of a first love and a longstanding passion.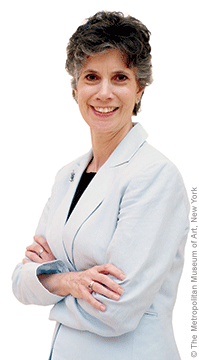 "I always loved Egyptology," she says. "I grew up in the suburbs of Chicago and spent a lot of time at the Field Museum, which had a huge Egypt collection, and that was always my favorite. The first book I had was even on Egypt."
The passion is archaeology.
"I love digging more than anything else in the world," she says. "Archaeology is a key to the back world. You're presented with bits and bits, and you have to understand how the bits fit together and explain something about the human path."
While many Met employees have risen to the top as art historians, Patch did so as an archaeologist.
Her first exposure to the subject came in high school, when she won a National Science Foundation scholarship that enabled her to spend four weeks learning about archaeology from university professors around Chicago.
"I was hooked," she says. "The following summer I [skipped] my high school graduation; I just went to the field."
After her undergraduate years at Washington University in St. Louis, where she dug in caves around Kentucky and traveled to Iran for an excavation led by the head of the Louvre's Egyptology department, she came to Penn in 1978.
For the next 13 years she pursued her PhD under David O'Connor, then a professor of ancient Egyptian history and archaeology as well as curator-in-charge of the Penn Museum's Egyptian collection. He was impressed by her field experience, Patch recalls.
"I said, 'I want to work in ancient Egypt and dig,' and he said, 'Well, Near East is full … just how much experience do you have?' So I showed him pages of field experience and he said, 'I think we can find room.'" O'Connor was also impressed with her desire to focus on prehistoric Egypt (going back to 5000 BCE)—which, at the time, was not popular among scholars.
During her time at Penn, Patch led a team to the Abydos-Thinis region of Egypt to excavate cemeteries and settlements.
"I would say her work was [that] of a trailblazer back then," says O'Connor, now a professor of ancient Egyptian art at NYU's Institute of Fine Arts. "Soon after, many regional studies of pre-historic Egypt began to be undertaken by various people."
After earning her PhD, Patch began setting up programs
to teach people more about her dual loves: pre-dynastic Egypt and digging. At the Carnegie Museum of Natural History in Pittsburgh, she created its first "Hall of Ancient Egypt."
In 1995 she traveled to Egypt and set up a school, with funding from the United States Department of Agriculture, to teach local inspectors and archaeologists how to properly dig.
"They didn't [know] techniques, and they were digging more and more," she explains. "This was designed to provide them with basic equipment, basic techniques, and a basic understanding of how to dig."
When a curatorial position within the Met's Egyptian art department opened up in 1996, Patch jumped at it. Not only was the Met a prestigious place to work; it also deeply values archaeology. More than 60 percent of the items on display come from digs undertaken by the museum, and many of the former leaders of the Egyptian Art team are archaeologists.
Her big break came in 2012 when she curated Dawn of Egyptian Art, an exhibition that explored pre-dynastic Egypt (4000—2650 BCE).
"If you had asked me before her exhibition, I would have said, 'Oh, it's a very difficult subject to present … there won't be any interest in it,'" says Edward Bleiberg, a curator of Egyptian, Classical, and Ancient Middle Eastern Art at the Brooklyn Museum. "But after seeing her exhibition myself and then witnessing the reaction to it—it was so fantastic! I may get into trouble for saying it is the best Egyptian exhibition I've ever seen." The New York Times agreed, calling it a "sublime, view-shifting exhibition."
After that success Patch was tapped to become acting head of the Egyptian art department, a role that became permanent in September. And while she is just getting used to her new job, she is already excited about how much power she has to teach people about Egypt.
"You do stop and realize that, in one way or another, what we do here, a lot of people are interested in," she says. "It's such a huge audience, you want to make sure what our department does from our perspective is the very best quality we can provide, so what people get is accurate and informative and—perhaps not the only word, but a thoughtful word on the subject."
—Alyson Krueger C'07