The Italian Job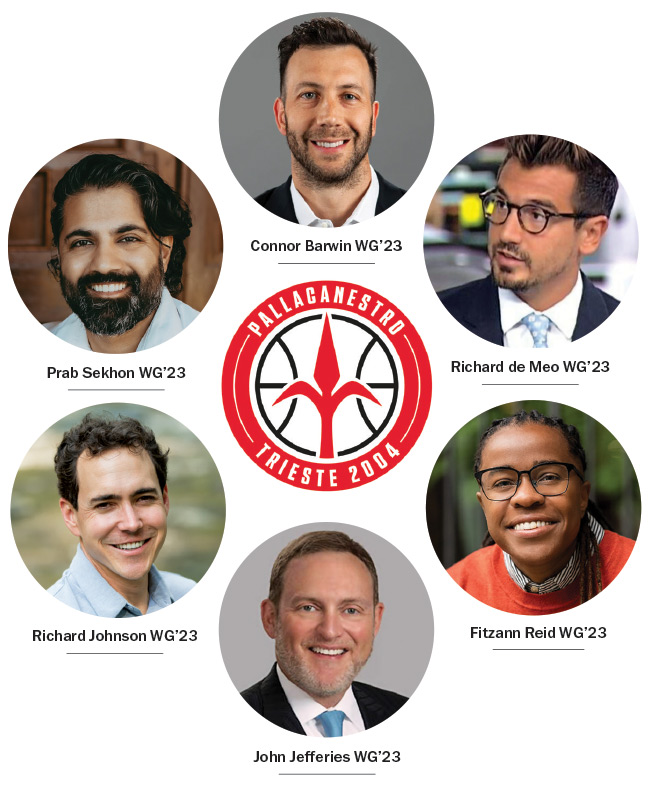 Why six Wharton classmates launched a sports ownership group and purchased a professional basketball team in Italy.
---
Fitzann Reid WG'23 could feel the nerves in the Allianz Dome fraying.
The passion of Pallacanestro Trieste 2004's supporters had been such a selling point when she and five fellow Wharton Executive MBA (WEMBA) students purchased the team in January. But it now meant the new vice chair of the Italian basketball club's board of directors had joined them on an emotional rollercoaster of a surprise relegation battle. The threat of demotion from the top division of Italian basketball—Lega Basket Serie A—enveloped Trieste's penultimate game of the 2022–23 season, and Reid was along for the harrowing ride.
A win that day only forestalled relegation, to which the team ultimately fell a week later, on the final day of the season. But Reid and her co-owners spun the disappointment as an opportunity for a new foreign ownership group to redouble its commitment to grow what it hopes will be the first of many sports acquisitions around the world. "This is an opportunity to hit the refresh button in so many different ways," Reid says, "and build something that will be long lasting for the future in terms of always being in the top-tier division."
Reid never expected to be thinking about the promotion/relegation hopes of an Italian basketball team when she started at the San Francisco campus of Wharton's Executive MBA program and met classmates Prab Sekhon WG'23, John Jefferies WG'23, Richard Johnson WG'23, Richard de Meo WG'23, and Connor Barwin WG'23. Most of them took a sports management course together, where their professor, Robert DiGisi WG'93, told them about a professional Italian basketball club that might be open to buyers. Soon enough, the six of them had formed Cotogna Sports Group (CSG) and raised enough capital to secure a 90 percent stake of Pallacanestro Trieste, valued at $5 million.
"We all, in our own rights, are very successful, but we all came to business school because we wanted to enhance that in some way," Reid, a lawyer, says. "It wasn't necessarily in our plans—I don't think in anybody's plans—to own a sports team when we came to Wharton. But it kind of fell in our laps."
Their objective now is to find other sports franchises with strong fundamentals—across various sports and countries, and in men's or women's leagues—and see if they can use their professional experiences and business school backgrounds to open new revenue streams and make it a good long-term investment. "Are we able to improve the team in some respect?" Reid says. "Can we add value to the team? … Is there a foundation we can build on? Is there a story we can tell?"
Each founder contributes a unique skill set and has some background in sports. De Meo, Pallacanestro Trieste's chairman, was a commodities trader in Italy who used his contacts to vet the purchase. Jefferies is the team cardiologist for the NBA's Memphis Grizzlies. Barwin played basketball at the University of Cincinnati, before playing 10 years in the NFL as a linebacker, including four with the Philadelphia Eagles (where he currently works in the organization's front office). Johnson played tennis professionally after winning a national team tennis championship at Pepperdine; Reid played soccer in college; and Sekhon was a member of the national karate team in his native Canada.
They plan to grow the team's capacities this offseason via a fresh business and marketing plan, expanded sports medicine resources, and more scouting and analytics. They hope that will transform Trieste from a team perennially fighting for survival in the top division into a championship contender capable of qualifying for prestigious continental competitions like the EuroLeague and Europe Cup.
Trieste provided a unique opportunity to put their theories into practice. Basketball has a long history in Italy, but it's dwarfed in popularity as a spectator sport by soccer. While foreign dollars have flooded into soccer teams—most recently by actors Ryan Reynolds and Rob McElhenney's purchase of the Welsh club Wrexham AFC, whose recent promotion captivated American audiences—basketball in Italy has a scant history of foreign ownership. That made Pallacanestro Trieste considerably more affordable as a first foray into ownership.
But basketball is more popular in Trieste than in many other Italian cities, with a long history of hardwood success that stretches to a string of championships before World War II. The cosmopolitan city, which Jefferies calls "a melting pot," hugs the Adriatic coast a short distance from basketball-mad Slovenia and Croatia.The club's connection to the city was tested when a previous iteration was dissolved and reformed after bankruptcy in 2004, again rising to the league's top flight.
"We all appreciated the inherent love of the team in this region," Jefferies says. "I think that was part of the motivation for us, making sure we were coming into a group and a city that was behind the team. And that very much exists in Trieste."
"Anybody that knows anything about European basketball immediately confirmed that this was a basketball city, and that was really important to me," Barwin says. "It sounds obvious, but having people that really care about basketball, that's the kind of business you want to get behind."
After CSG finalized the purchase in January, the new owners were greeted by a four-game winning streak that lifted the team near the .500 mark. The subsequent fall to relegation was something of a surprise, as the team lost 10 of 12 games to end the season, but it was among the risks they knew they'd be assuming in a European promotion-relegation system (which doesn't exist in the US). Being in the second division will constrain revenues from the league, and thus salaries for players, but it could provide cover to implement some of the off-court strategies to shore up the business side while the team battles for promotion.
Jefferies sees their "baptism by fire" as galvanizing the ownership group, a chance to reinforce to fans that they're in it for the long haul. "We recognize it's not all going to be smooth," he says. "There are going to be bumps along the way. That's part of the deal."
"Change takes time," Reid says. "You want to change things smartly, slowly. Spending time with the fans really makes a difference, and having a clear direction makes a difference. Fans want to know where they're headed and what they can expect from you."
"There's just such a passion, there's a history, there's a magic there that is unlike other places," Reid adds of Trieste. "And that intrigued us quite a bit."
—Matthew De George