Letters
"If stem cells have multi-year benefit in dogs, it is very likely similar benefit would be seen in humans."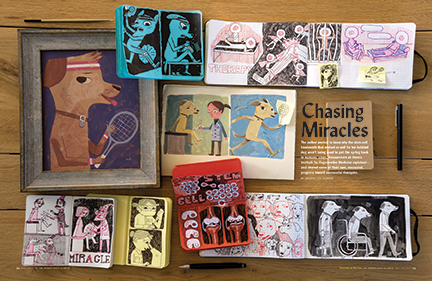 Multi-species Misunderstanding
I was delighted to see Kathryn Levy Feldman write in-depth about stem-cell therapy in veterinary and human medicine ["Chasing Miracles," Nov|Dec]. However, Feldman discusses only one version of stem-cell therapy for canine osteoarthritis—autologous-stem cell kits sold by a company called MediVet Biologics. Other companies have been providing stem-cell therapies to canine and equine patients (e.g., Vet Stem, San Diego).
Another observation: the comments by Drs. Zaret and Cotsarelis to the effect that the "threshold for success in people is different because we live a lot longer," and "In a dog, it's great," but in his son, "surgery would be better," reflect a misunderstanding of this technology and multi-species medicine (i.e., veterinary medicine). The underlying biology of the cartilage and OA processes are very similar in dogs and humans. If stem cells can be shown to have multi-year benefit in dogs, I would argue that it is very likely similar benefit would be seen in humans.
Long term, there is no human therapy that reliably provides a benefit of 20-30 years, even surgery, and if stem-cell therapy can postpone knee surgery for several years and decrease the use of pain medication, I would argue the benefits for humans are clear. It would have been useful for the author to quote an opinion from PennVet.
Linda Rhodes V'78 Durham, NH
Biggest Issue: Teachers' Unions
I can't believe the author of "Against Radical Disruption" ["Expert Opinion," Nov|Dec] could seriously imply in the same two pages that charter schools don't produce measurable results vs. public schools (an absolute falsehood), that the solution is custom-designed education provided to measured groups of students, and never even mention the biggest issue in education today. Because of the power granted to the teachers' unions, mediocre teachers get tenure right along with the highest performers. If you can't constantly improve the most important element in education, you can spend all the money you want and gyrate through one format after another, and never get anywhere. The teacher will always be the tip of the spear. All this doesn't get us to challenging what is actually taught. I am continually shocked by the amount of partisan indoctrination, primarily liberal, allowed by school systems.
John Kissick WG'68 Kerrville, TX
Despite Advantages, Charters Aren't Better
For many years I worked in the Philly public schools in capacities including classroom teacher, school counselor, educational diagnostician (for bilingual pupils), and consulting multilingual school psychologist. I am a proud graduate of Philadelphia's public Central High School. I've also consulted as a school psychologist in charter schools and private schools for regular and special education.
With all the advantages charter schools have, their test scores are not significantly higher, leading me to the conclusion that the model is unfair to the kids. Monies are drained from the general budget for public schools so that charter schools can profit. The earnings are not a reflection of better test scores. How, then, is profit justified? Charter school test scores also do not support the belief that public-school teachers don't do their jobs well because they're unionized.
I was aware of constant criticism, unfair and inaccurate, against teachers in the public schools. Yet after work, I went to tutor in the suburbs, working with kids who went to some of the finest private schools. The suburban kids I worked with mostly showed significant improvement in the subjects I helped them with. I was still the same person who was accused of lacking teaching skills in the city, while in the suburbs I was sought after for helping kids using the very same teaching skills I had in the city schools.
David Herman G'71 Elkins Park, PA
Debt of Gratitude
"Cora Ingrum's Legacy" was right on point ["Alumni Voices," Nov|Dec]. I too entered Penn by walking underneath the door sill, without an ounce of self-confidence that I could do it, but I walked out tall and proud four years later having earned a degree with honors in bioengineering, and looking forward to a promising career in medicine thanks to Cora's belief in me. Each one of us that sat next to her desk in that tiny office in the Towne building owe her a debt of gratitude as she graduated a generation of students for Penn. In my eyes, and in my heart, I know Ms. Ingrum—Cora—will be remembered as one of the giants that make Penn great.
Edgar J. Geigel EAS'86 Windermere, FL
Trump's Victory
Anyone surprised by Trump's victory will find insight in the superb "Eighteen Wheel Blues" by Penn sociology lecturer Steve Viscelli ["Gazetteer," Nov|Dec]: the author draws on personal experience to document the decades-long, profit-driven decline in working conditions for one of America's once-lucrative blue-collar careers. This decline parallels similar management-engineered takeaways from rank-and-file workers across the nation, which have driven much of the discontent that has delivered "The Donald" to the White House.
Shane Finneran W'99 San Diego
Sea Change
I am a Wharton Grad, which I am not sure is still part of Penn. I am a member of the "tribe" of Americans who supported our next president of the United States. The question is, will the Gazette acknowledge one of its own who will now be the leader of the free world, or will the leftist elite censor what is happening in the world? Is this discrimination in its finest form, Ivy League style?
Needless to say, I hope you have the intellectual honesty to understand the sea change that is happening outside the Ivy League bubble in the rarefied Northeast Corridor. The truth will set you free.
Peter C. Balas WG'88 Pleasanton, CA
They Said, "Stop the Bus"
The Johnson/Nixon era had its turmoil, yet it may pale in comparison to what's on our horizon. As I see it, the country was on a road to globalization. There were a few potholes, several flat tires, and many hills to climb. Nonetheless, slowly we progressed, along with the rest of the world. Unfortunately, too many felt they were left behind. So, they said, "Stop the bus. Turn it around." And here we are.
Many say this is democracy in action, and the way the Electoral College works. I say, not really. If they never allowed gerrymandering, which is not part of the Constitution, that bus would still be moving. We might actually have a one-vote-per-voter popular voting system by now. Yet, when you lose the popular vote by more than two million, there is no mandate.
Trump was a Democrat, but now he is a populist, definitely not a conservative. What will he decide to do? He can start with an infrastructure bill, then fix Obamacare and call it something else. He can change the tax codes as did Reagan, but when he attacks social issues and immigration or messes with foreign policy, there will be resistance. The protesters are just practicing for now. Many voters may not recall the Vietnam War protests but they can easily google it. Now, it appears there could be many déja vu moments with all the pot smoking and riots in the streets, with perhaps a few sit-ins sprinkled in. I wonder if Trump had any of this in mind when he decided to make America great again!
We can only hope and pray he responds to social media the way his half of the voters responded to him. If not, there may be a resurgence of bomb-shelters and school drills where you learn to hide under your desk. As for the baby-boomers, you might want to get out those old peace signs, roll your doobies, and plan for the next Woodstock. Peace out and don't "hate on" the messenger.
Joe Ryncavage C'76 Kingston, PA
A Proposal
An immediate halt should be called to all construction plans on the Penn campus. Serious thought must be given to the future location of the Trump presidential library. Also, be sure to include in the design appropriate sidewalk space for future protesters.
J im Scott G'98 Mt . Laurel, NJ
A Comment
Benjamin Franklin is rolling over in his grave right now.
Marcia Hirtenstein W'77 Saratoga, CA