Intelligent Designs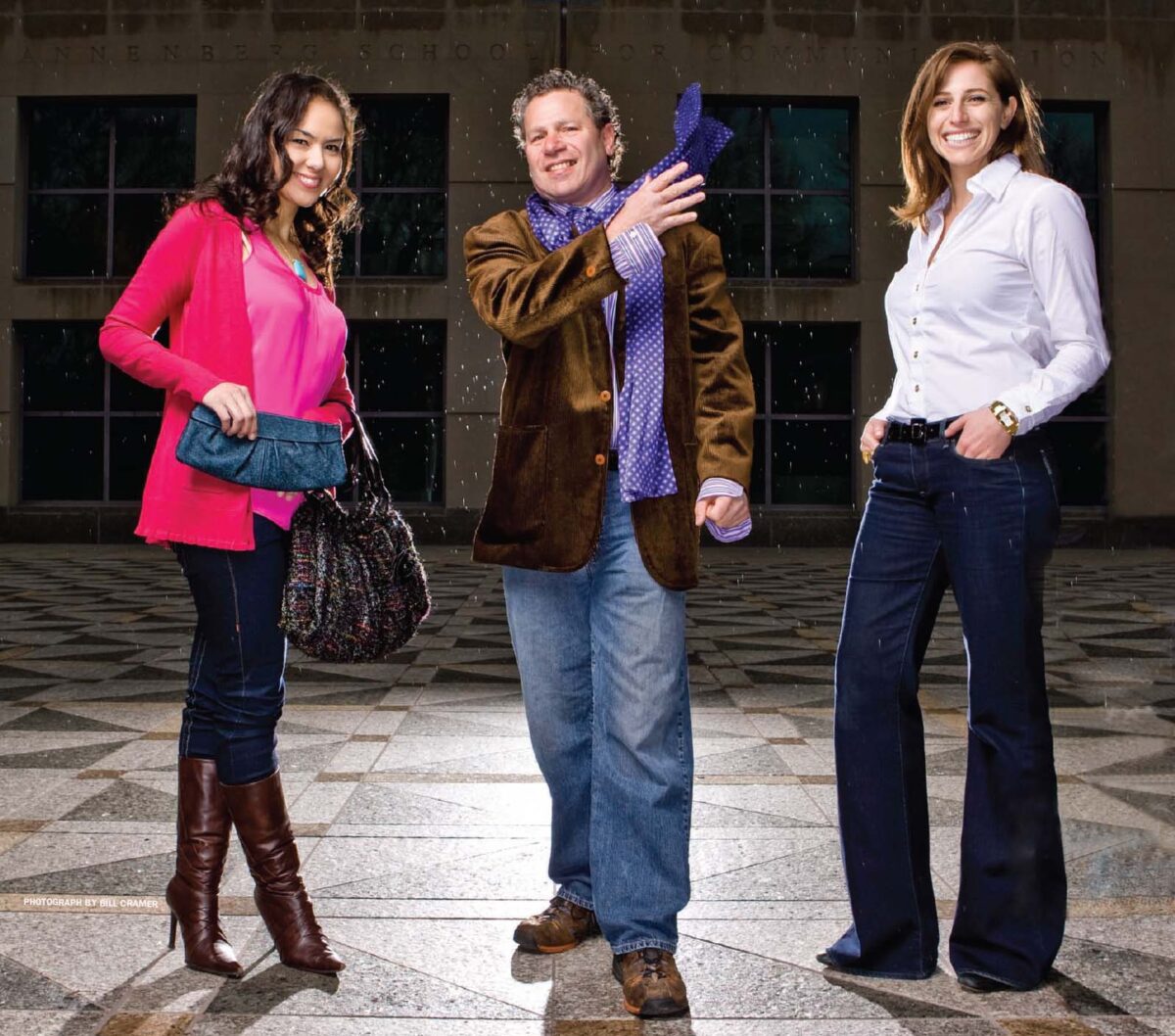 Three Penn alumni are making their mark on fashion with clothing and accessories that are both thoroughly functional and very easy on the eyes.
By Aaron Short | Photograph by Bill Cramer
---
There are many ways to break into the enormously competitive U.S. fashion industry. Interning with Calvin Klein is one; taking an associate job with Bloomingdale's is another. But as the design careers of Elizabeth Bayu C'93, Adam Konigsberg FA'83 GFA'84, and Rochelle Behrens C'04 show, there are other, less-traveled fashion roads to follow as well.

---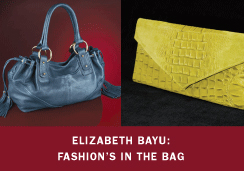 Early in Elizabeth Bayu's career as a designer, strangers would approach her on the street and compliment her handbag. Then they would ask where she bought it.

"That's when I tell them, 'This is my design!'" says Bayu. "It happens quite a bit. One of the first things they say is, 'I've never seen anything like that.' People are interested in carrying something that's unique."

Even at Penn, Bayu was designing and sketching gowns, shoes, and other clothing items. After several years working in the nonprofit field, she began thinking about how to start her own business.

"My natural inclination went to accessories," Bayu says. "It's a very specialized field. You're not interested in ready-to-wear too much, but you are looking at ready-to-wear collections to see what will match."

She began designing women's clutches, shoulder bags, and totes, and has since expanded into jewelry and belts.

Bayu admits that she did not anticipate the public's ravenous desire for handbags when she launched her business six years ago. Though some trace the birth of the must-have "It" bag, originally a Hermes Birkin design, to the early 1980s, the interest in handbags has escalated during the past decade—partly because of the ubiquitous magazine images of accessory-toting celebrities. Some celebrities have even designed their own bags or partnered with designer brands like Louis Vuitton and Prada.

"Young people identify with celebrity," says Bayu. "When they see a celebrity carrying a certain bag, it becomes more of a desirable item. Something that's always been important to us is quality and exclusivity from a design aspect. I think it's more rewarding to wear a bag that 2,000 [other] people won't be wearing."

When she first started, Bayu was sewing and finishing each bag herself and selling them in boutiques in Philadelphia, New York, and California. After a couple of years, demand grew and she began scouring the East Coast for manufacturers who specialized in leather crafts.

"When we go into production, as many as 30 people are working on one handbag," she explains. "Each person has a specialized skill. One person is cutting; another is stitching; another is installing hardware. It's a complex process. In a matter of a couple of days, we can produce a few hundred bags."

So far, she has managed to avoid outsourcing the manufacturing of her goods to China, where labor is inexpensive but the quality is, in her opinion, significantly poorer.

"For us it's important to maintain the manufacturing locally and keep jobs here in America," Bayu explains. "It's a very important thing for me to have the manufacturing stay domestic. There are fewer and fewer people specializing in leatherwork."

Despite some predictions in the mainstream media that the "It" bag would die with the recession, Bayu's business (www.elizabethbayu.com) is thriving. Her most popular items are her clutches, those small pouches that carry a woman's keys, wallet, lip gloss, cell phone or BlackBerry.

"I think everyone in my line of work in the fashion industry has felt the economic downturn," Bayu says. "People don't necessarily need handbags; it's more a desire than a need. While I have a sense that consumers are more cautious, they are still spending money on luxury goods, which is good for us."
---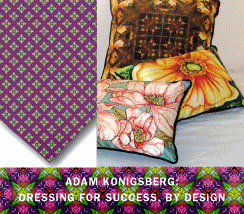 Sometimes the wolf at the door can be your friend.
Adam Konigsberg came to New York to try his luck on the gallery scene, a Penn MFA on his résumé and a portfolio of paintings under his arm. His luck turned out to be the hard kind, and he soon found himself contemplating other ways of gaining a presence in the art world. He began branching out by translating his art into wearable accessories.
He started out hand-painting silk scarves and ties, using floral designs based on his original artwork. Soon he began diversifying into active-wear and home décor to be more cost effective. For each new design, he would paint a watercolor image that would be shot digitally or scanned with a flatbed scanner. The image would be blown up two and a half times its original size for shawls, or reduced to form-repeating patterns.
"I can either lay it out in the computer and make a repeat pattern if I want a repeat pattern, or I can create different patterns," says Konigsberg. "I don't have a traditional repeating-pattern program. Nothing that I do is done in a traditional sense."
Konigsberg subcontracts production of men's ties to a tie-maker on Long Island, collects fabric swatches from Philadelphia-based sample-makers, and has all his printing done in North Carolina. Originally from Philadelphia, Konigsberg has chosen to remain in the city, making it easier to distribute his accessories to local boutiques and showcase interior-design work out of his own home. In the coming months, he hopes to add a PR person to help with marketing and industry connections and expand sales options on his website (www.adamkonigsberg.com).
Konigsberg will be visiting trade shows throughout the spring and hopes to do a soft launch this fall. He believes his company will be at an advantage because advances in digital printing will allow him to do limited production runs for retailers and refill orders for pieces more quickly than much larger companies.
"I'm told that raising capital to move the project forward may be a little more difficult," he says, "but [given] the uniqueness of what I'm trying to create, there shouldn't be a problem when I'm trying to move this to the next level."
While he's put aside thoughts of teaching at the university level, he doesn't plan to stop painting.
"It's just a matter of when I can get the chance to," says Konigsberg. "I think about painting on a daily basis—but I need to make sure X dollars are coming in to cover the expenses."
---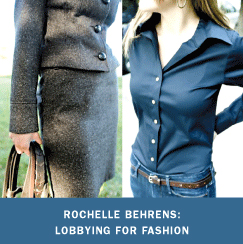 Work suits are mandatory in the power corridors of Washington, D.C. Rochelle Behrens, a K Street lobbyist who conducts communications strategy for financial-services and scientific institutions, realized that she and her colleagues often wore their work clothes all day at the office without having time to change before they hit the social circuit. Uninspired by the boxy work suits and disheveled dress shirts from many designers, she was also put off by the cost and "maturity" of the likes of St. John Knits.
"In shopping for my own wardrobe, I perceived this void," says Behrens. "I wanted suiting that had utility but that was still pretty."
Soon she began sketching her ideal work-wear that was both functional and flattering. She focused on redesigning blouses, many of which had the unfortunate design flaw of a gap between buttons below the collar that, when left open, can unintentionally reveal a woman's cleavage.
"Every woman knows what I'm talking about," says Behrens. "This is not necessarily about covering up. This is about controlling how you're perceived and putting your best appearance forward. If your shirt is hanging open, it's embarrassing and not intentional."
Behrens calls it the gape, and has set about eliminating it in her shirts. After launching her design in July 2008, with a patent pending in the U.S. Patent and Trademark Office, she quickly gained attention in Washington from local newspapers and media outlets.
This past December, The Today Show called. Behrens was whisked to its New York studio, where she presented the shirt live to Meredith Vieira as part of a broadcast highlighting female entrepreneurs. Donny Deutsch W'79, the former host of CNBC's The Big Idea ["Why Not Him," May|June 2008], called the shirt 'recession-proof,' thus giving Behrens one of the most resonant compliments she has ever received. The next day, she did a radio interview with Today Show financial editor and Oprah Radio host Jean Chatzky C'86, taking calls from women throughout the country asking how to launch their own businesses.
These days Behrens is in the process of transitioning from her lobbying job to developing her brand full-time—meeting with clothing boutiques in downtown Manhattan and Washington, showing her shirt and suit lines (more can be seen at www.rochellebehrens.com). She would love to show in larger retailers like Barney's and Bergdorf Goodman someday, though she believes that as one of the few clothing designers based in the nation's capital, she will have access to an untapped market of young professional women eager to look their best at all hours.
"I wanted to make dressing for the office fun, because you spend so much of your time there," says Behrens. While many women "loathe" shopping for work clothes, there's no getting around it, she points out. Besides: "Shouldn't you put as much effort into your work clothes as you would for a Friday night date?"