Indigenous Ethnologist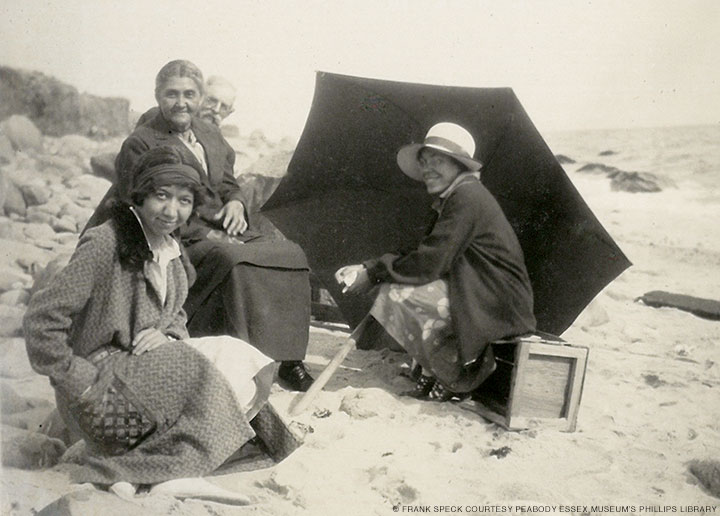 During the early 20th century, Penn developed deep relationships with many Native American communities, largely due to the efforts of Frank Speck Gr1908, chair of the anthropology department from 1913 to 1949. It was during his fieldwork with the Mohegans in Connecticut that Speck met a precocious young child, Gladys Tantaquidgeon CCT1929, who was being groomed as the tribe's next medicine woman and the keeper of its customs and culture. She was also to become the first Native American student in the Penn anthropology department.
As Melissa Jayne Fawcett, Tantaquidgeon's grand-niece, recounts in her book Medicine Trail: The Life and Lessons of Gladys Tantaquidgeon (2000), Speck "saw glimmers of special qualities" in the young girl and playfully told her to "hurry up and grow up,'' so that she could join him in research. In 1919, when she turned 20, he invited her to become his assistant.
Tantaquidgeon accompanied Speck on many field expeditions, such as the one pictured above, circa 1928. Here, Tantaquidgeon is seen kneeling in the foreground, interviewing Wampanoag elders in Aquinnah, Massachusetts, from whom she collected folklore similar to her own tribe's. Margaret Bruchac, Penn professor of anthropology and author of Savage Kin: Indigenous Informants and American Anthropologists (2018), says Tantaquidgeon noted that the Wampanoag oral traditions were "part of a regional cultural complex that was linked to the world she knew at Mohegan."
During her time at Penn, Tantaquidgeon also published a series of academic articles, authored a book on ethnobotany, and took at least 12 anthropology classes as a student in the University's College Courses for Teachers program (a precursor to the College of General Studies). But because women were not allowed to obtain degrees in anthropology at that time, she was not awarded one.
Tantaquidgeon went on to work for the Bureau of Indian Affairs, helping the Sioux obtain basic services, such as food, shelter, clothing, medicine, and education; as well as the Federal Indian Arts and Crafts Board, where she was instrumental in restoring Native rights to perform certain rituals such as the Rain Dance, which had been prohibited by the federal government. She returned to Mohegan Hill in 1947 to serve her nation as vice chair of the tribal council and tribal medicine woman.
With her father and brother, she cofounded the Tantaquidgeon Museum to house many of the gifts she received during her fieldwork, including a Penobscot birchbark canoe, donated by Speck. Founded on her belief that "you can't hate someone you know a lot about," it is the oldest Native American-owned museum in the United States. It also was a critical piece in proving the Mohegan tribe's continuity when, in 1978, Congress created a federal recognition process for designating sovereignty.
Born in 1899, Tantatquidgeon's life spanned more than a century, until her death in 2005 at age 106. With honorary doctorates from Yale University and the University of Connecticut, as well as an induction into the Connecticut Women's Hall of Fame, she left an indelible mark in the field of anthropology, as well as in her Mohegan community. Bruchac calls Tantaquidgeon a "groundbreaking ethnologist" and "an Indigenous visionary who blended anthropological research with traditional training and community activism to preserve Mohegan cultural patrimony." —NP