Professor Cope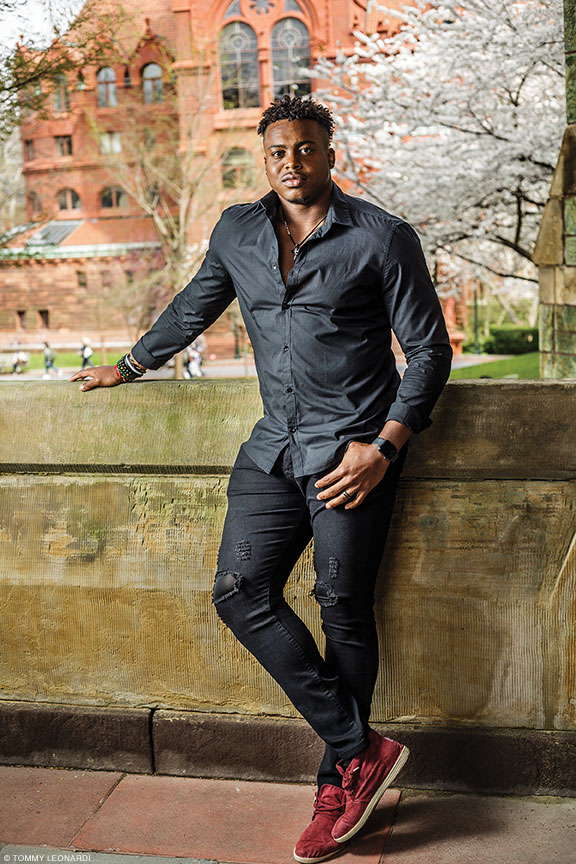 Why an active NFL player spent his off-season teaching a financial literacy course at his alma mater.
---
As his car spun out on an icy Detroit road, then ricocheted off a guardrail, as a van whizzed by on one side and an 18-wheeler rushed past on the other, Brandon Copeland W'13 felt a message from a higher power. "You think the NFL can last forever, but I can take that away from you at any point in time," Copeland recalls thinking, his body shaking from such a narrow escape. "So stop bluffing, stop talking about all the things you want to do, and just do them."
The former Penn football star has been in that mindset ever since that harrowing experience a few years back. While his NFL career continues to blossom ["The Optimistic Realist," Nov|Dec 2016], first with the Detroit Lions and now with the New York Jets, Copeland has made the most of any free time he has away from the gridiron, whether it's working on Wall Street, developing a fitness app, dabbling in real estate, or running a free youth football camp in his hometown of Baltimore.
His most ambitious off-season project yet? This spring, the Jets defensive end taught a course at his alma mater—an urban studies seminar called "Inequity and Empowerment" that aims to increase Penn students' financial literacy. "Some people view it as a distraction," Copeland says. "But the way I look at everything I do off the field is I could be going home and playing video games instead."
A video game habit might make life less hectic for Copeland, who admits he "doesn't get too many hours of sleep." After participating in the Jets' first official workout of the 2019 off-season in early April, he drove directly to Philadelphia from the team's practice facility in northern New Jersey. Copeland—who re-signed with the Jets in March after setting career highs in tackles (47) and sacks (five) in 2018—spent much of the drive calling administrators from Philly high schools in an attempt to get high schoolers to attend his penultimate class. He succeeded, then watched with pride later that month as his own students passed along the lessons he taught them on budgeting, debt, retirement plans, investments, and buying homes.
"I say this as humbly as possible, but I'm doing a good job of making this stuff cool," says Copeland, who posted an Instagram story with video of the high school kids fighting to get their points across about investing in Apple, Nike, and Uber. Were any classes he took back in his own college days cool? "No," Copeland says with a laugh. "Everything I did not like about school—and everything I liked about school—is now being mashed together to create a great experience for my students and ultimately reach the only goal of what school should be: actually learning the material you're trying to teach. I don't care about grades, to be quite honest with you."
Standing in front of a vast lecture room in historic College Hall, Copeland might not act like a typical professor. Decked out in red sneakers, skinny jeans, and a black T-shirt, he starts one April class by instructing the 25 or so students to "stand up, get active, get the blood flowing"—almost like a coach leading warm-ups. He then has them get into pairs to imagine how they might explain, in a future job interview, getting laid off from a previous job, or a 2.3 college GPA on their résumé. When Copeland hears some of the responses afterwards, he nods his head in approval. "I ain't mad at that," he says to one student who said he got too big for the last company. "Love it, love it," he says to another, happy to see college kids picturing their lives and careers 10 or 20 years down the road.
Later in the class, Copeland relays personal stories about helping his family with their 401(k) plans as well as the financial uncertainty of playing in a pro sports league where contracts aren't always guaranteed. At one point, he quotes Game of Thrones. At another, he bluntly states, "Some of this stuff is dry as shit." The students laugh, but he makes sure to remind them how important it is—recalling how several teammates in their early 20s threw their money away because they never learned how to budget.
"I was interested to see how he was going to connect," says Brian Peterson EAS'93 GEd'97 Gr'13, director of Penn's Makuu Black Cultural Center and the course's co-instructor. "But right away, he was authentic, he shared his story, he shared why he wanted to do that. He's very candid, but he'll also tell you what he doesn't know."
Copeland and Peterson connected a little more than a year ago, and Peterson was intrigued by the NFL player's idea for teaching a course—which stemmed from money talks he had with former Lions teammates. "So many people have come to me with similar questions about not knowing what to do [financially] when they left here," says Peterson, who began to map out the curriculum last summer. Once they added the "inequity piece," with lessons on America's wealth gaps and how, as Peterson puts it during one class, "it's expensive to be poor," the course was approved for the spring semester by Penn Urban Studies program director Elaine Simon. Copeland was elated and immediately began to figure out how he'd balance a lecturer's workload with his NFL commitments. "He didn't want to Skype in," Peterson says. "He wanted to be here."
Luckily, Copeland was re-signed by an NFL team close to Philly, so getting to Penn for three hours every Monday evening was doable. He was also fortunate to be able to lean on Peterson, who jumped in to teach the last hour of the class some days. Most of the time, however, Peterson sat happily in the background, letting Copeland and sometimes guest speakers do the heavy lifting. For one class, Copeland brought in his former Penn football teammate Bradford Blackmon C'10, an attorney who flew up from Mississippi to give a presentation on wills and estates. "I would have loved to take a class like this," says Blackmon, adding that the student engagement was "crazy." Copeland was one of the engaged people in the audience asking questions, at one point admitting that he was "wrong as hell" for not having a will—something he said he would immediately rectify.
"I don't have all the answers," says Copeland, who invited a slew of entrepreneurs for a "Financing Your Dream Company" panel discussion for his final class. "No one has all the answers." He adds that any time someone gives "blanket advice" on, say, the exact percentage of your salary you should save, the listener might tune out everything else if they don't think they can afford that. "We want to give you as much knowledge as possible, so you can know what weapon to pull in every scenario."
Copeland was thrilled his class received a lot of positive attention throughout the semester, and even more so that he didn't wait until after his NFL career ended to do it. "What I'm trying to do is create a life for myself where I'm never bored, I'm always doing exactly what I want, when I want it," he says. And one of the biggest things he wants to do now is to make "this information accessible to everybody"—well beyond a College Hall classroom.
"But I would love to come back to Penn," he quickly adds, "and still be Professor Cope."—DZ