History on the Gridiron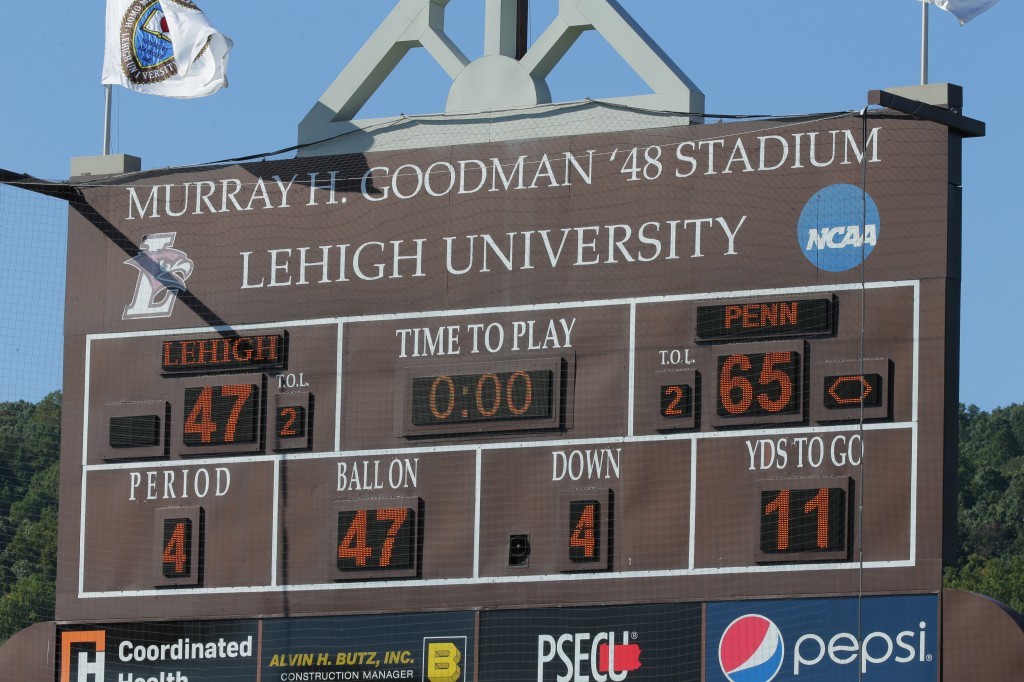 The Penn football team is heading into Ivy League play on quite the high.
A day after 6-year-old team captain Vhito DeCapria was featured on SportsCenter — if you haven't yet, you can watch the inspiring video here — the Quakers enjoyed a historic offensive output in a 65-47 win at Lehigh on Saturday.
The 65 points marked Penn's highest point total in game since a 66-0 win over Lafayette on Oct. 5, 1946 — and a couple of days later the players were still in awe.
"That was insane," junior linebacker Nick Miller following practice Tuesday. "Just crazy."
"It's a little shocking really," junior wide receiver Christian Pearson said. "To think the fact we broke the record for most points in the past 70-plus years is a pretty crazy thought."
[youtube height="HEIGHT"width="WIDTH"]https://www.youtube.com/watch?v=cDcNqcCIgwM[/youtube]
Has Pearson, who contributed to the craziness by catching a deflected pass for a touchdown,  ever been a part a game in which a team has scored 60 points, even as a kid?
"Definitely not," he said. "I don't even know why I just thought about it. Definitely not."
To put the game in even more historical context, the 112 combined points were the most in a game in the 141-year history of the Penn football program (the previous record was 109); Penn had 615 yards of total offense, 13 shy of the program record ("That is a very high number," Pearson said. "When I saw that on the sheet after the game, I was like, 'Wow'"); there were only two total punts all game; and the 47 points scored by Lehigh were the most by a Penn opponent in a win.
Also, Penn finished with 312 rushing yards, including a staggering 268 from sophomore Karekin "KK" Brooks (pictured above) — four shy of the program record set by Terrance Stokes C'95 in a memorable win over Princeton in 1993.
And that total could have been more if a 61-yard touchdown run wasn't called back for a holding penalty. Oh, and did we mention that Brooks also threw a touchdown?
"My favorite part was honestly watching KK," Pearson said. "KK was outstanding. I've never seen a performance like that from a running back, in my Ivy career at least."
"It was really good to see KK Brooks go off like he did," Miller added. "That was incredible."
Another incredible part was Miller winning Ivy League Defensive Player of the Week honors (Brooks was an easy choice for Offensive Player of the Week) in a game in which Penn gave up 47 points.
But he won the award because of the big plays he made, including a forced fumble and an interception to help set up a pair of touchdowns, while keeping the unit's spirits up as Lehigh racked up the points.
"We always say, 'No Chicken Little,' We gotta keep it together," Miller said. "The sky's never falling. Keep it together. Never panic."
Now, as the Ivy slate opens with a Friday night game vs. Dartmouth under the lights at Franklin Field, Miller knows the defense has to "pick it up." And the offense hopes to put on another show —and maybe even see if history can repeat itself.
"We're gonna strive for it," Pearson said. "If we can get those numbers again, that would be great."
 — Dave Zeitlin C'03