From Penn to the Pros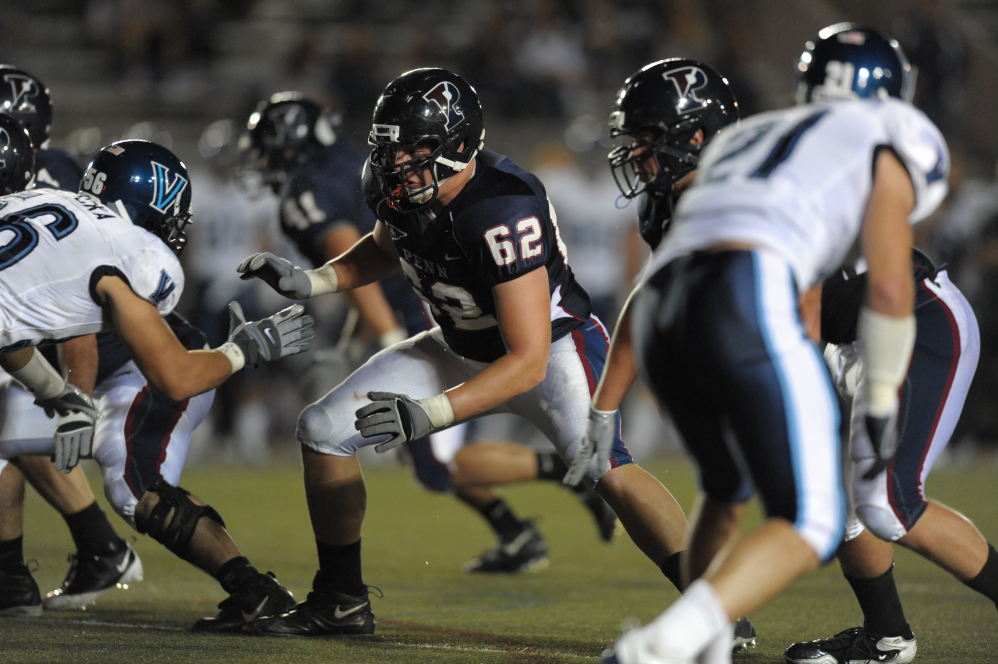 When NFL training camps opened in July, four Penn alums were on teams around the league — a huge accomplishment for any Ivy League program.
"It's really good," head coach Ray Priore told the Gazette at the time. "It speaks volumes at the level of football within our league. You can still make it to the next level playing at an Ivy League school."
Maybe so but professional football is still a cutthroat business and surviving training camp cuts to make a 53-man roster heading into the regular season is one of the hardest things an athlete can do.
Not surprisingly, then, two of the Penn grads — quarterback Alek Torgersen C'17 and tight end Ryan O'Malley C'16 — were cut this week by the Atlanta Falcons and the Oakland Raiders, respectively. And linebacker Brandon Copeland W'13 — an inspiring and determined player that was recently profiled in the Gazette — tore a pectoral muscle and will likely miss the entire season with an injury.
But there is one piece of very good news as offensive lineman Greg Van Roten W'12 (pictured above) proved to be one of the most pleasant surprises in the Carolina Panthers camp and made the team heading into their opener next week.
That's a huge accomplishment for Van Roten, who started his NFL career with the Green Bay Packers before spending the last two seasons in the Canadian Football League. It's also been a huge surprise to many fans, reporters and observers with a headline on the Charlotte Observer website reading: "Who is Greg Van Roten and how in the heck did he make the Panthers?"
In that article, Panthers interim general manager Marty Hurney called him an underdog and a "neat" story, Carolina head coach Ron Rivera called him a "powerful guy" and a "bright young man," and Van Roten himself noted how he likes to "prove people wrong, and that's pretty much been my M.O. my entire football career." He later added: "I'm used to surprising people at this point because everyone just is kind of like, 'We'll see.' I don't think Carolina planned on signing me honestly. I just had a really good workout."
In another article, on Panthers.com, Van Roten talked about "Cut Day" and how, after not being called into the coach's office and sitting in on the day's first meeting he "thought, 'I'm sill here.' But I still waited for that four o'clock deadline to hit before I exhaled." Fittingly, the piece ends with Van Roten saying, "My mom says I'm tenacious, almost like a dog that latches on and doesn't let go."
The big question now is whether the two-time Ivy champ can keep surprising people and earn some playing time as he did when he as on the Packers from 2012 to 2013.
Meanwhile, it wouldn't be a surprise if Torgersen, O'Malley and perhaps others find their way to a practice squad or stick around the NFL peripheries in another way, while Copeland fights back from an injury to remain a somewhat established player in the league.
And the Penn alums may be joined by another Quaker next season as senior wide receiver Justin Watson, featured in this Gazette issue, is poised to get drafted this coming April, possibly even in the early rounds.
Watson spoke to us about keeping his NFL prospects in the back of his mind about and reiterated the same point during Penn's media day about learning from his good friend Torgersen.
"I talked to him a little bit," said Watson, a preseason All-American. "His biggest thing is that what's gonna help me the most is winning a championship. I really don't want to leave the season with any regrets. I'm focusing on the first game and the nine games after that before I think about anything down that path."
And then, he'll hope to follow in that path to the pros that his former teammates and others who came before him helped carve.
— Dave Zeitlin C'03