The Optimistic Realist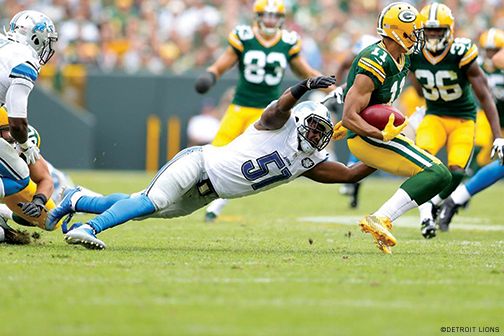 Throughout the fall of 2014, Brandon Copeland W'13 had a Sunday-night ritual. With an NFL game on mute, he'd get on the treadmill, put on his headphones with rap music blaring, and run as fast as he could, as if he were charging toward the players on the television screen before him.
His goal was simple, the motivation clear: after getting a sniff of the National Football League in 2013 as a training-camp and practice-squad player for the Baltimore Ravens and Tennessee Titans, Copeland planned to work as hard as he could to get back. Failing to catch on with any NFL team in 2014 only solidified that desire, rather than drive him away as it does for so many other talented players who have short-lived careers in America's biggest—and perhaps most cutthroat—sports league.
"I'm the most realist optimist you will ever meet," Copeland says. "I can be honest with myself if I'm not good enough. If I would have left Tennessee at the time and thought,'These guys are bigger, stronger, faster than me; I don't know if this level is right for me,'I would have lived my life with no regrets. But I thought at that time I could be a great player in this league with the right opportunity."
The right opportunity arrived the following year. After impressing scouts with a blazing time in the 40-yard dash at the NFL Veterans Combine (essentially a showcase for out-of-work players), Copeland was signed by the Detroit Lions in 2015 and made the team out of training camp. He then played well enough in the limited opportunities he got on special teams and defense last year to not only make the team again in 2016 but emerge as a valuable and—dare we say it—established defensive lineman through the first few games of the season.
"I always had a chip on my shoulder just being an undrafted guy, an Ivy League guy that people look over," Copeland says. "By sitting out, it just put an even bigger chip on my shoulder."
Coming from an Ivy League school and not a big-time football powerhouse certainly made the climb to the pros a more daunting one. But in some ways his college pedigree also helped him mentally navigate the tricky terrain of NFL combines, camps, and tryouts.
For instance, when he wasn't working out on the treadmill or in the weight room during the year he sat out in 2014, he was using his smarts, ambition, and deep Penn network to develop a fitness app with former Quaker teammates Joe Holder C'13 and Scott Lopano W'13. And although that app eventually went on the shelf, it showed him that he had plenty of long-term options away from football—which, in the end, allowed him to play more freely as he tried to impress the Lions.
"He kept it very realistic and I think that was good," says Lopano. "He knew the effort he had to put in, but he wasn't so on the brink that he couldn't keep control of his focus and his emotions."
Lopano, a standout punter for Penn, was along for the ride during the beginning of Copeland's NFL journey as he signed a mini-camp deal of his own with the Tampa Bay Buccaneers in 2013. Another classmate, offensive lineman Joe Bonadies C'13, was invited to camp by the Minnesota Vikings. The three formed what Lopano calls "our own little support group—because it was so unlikely any of us would make it." Deep down though, Lopano had a sneaking suspicion that Copeland, signed by the Ravens out of college, would rise above the fray and stick in the NFL—not just because of his talent but because of an "infectious optimism" that he seems to spread to teammates.
Before their senior season in 2012, Copeland was voted Penn's first solo captain in 15 years. He went on to lead the Quakers to a string of narrow victories, highlighted by a 30-21 win over Harvard that ended with him sacking the Crimson's quarterback for a safety. "It was incredible. It was the most defiant way to finish off that game," Lopano recalls. "Penn went on to beat Cornell the following week to capture the outright Ivy League championship—Copeland's third title in four years.
"If you go back to that [2012] year, we teetered and flirted with disaster," says Penn head coach Ray Priore, the defensive coordinator at the time. "It was because of his leadership [that we won]. He'll perhaps go down in my time as being one of the best leaders we've ever had."
While Copeland's career at Penn turned out to be just about perfect—along with the three titles, he was named first team All-Ivy in 2010, 2011, and 2012—he didn't always think he'd be able to keep playing football after college. Sure, he had NFL aspirations, but he didn't usually talk about them—because, he says, he was "afraid to be laughed at." A pivotal moment came after his freshman season when he had a long conversation with Owen Thomas W'11, a star defensive player who committed suicide in 2010.
"He was one of the first people to express that I do have some special attributes and that he thinks I can go all the way," Copeland recalls, adding that Thomas's tragic death only increased his desire to prove him right.
Copeland also tried to think about a few simple words his grandfather, Roy Hilton, told him when he decided to commit to Penn: " If you're good, they're gonna come find you." Hilton knew what he was talking about. He played football at Jackson State University and was picked in the 15th round of the 1965 draft, going on to an 11-year NFL career and winning a Super Bowl with the Baltimore Colts alongside Johnny Unitas. But that wasn't the only remarkable part of his story. According to Copeland, Hilton's parents both died when he was very young (his mother was struck by lightning right in front of him), forcing him to live with an abusive uncle who made him do terrible things—eat a rat, for instance. At the age of 13, Hilton ran away—picture a young black kid on his own, in the middle of Mississippi in the 1950s—before moving in with his older sister, making his way to a junior college, transferring to Jackson State, and then succeeding in the NFL.
"His life is literally like a movie," Copeland says. "He's my superhero. That's another reason why I have no excuse. As soon as I get down on myself, I think about my superhero, I think about my grandfather. I have no excuse not to find a way."
Copeland now hopes to pay it forward and provide as much inspiration to kids as his grandfather did for him. In July he hosted a free youth football camp called Beyond the Basics in his hometown of Baltimore, inviting several NFL players and a dozen or so former Penn teammates to talk about career opportunities beyond football.
"I wanted them to leave my camp thinking, 'Hey I want to be like Scott Lopano, he's an investment banker,'" explains Copeland. For his part, Lopano was happy to be included, calling it an "awesome idea"—not just as a way to open kids' eyes but also as a way to strengthen the bond of old college teammates.
"You can have a friend who goes and excels in athletics and turns into a guy you don't even recognize," Lopano says. "Brandon's the exact opposite. He's become even truer to himself and has drawn even closer to his really good friends."
Indeed, even as his NFL career takes off, Copeland remains as committed as ever to his alma mater. During a Lions bye week last season, he went to Franklin Field for Penn's dramatic overtime win over Princeton on Homecoming, talking trash the whole time with former Lions teammate and Princeton alum Caraun Reid. He returns to campus as much as he can to talk to Penn's current players and coaches, leaving his phone number for anyone who wants to ask advice. He also keeps in close contact with other Penn alums trying to make it in pro football, like Ryan O'Malley C'16 (currently with the Oakland Raiders' practice squad) and Greg Van Roten W'12 (who played for the Green Bay Packers in 2012 and 2013 and is now in the Canadian Football League).
In return, many of his former teammates gather together to watch his games ("It involves Google searches for Lions bars in New York City ," explains Lopano) and shoot off texts to each other any time he makes a tackle or a big play. And Copeland knows those guys will not only be there to cheer him on but, in the long run, be there for support, friendship, and even mentorship—especially when his football career comes to end.
"The Penn network is very strong," says Copeland. "The outpouring of love and support is enormous. When I step on the football field knowing I'm a graduate of the University of Pennsylvania—I'm living my dream, so I obviously never want to forfeit that or mess that up. But I can leave it all out there on the field and play freely because I know, with my support system, I can't lose."
— Dave Zeitlin C'03