Football Eyes a Trifecta

By Dave Zeitlin
The party wasn't for him, but Justin Watson felt like the most nervous person in the room when friends and teammates gathered at Alek Torgersen C'17's apartment back in April to watch the 2017 NFL Draft.
Torgersen was waiting to see if any NFL teams would take a flier on an Ivy League quarterback after his record-breaking career at Penn from 2013-16. And when, as the draft was nearing its conclusion, an Atlanta Falcons executive called Torgersen and told him they'd be signing him, Watson wrapped his longtime QB in a hug.
Not long after that, Watson, Penn's star wide receiver, now a senior, began to think about his own NFL aspirations, which would get a boost should the Quakers capture a piece—or more—of their third straight Ivy League title this fall.
"Those are the kind of things you go to sleep dreaming about," Watson says. "But [Torgersen] told me, and I hear it all the time, that the best thing that happened to him is we went out and won a championship—and all the attention that comes along with that. That's what we're focused on."
Watson's return to the roster automatically makes Penn one of the Ivy League favorites. The 6-foot-3 receiver out of Pittsburgh already ranks second in program history in career receptions (205) and receiving yards (2,694), and enters the 2017 campaign as a preseason first team All-American and candidate for the FCS Walter Payton Award.
But for Watson, the season also comes with his toughest task yet: developing a rapport with a new quarterback following Torgersen's departure. Four players—senior Will Fischer-Colbrie, sophomores Tyler Herrick and Nick Robinson, and freshman Ryan Glover—will be vying for the starting spot when Penn's season opens versus Ohio Dominican on September 16.
Is an open quarterback battle in preseason camp an exciting challenge for Ray Priore? The Penn head coach seems to have pushed all the right buttons in his first two seasons in charge, but until now has never had to worry about the important QB spot, which had been occupied by Torgersen since the final game of 2013.
"I'd be more excited if Torg was coming back," Priore says with a laugh. "But I'm optimistic about the guys coming in."
Watson has made sure to nurture their development, turning down a Goldman Sachs internship opportunity in New York so he could remain on campus over the summer to work out with them at Franklin Field.
For Priore, that "speaks volumes" about Watson.
"It's a new thing," the third-year head coach admitted. "But we know this: people even last year were keying on him and doing certain things to take him away. And we worked very hard to get the ball to him. Alek did a great job of doing that. I look at [this season] as an opportunity for him to show how talented he can be, how he can work with another young quarterback, and how he can really show his leadership abilities."
For his part, Watson says he hopes he gets double-teamed by opposing defenses, since that will open up more opportunities for the other receivers, including juniors Christian Pearson, a second-team All-Ivy returner, and Steve Farrell, who Watson thinks is poised for a breakout season. The Quakers also return a standout running back in senior Tre Solomon, who led the Ivy League in rushing yards last season (907), as well as many key defensive players from last year's squad.
All of which is to say that, even with a first-year starter at quarterback, the Quakers are loaded at every other spot on the field and hungry to claim another Ivy League trophy. Only this one they want all to themselves.
"We talk about it all the time," Watson says. "Our parents must have been too good while we were growing up, with all the sharing we've been doing. All the talk hasn't been about three straight. It's been, 'Let's go get our first outright.' That's our goal."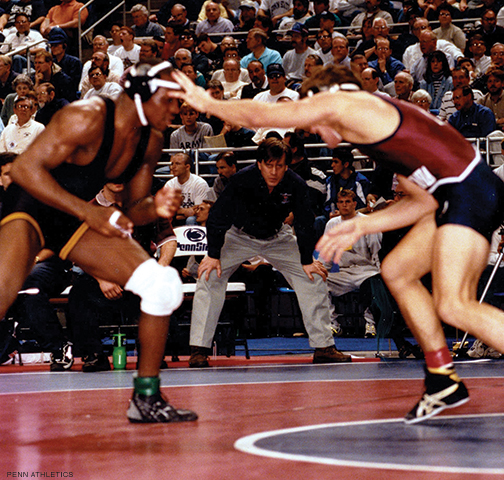 Roger Reina's return
When Roger Reina C'84 WEv'05 was hired as Penn's wrestling coach in 1986, he was, at 24, the youngest Division I coach in the country in any sport. That, he said, was an unexpected opportunity.
So is his latest one. Reina, who left the wrestling program in 2005, will return this year for an unlikely second run as the team's head coach.
"When this second chance-of-a-lifetime opportunity came about, it was again unexpected," says Reina, who had been working in Penn's athletic department since early 2016 as an associate athletic director for external affairs. "But it's equally exciting."
Reina's first stint at the Quakers' helm was wildly successful as he amassed a program-record 205 wins and a .649 winning percentage from 1986-2005, winning eight Ivy League titles and four Eastern Intercollegiate Wrestling Association championships. He also recruited and coached a pair of NCAA champions (Brett Matter W'00, Matt Valenti C'07) as well as an Olympic gold medalist (Brandon Slay W'98), while at one point leading Penn to five NCAA top 20 finishes in a six-year span.
He resigned in 2005 partly because the grind of coaching was wearing on his family. But he kept his toes dipped in the sport, working with the local wrestling community when the NCAA Championships were held in Philadelphia in 2011 and helping to establish the Pennsylvania Regional Training Center (PRTC), an Olympic training site at Penn and Drexel, in 2014.
Reina did a bit of coaching at the PRTC, which gave him the itch to do even more—though he says didn't seek out the job and was happy working in an administrative role under athletic director Grace Calhoun until she approached him with an offer.
Reina, whose children are now college-age, feels well-situated to get back into coaching, calling it a "special opportunity" to work alongside Slay, now the PRTC's executive director, and shape the lives of student-athletes once again. In fact, he believes his past ventures—which include working in development for Penn Medicine and running a number of start-up companies—will put him in an even better mental state when the wrestling season begins in November.
"I've never felt better prepared for a professional challenge," he says. "I think that these commercial ventures I've been on in the past decade, plus the work here with Grace, gives me more perspective."
When you combine that experience with his past coaching success and his devotion to his alma mater—he's one of the few people to be an athlete, coach, and administrator at Penn—it's easy to see why Reina is confident he can return the Quakers to glory.
Dave Zeitlin C'03 writes frequently for the Gazette.