Expanding the Student Athlete Network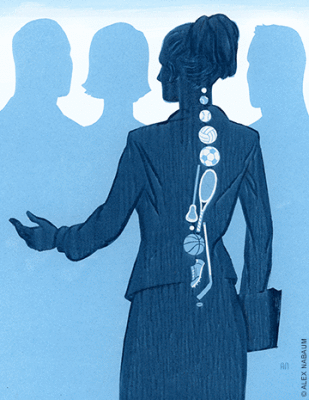 "One thing I think about women athletes," remarked Meredith Stiehm C'90, "is that you learn that it's okay to be competitive." The veteran television writer and producer—whose credits include NYPD Blue, Cold Case (which she created), current hit Homeland, and The Bridge—was addressing more than 200 varsity women student athletes attending the first-ever Penn Women Athletes Career Networking Panel.
Stiehm was one of several alumnae athletes who spoke at the event, hosted by the Trustees Council of Penn Women and Goldman Sachs. (Though TCPW has organized many networking opportunities for Penn women on campus over the years, this was the first geared specifically to the athletic community.)
Panel moderator Cindy Shmerler Levy C'81, co-chair of TCPW's Committee for Athletics and a former varsity tennis player, noted that one reason for the event was just to get women athletes from different teams together in the same room. "When [I was] here as a student at Penn, we had something called the Women's Athletic Association, which was meant to bring athletes together and give them a shared experience," she said. "What we've discovered in the past few years is that athletes at Penn tend to stay together as a group."
She motioned to the distinct groups of athletes spread across the high-rise bleachers in Hutchinson Gymnasium, who had for the most part clustered with their own teams. TCPW hopes to give these athletes the opportunity to foster relationships with other members of the Penn athletic community—beyond the ones they eat, live, study, and practice with on a daily basis.
But the main emphasis was on allowing the student athletes to network with TCPW members in attendance, as well as guest speakers. Besides Stiehm, the speakers included Anna Aagenes C'10, Lucinda Duncalfe C'85 WG'91, Ally Friedman C'09, and Amanda Mott C'90. Representing fields that included healthcare, media, entrepreneurship, politics, and public advocacy, they shared lessons and anecdotes about how their time as athletes at Penn had shaped their lives and careers after graduation.
The women spoke about how athletics empowered them to take on leadership roles, balance their personal and professional responsibilities, and remain passionate and driven in the working world. The main takeaway: being part of an athletic team develops skills that many classmates lack, and these skills can transfer directly from the playing field to the work place.
Stiehm, a tennis star at Penn, explained how playing on a sports team in college taught her to be adaptable. Early in her career, she was one of the few women writers in the male-dominated cop-show genre. Her show Cold Case ran on CBS from 2003 to 2010, and she wrote for Showtime's Emmy Award-winning drama Homeland in its first two seasons. Most recently, she co-created The Bridge on FX ["Alumni Profiles," May|June 2013].
She noted that while she is happy to be a team player in the writer's role, being a series creator requires her to act as a team captain. Athletics, she continued, allowed her to be comfortable in both environments.
Ally Friedman also works in the film industry as an assistant at Genre Films. As someone just starting her career, she shared stories that stressed the value of humility in the working world.
"Walking around Penn as an athlete, I felt important," Friedman began. "But when I started my first job, they wouldn't trust me with anything but getting their coffee order right until I paid my dues."
Despite the championship ring she earned while playing squash at Penn, Friedman remarked that the most important lesson she learned from sports was not about winning, but how about to lose.
"Athletes know how to lose," she said, "and they know how to do it with grace."
And how to come back to fight another day.
"You have every reason to be so confident in yourselves," said former track-and-field star Anna Aagenes, who currently works as the district director for Pennsylvania State Representative Brian Sims and as executive director of GO! (Generation Out) Athletes, an outreach, support, and advocacy group for LGBTQ college athletes ["The Path to Go," Jan|Feb 2013].
"You are in a room of such exceptional women who are driven, who work hard, and who still find time to spend hours and hours practicing. That's something that employers look for, because they know you're not going to quit." —Callie Woods C'15