Young Quakers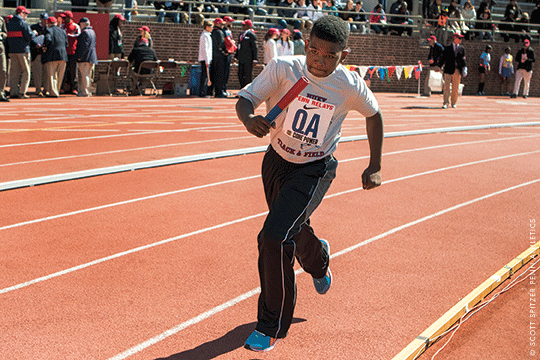 Less than a week after 110,000 people thronged Franklin Field over the three-day Penn Relays, a group of enthusiastic middle-school students streamed onto the track of the now quiet stadium. Walking beside them, as usual, were several members of Penn's track and field team, who have taken up a mentorship role with the West Philadelphia kids through the Young Quakers Community Athletics (YQCA) program.
The group began to stretch, still riding a palpable buzz from the Penn Relays, where two Young Quaker 4×100 relay teams, from the Samuel B. Huey School, had qualified to compete for the first time. Neither of the teams won their race, but just getting the opportunity to run on the track they've come to know as their own—only this time in front of thousands of spectators, none more vocal than the Penn varsity athletes who helped train them—represented both a thrilling peak for the new mentorship program as well as a goal for the future.
"You're not gonna get to Penn Relays by standing around and talking about basketball!" Penn junior Gabby Cuccia chided her charges, before leading them through agility drills. In other words, for anyone who didn't get the chance to race at the country's largest track and field competition this time around, there's always next year.
Three months earlier, Cuccia had spoken at YQCA's official launch (after about two years in a pilot phase) alongside Penn president Amy Gutmann, Penn men's lacrosse coach Mike Murphy, and founding donor Chuck Leitner C'81. She talked about how meaningful it was to get out of the "Penn bubble" and lend a helping hand to fifth-, sixth-, seventh- and eighth-graders from three neighboring West Philadelphia schools: Huey, Henry C. Lea, and Benjamin B. Comegys.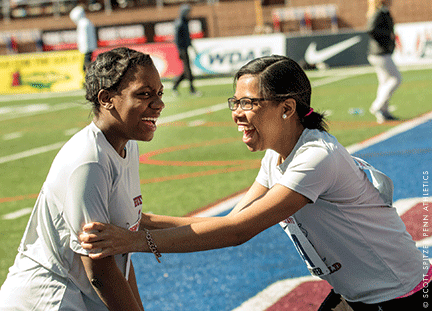 The program, which is run jointly through Penn Athletics and the Netter Center for Community Partnerships, pairs children with varsity athletes from the track, men's lacrosse, and women's lacrosse teams. Cuccia credits the Young Quakers with adding a previously missing element to her college experience. "I was actually so frustrated that I wanted to transfer," she says. "But luckily my coaches kind of saved me, and were like, 'There is this Young Quaker program and we're going to start it soon. Stick around and maybe things will change for you.' And they were exactly right. This is the highlight of my life at Penn. This is what keeps me sane. This is what keeps me happy."
When Cuccia's not peppering her mentees with encouragement on the track ("Commit, girlfriend, commit!"), she goes around and asks what everyone had for dinner the previous night—perhaps her own way of encouraging healthy eating and making sure everything is OK at home. That, she says, is an important part of being a "Big Quaker."
Although the program is rooted in athletics, talking about issues away from the field or the track is an important component. When Murphy first hatched the idea a few years ago, he knew that teaching a complex sport like lacrosse to kids unfamiliar with the game wouldn't necessarily create superstars destined for college scholarships. His goals were simpler: to give kids a safe environment, a healthy outlet after their school day, and perhaps some role models in the process.
The coach has found that the rewards flow just as readily in the other direction.
"You're standing there and a kid will jump on your back," Murphy says. "Or a kid will try to hit a wall ball 10 times in a row, and get 12 in a row for the first time. Or watching them laugh with our players. We're not purely doing this just for the kids; we're doing it for ourselves too. I think this is a great thing for our players to be a part of. And it's fun."
With assistance from Leitner, a big lacrosse supporter who also chairs the Penn Athletics Board of Overseers, Murphy quietly started Young Quakers as a pilot program in 2013. The women's lacrosse and track teams hopped on board the following year, and Murphy says the program "really started to take off" when they hooked up with the Netter Center, which hired full-time staffer Jennifer Chu to handle the day-to-day logistics of getting the kids to Penn's campus.
Murphy and Chu would like to add more sports to the Young Quakers' mix, as long as there's sufficient funding, scheduling availability, and interest from other teams.
"This is pretty unique, because it's the varsity athletes as opposed to club athletes," says Chu, who had run other youth sports programs before coming to Penn. "And the other thing is it's year-round. If you have a freshman Big Quaker and a 6th-grade Young Quaker, they could potentially get to know each other for three years, which is kind of cool."
—Dave Zeitlin C'03