Dilettante Has Staying Power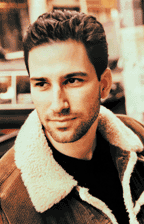 By Stuart Michaelson | Bobby Fingeroth's recently released Dilettante aims—and on the whole succeeds—at the goal of all singer-songwriter debut albums: It raps at your door, invites itself in, and reveals the artist's inner landscape. Fingeroth, who only took up guitar and composition after his 1997 graduation from Penn, delivers 10 songs (all but one at least partially his own), and most of them are so earnest and articulate that you're glad he stopped by.
Reminiscent in its musical warmth and lyrical directness of Jeffrey Gaines' self-titled rookie record (another chronicle of early manhood's dreads and exhilarations), Dilettante mixes mostly seamless production from guitarist-collaborator Riley McMahon and sweeping McMahon arrangements of violin, mandolin, keyboards, and guitar for a pleasing, predominately soft-rock sound, punctuated by such occasional stylistic detours as the semi-rocky "Better When the Morning Comes." That cut explores familiar terrain for this album, the often-tortuous search for love. In "Violet," the sole non-original, Fingeroth spins McMahon's edgy tale of a relationship begat by a classified ad; his singing is enhanced by effectively eerie dynamics and background vocals, performed by Jen Middaugh. In "Venus," the singer seems to appeal to the goddess of love for help with a stormy woman. Oddly, both the "V" ballads make use of the "F" word, which may keep these strong efforts off the radio. (Frankie Avalon never had that problem when he turned to that goddess for help.) Another musical standout is the leadoff tune, "Rain Down on Me," which bounds out of your speakers screaming "recommended radio cut" with its driving guitar flourishes underscoring sincere vocals and words, even if a few lapse into cliché. That occasional tendency also mars Fingeroth's heartfelt tribute to his grandmother, the reggae-accented "BSF," which is saddled by some lines ("the Great Depression wasn't fun") that could have been improved. But sincerity usually trumps pretentiousness, and more often than not, Fingeroth turns his emotional honesty into a winning hand. A perfect example comes in "Separate Ways," which reconstructs, with a melancholy that brings to mind some of David Gray's music, the hurt of being left behind with equal measures of emotional courage and honest despair ("I'm lucky if you return my calls at all").
Fingeroth may portray himself in the self-effacing title cut as a dilettante. But when it comes to music, it looks as though he plans to stick around.
---
Stuart Michaelson is an associate listings editor for TV Guide who supervises the coverage of music programming and other fare.