Big Sleep Sounds the Alarm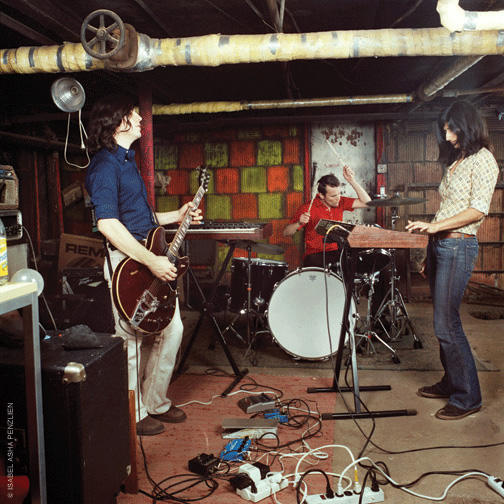 It was on Penn's campus that Sonya Balchandani C'98, then a Biological Basis of Behavior major, met and befriended fellow student and guitarist Danny Barria C'98. Hanging out quickly morphed into making music, and after graduation they moved to New York, where they would recruit Gabriel Rhodes, a drummer they found through Craigslist.
The three started calling themselves the Big Sleep, after the Raymond Chandler crime novel and Bogart/Bacall film noir. "Danny initially suggested the name," says Balchandani. "And beyond the reference, we both liked the idea of using this metaphorical phrase, something big and simple. Pretty much everything we do is meant to be big and simple, fundamentally." Besides, the other names they'd come up with were "so terrible" that she won't even say what they were.
The Sleep completed their debut EP, Son of a Tiger, in the spring of 2006: 10 tracks in total, six of them instrumental. The album generated no small amount of buzz and soon landed them a contract with Frenchkiss Records.
Since then, the group has won over music critics both here and abroad, as a quick look through the press section of its website (thebigsleep.net) makes clear. "The Big Sleep shows just how delicate the heavy stuff can be," opines Time Out New York, while Pitchfork, Billboard, and The New York Times also contributed kudos.
The music is moody, psych-rockish, cerebral. "When Sonya Balchandani's voice slithers over the cacophony, it's chilling," notes Prefix magazine. "The songs sound quite dark but with an energy that crackles bright and warm."
Balchandani plays bass guitar mostly. She's also a keyboardist and occasional vocalist who is noted for her ghostly, clipped contributions to tracks like "Bad Blood" and the spare, haunting "Murder." She also brings what Barria calls a "much needed femininity" to the group.
"It makes a big difference," he says. "Instead of two meatheads bashing their way through songs on guitar and drums, we have two meatheads and a strong female presence influencing how it all sounds."
Balchandani herself says that she has "rarely felt disrespected by other musicians," and more often than not "it's been the opposite."
"Most musicians appreciate other musicians on the level of playing and ideas, in my experience," she adds. "It seems like, in many cases, having a lady around makes everyone behave a little differently—maybe more mindfully. Lots of guys I know say they like being in bands with girls for that reason—the dynamic can be more work-oriented and less juvenile. That said, I'm pretty sure I have the filthiest mouth of anyone I've ever played with."
"The fact that she plays bass means she keeps the songs centered," says Barria. "What she's doing is really the focus—the 'real song,' if you will."
It is rare to have a group forefront the bass in the way that the Big Sleep often does ("You Can't Touch the Untouchable," for instance, is dedicated entirely to the bass guitar), and rarer still to see a woman holding down the B-line in a hard-rock band. Balchandani, who describes herself as "lucky" to be doing what she does, receives fan mail from women as far away as India, telling her how much she has inspired them. But she looks forward to the day when gender doesn't matter.
"If that aspect of you is a huge part of how you define yourself artistically, fine," she says, "but the fact of someone being a woman shouldn't have to be relevant. It feels like a diminishment to me when people say things like, 'Girl bass players are hot!' and so on."
Since their debut, the Big Sleep has toured across the country, playing dive bars and college towns as well as becoming fixtures on the summer festival scene. They've also released another album, Sleep Forever—again to solid reviews—and are at work on a third.
While Balchandani's Indian-born parents still worry about her career choice ("They just want me to be secure financially"), they are supportive enough to attend the occasional concert, where they can see how happy she is on stage.
"Playing together is just the best thing," she says. "The best moments are just looks exchanged between me and my bandmates, where it feels we are completely together in something, on a mission." 
—Hilal Nakiboglu Isler GrEd'05