Threading Lightly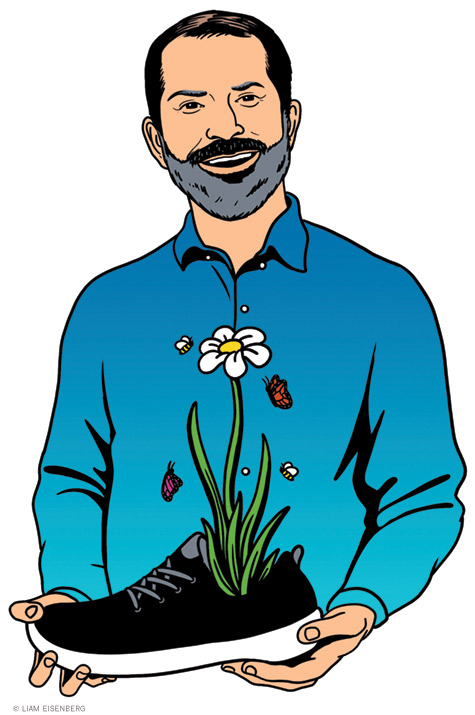 Step into the shoes of the Allbirds cofounder set on eliminating his company's carbon footprint.
---
What do you get when a retired soccer star with a new fashion idea meets a business school grad with a background in renewable energy? "We've never believed we're a shoe company, nor are we a wool company," says Joey Zwillinger WG'10, cofounder of Allbirds and the aforementioned energy expert. "And we are definitely not a wool shoe company." Instead, he asserts, "our real objective is centered on climate change."
In 2019, for instance, Allbirds—the popular footwear and apparel brand Zwillinger co-launched in 2016—embarked on a quest to figure out exactly how much carbon it emitted and announced a goal of carbon neutrality (including offsets). Last year, it began labeling each product with information about the sources of its fibers, and the way the company's material inputs and finished products are transported through the course of the shoes' lifecycle. (Traditional sneakers are manufactured from carbon-emitting chemical polymers and can take decades to decompose.)
Zwillinger met his cofounder Tim Brown—a former New Zealand soccer player of some renown—through his wife, Elizabeth Leonard Zwillinger L'10, who had roomed with Brown's wife at Dartmouth College. "Tim had this great idea about creating a new kind of sneaker and he'd had some success with a Kickstarter campaign," Zwillinger recalls. "But he was going through a challenging time as far as the nuts and bolts of starting a business." Zwillinger thought that with his consulting savvy and environmental credentials—he had worked for management and investment firms before settling in for a long stint at Solazyme, a biofuels startup—he might be able to help. After a few months of informal conversations, Brown flew from London to visit Zwillinger in Marin County, California. "We walked and walked through the hills for three days and coalesced a partnership that would be bigger than the individual pieces," Zwillinger says. Along with that realization, the two came to another understanding. "We knew that our wives would kill us if we ruined their friendship."
Within a year, Allbirds—a name Brown derived from early explorers who viewed New Zealand as a place of "all birds" and not many mammals—had released its first line of sneakers. Time magazine quickly pronounced the $95 Wool Runner the "world's most comfortable shoe" in 2016.
Two years later, the company had sold its one millionth pair, mostly online. In 2019, it introduced 10 new colors for its Merino Runners and Tree Breezers, a line of ballet flats made from eucalyptus fibers. These days, the company employs upwards of 400 people and operates two dozen stores worldwide. It recently added another $100 million to its venture capital pot and achieved a valuation in the neighborhood of $1.7 billion in anticipation of an upcoming initial public offering. Meanwhile, new products, including underwear and leisurewear made from tree fibers, continue to roll off the production line.
While the pandemic presented a major challenge, it didn't knock Allbirds off course. "During COVID, we were tested in so many different ways," Zwillinger says. "We lost money—which we hadn't done before—because we had a huge retail staff that we wanted to keep onboard and keep paying while most of our stores were shut." In March 2020, through a long-standing partnership with the nonprofit Soles for Souls, Allbirds donated 500,000 pairs of gently worn shoes to essential workers in just five days. Later that spring, timed perfectly to the closure of gyms, it went ahead with a planned launch of its new running shoe, the Tree Dasher, which proved to be its best-selling debut to date.
Aside from the sustainable materials that users see in Allbirds designs, there's also a lot going on behind (or underneath) the scenes. "One of the most ubiquitous components in sneakers is the chemical EVA [ethylene-vinyl acetate] and we developed a way to make the same polymer using Brazilian sugarcane," Zwillinger says. "We've outsourced that technology for two reasons. One is pragmatic—if lots more people use it, the price comes down. The second is altruistic—not only is sugarcane an incredibly renewable resource, it also sucks carbon out of the atmosphere."
Materials are where the lion's share of the footwear industry's carbon footprint lies, Zwillinger points out. "We have great ideas, but we don't have a building full of scientists. So if there are companies out there already doing great stuff and we can help commercialize their technologies, that's our sweet spot." As an example, he points out that in pursuit of plant-based alternatives with the performance attributes of cow leather, Allbirds recently invested $2 million in a company called Natural Fiber Welding. It also partnered with Adidas to produce a not-yet-released running shoe with a carbon footprint of less than 3kg (compared to an industry standard of 12.5–13.6kg).
For Zwillinger, confronting climate change and wanting to make a difference in the world comes from his family, where "social and societal progress were deeply interwoven." His sister is an attorney who now works as a water rights advocate. Their mother left her native South Africa during apartheid and met their dad at San Francisco State University, where he was a professor who, Zwillinger notes, played a role in helping establish what became the nation's first Black Studies department. "So, we listened to those lessons carefully," Zwillinger adds. "Those conversations really got me behind environmental causes early on. I was interested in making a difference via entrepreneurship, though, rather than policy."
Zwillinger has extended his personal commitment to the climate crisis and other causes by creating a venture capital fund, Good Friends, with three Wharton classmates—Dave Gilboa WG'10 and Neil Blumenthal WG'10, cofounders of eyewear maker Warby Parker ["Alumni Profiles," Jul|Aug 2012], and Jeffrey Raider WG'10 of Harry's, the men's grooming retailer. The fund has made more than 60 investments to companies like Daring Foods, which sells plant-based "chicken," and Grayce, a start-up (cofounded by another classmate, Julia Cohen WG'10) aimed at helping family caregivers navigate the healthcare system.
No wonder Zwillinger jokes that Penn "was pretty good to me. I got a wife and through her found a business partner," he says. "I got great friends who support me in my business endeavors and invest with me. And I learned that I can focus on having some kind of impact that I can feel proud of."
—JoAnn Greco