Ambassador Word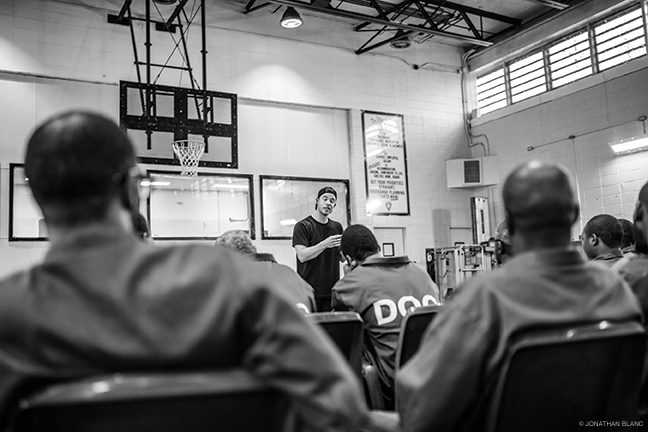 Class of '13 | On a Saturday night in February, when 20-somethings in New York were headed to bars, clubs, and house parties, a few hundred of them went to a less obvious place for fun: the main branch of the New York Public Library. The event was part of "For the Public," a series of free performances by young, rising artists. The lineup this particular evening included Solo Woods, a soulful singer-songwriter from Brooklyn, and Safia Elhillo, a Sudanese poet.
Students and young professionals packed into Astor Hall, the marble rotunda full of lofty statues and dedications. In stark contrast to its grand surroundings, the crowd sported tattoos, piercings, ripped jeans, and T-shirts, and they cheered and applauded as if they were at a basketball game.
"You aren't supposed to make noise generally in a library," said Miles Hodges C'13, who organized the event. "This evening we are going to say, ' Screw that.'"
The 25-year-old Hodges knows how to put on a show. He's been a spoken-word performer since he was 13, taking the stage at places like the Apollo Theater, the Kennedy Center, and the Smithsonian Institution. In high school he was profiled in Russell Simmons' HBO documentary series Brave New Voices. As a Penn student, Hodges was invited to appear at other schools, including Harvard and Princeton, receiving up to $3,500 for a performance. Some of his YouTube videos have amassed views numbering in the six-figures. Then, in May of 2015, the New York Public Library hired him as an ambassador and asked him to develop programs to attract Millennials.
"Our job is to make sure we are continually finding ways to innovate, to attract people to libraries, to introduce people to them," says Ken Weine, the library's vice president of communications and marketing. "That's why having Miles here has been a real success."
Hodges also started a program to perform and teach spoken-word to inmates at Rikers Island. Given all the library materials at his disposal, he says: "It's my job to find a way to make those things look cool."
Hodges' passion for the library system stems from his love for the city it serves.
"I love the idea of being a New York guy," he says. "Of being somebody who builds something here and leaves a cultural imprint on the city." He grew up in Teaneck, New Jersey, but got his start in the city, taking free classes at a nonprofit youth-literacy organization called Urban Word NYC. By the age of 16 he was a regular performer at downtown bars.
"You can picture it," he says. "Lower East Side, dimly lit bar type of concept; to be there reading poems, that was pretty cool."
After winning a few poetry slams he was invited to join a competitive team that sent him to Brave New Voices, a festival filmed by HBO.
"They followed me and the other four members of the team around for like a month with cameras," he said. "It was the coolest thing when I was 17. Looking back on it now, embarrassing."
Regardless, it opened doors. Institutions around the world invited him to perform, and it certainly didn't hurt with college applications. (He now finds the idea of competing in poetry and putting scores on a poem a "pretty stupid concept," explaining: "Poetry isn't meant to be a competitive sport. It's expressive.")
At Penn Hodges continued to perform on his own and as part of a spoken-word group called the Excelano Project. Along with Joshua Bennett C'10 and Alysia Harris C'10, he is part of a collective known as the Strivers Row, which has grown into something of a talent-management agency for poets.
After college, he took some time off to travel, perform, and figure out his next steps until the New York Public Library called.
In the past decade libraries have had to re-think how they serve the public, and some have embraced an expanded cultural mission.
"Libraries were the originators of the sharing economy," says Sari Feldman, president of the American Library Association. "We have to say, 'What are people interested in and how do we best deliver that?'"
As they make the transition, libraries are paying closer attention to how they can appeal to younger generations.
Perhaps the best resource libraries have for young people is a venue to gather. "Space is a valuable service we offer," says Feldman. "It is an alternative to Starbucks."
Before they even met Hodges, the New York Public Library was looking at spoken-word performances as a way to draw in the young folks.
"What is so fun, what is so heartening about it," says Weine, "is that yes, it's customized, but the same art form works in Rikers Island and our West Village branch."
"What I am passionate about is art and culture and knowledge and literacy, and I see libraries as a home base for how that happens," says Hodges. "I am trying to convince [all] young people that this is true—and that they deserve that."
—Alyson Krueger C'07