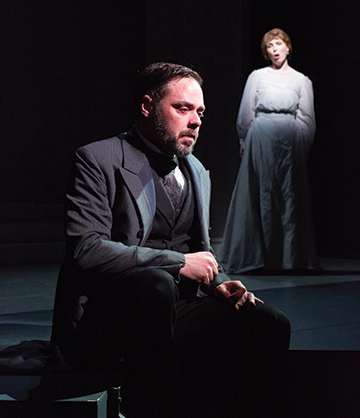 Class of '92 | It didn't take long for Jeff Coon C'92 to impress the professional theater world with his vocal prowess. He had just graduated from Penn and landed an audition with Philadelphia's Arden Theatre Company.
"He opened his mouth and filled the space with his incredible sound," recalls Terrence J. Nolen, the company's co-founder and producing artistic director. "It was the first thing that drew us to him, that one-of-a-kind, world-class instrument."
The company wound up casting Coon in an ensemble role for its 1993 production of Sweeney Todd—and has given him the nod 18 more times for a wide range of productions, including a starring role in this season's ender, The Secret Garden. Over the years he's garnered 10 Barrymore Award nominations (the region's equivalent of the Tonys), winning in 2000 for his performance as Dominique in the Arden production of The Baker's Wife.
But the 45-year-old Coon isn't resting on those laurels. Two years ago he and some other local actors and friends launched The Summer Club. Dressed in white dinner jackets and accompanied by a 17-piece band, the ensemble offers a swinging homage to the standards-and-shtick Rat Pack shows of yesteryear in the New Jersey shore towns of Avalon (July 30, August 5) and Cape May (July 23).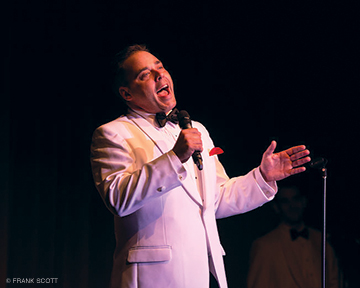 "We're trying to maintain a musical sound and performance style that exists less and less today," Coon says. "It's about the relationship the performers have with the band, each other, and the audience."
The group has put together a library of 50 or so newly orchestrated songs to choose from, including 12 additions for this summer. They range from "Birth of the Blues" to "Everything Old Is New Again," as well as "The Man That Got Away," sung by a female vocalist who, along with the occasional comedian, provides variety to the mix.
"More than a few people have said it's the best show they've ever seen—and none of them were my mother," laughs Coon. "Some have seen the show five or six times, which is really gratifying. The crowds are generally older, but we're encouraging people of all ages to come—I think it's important to give younger generations exposure to this kind of music."
Coon's dramatic personal life and career have had the hallmarks of a successful musical. To set the stage, there's an opening number. It's 1988 at Lower Cape May (New Jersey) Regional High School, and Coon is performing "On the Street Where You Live" in the My Fair Lady role of Freddy Eynsford-Hill. He finds himself thinking, "Wow, my music teacher was right. I can really sing!" Suddenly, our hero knows what he wants to do with his life.
"I totally bought into the culture," he says now, in the distinctive baritone that hints at his vocal prowess. "Staying late after school. It was a safe place—that was your group, that was your home."
A few scenes in, he arrives at Penn, where he joins the Glee Club, despite having never taken formal voice lessons. The weekly discipline of polishing the technical aspects of singing further build his stamina and skills. "Bruce Montgomery [the late, long-time director of the Glee Club] was the closest thing to a voice mentor for me," he says.
Coon changes his major to theater arts—which leads him into lighting, set design, costume building, directing, and acting—and is encouraged by mentors like Cary Mazer and Jim Schlatter to "reach beyond being viewed as just a singer."
After Penn, Coon is convinced that he will pursue a career in theater but worried about making a living. His decision to stay in Philadelphia comes at the perfect time. Mayor Edward Rendell C'65 Hon'00 was "funneling money to the arts, theater companies were building new spaces."
Cue the "star turn," the big number where Coon shows his stuff. He goes on to blithely cause "trouble in River City" as Harold Hill in The Music Man, bitterly "pave the way for other madmen" as John Wilkes Booth in Assassins, and struggle to "finish the hat" as French artist Georges Seurat in Sunday in the Park with George.
Meanwhile, his personal life is—complicated. First there's Coon and Molly, his "idea of the perfect wife," a fellow actor and the mother of his two children, daughter Piper and son Jackson. Then there's Coon and Hattie, his second wife. (Each marriage lasts three years.) Third time's the charm, he says, and so now there's Coon and Joey, a dancer with whom he lives in the former home of the grandmother who taught him to love the American Songbook. "Mum Mum would've loved this—me living there with a man," laughs Coon. "All of her friends would have been wagging their tongues."
Last December, he explored his checkered romantic history in four confessional performances that launched the Arden's new cabaret series. In a surprising move, Coon stitched together narrative and songs to basically come out to his audience.
"The week before the show, I started asking myself what I was doing," he says. "But I said, 'Don't be a chicken, just do it.' I wanted to reveal a context for the songs, because they helped to tell the story of what went on for me [and] why it was hard for me to accept me. How could I continue to tell my children that no matter who they are, they're perfect, if I couldn't say that to myself? I was interested in an authentic evening of live music that was just me as myself, instead of playing a role."
Coon sang "Funny," from City of Angels, for example, "because it expresses how angry I was at my friends when I came out because it became a little gossip item for them when I needed support." (The lyrics include the line "sad enough my life's a joke that suffers in the telling.") "We didn't invite critics because, well, it wasn't that kind of show," he says. "But audiences were incredibly kind and overwhelmingly positive. They thanked me for sharing my story and told me how brave it was. It didn't feel brave—but it did feel freeing."
"We chose Jeff to launch this cabaret series because Philadelphia audiences have an incredible relationship with him," says the Arden's Nolen. "Many of them have watched him grow up before their eyes to become a leader in this community."
The move into cabaret dovetails with Coon's thoughts about his future: "I thought it's time for me to make my own destiny and figure out how to keep myself and my friends employed. I started thinking about those great live albums I used to listen to when I was a kid. Sinatra and his pals weren't just singers, they were entertainers, with these hilarious off-the-cuff patters that were actually extremely well-crafted."
As male actors age, the business is kinder to them than it is to women, Coon admits. "In five years, I can play J.B. Biggley [from How to Succeed in Business Without Really Trying] or Fredrik Egerman [of A Little Night Music]," he says. "If the next 20 years are anything like the first 20 years, I can retire at 65 very happy."
Then he laughs at the idea of at last singing his 11 o'clock number or grand finale: "Actually, I probably won't retire—there's always the role of [the elderly] Senex from A Funny Thing Happened On the Way to the Forum!"
—JoAnn Greco