The Art of Giving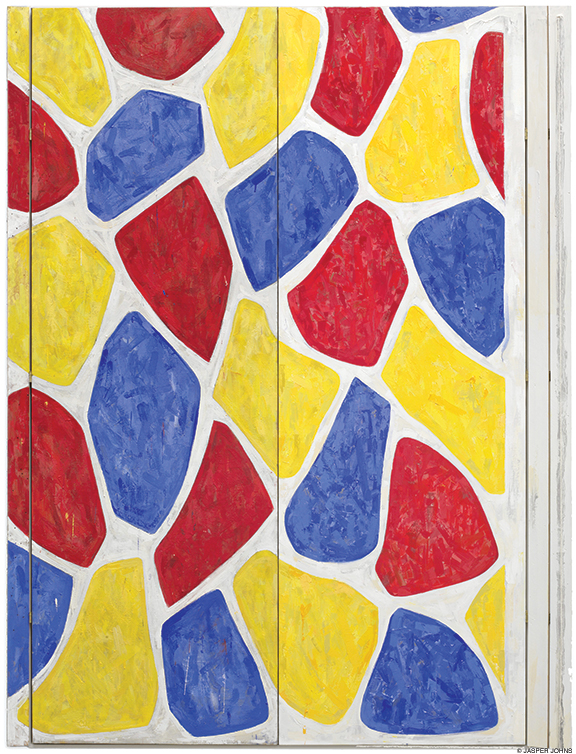 Katherine Sachs CW'69 can't get enough of Jasper Johns' Nines (2006). During a winter visit to the Philadelphia Museum of Art, she spent two hours studying it, even though by then she had already spent a good deal of time in its company. Now, on the first day of spring, she beelines toward the painting once again.
"It rewards looking," she says upon reaching the canvas, a large, weaving patchwork of red, blue, and yellow flagstone-like forms—nine of each color, hence the title. "It's absolutely fascinating how everything relates to the edges, how the shapes relate to each other. Half is encaustic, half is oil on canvas, so they reflect light differently. Every drip, every stroke, has been considered. His mantra was 'Do something, then do something else to it.'"
Nines once adorned a wall of the Manhattan apartment that Kathy shares with her husband, Keith Sachs W'67. These days, it hangs in the museum's Keith L. and Katherine Sachs Galleries of contemporary and modern art, renamed in 2014 in recognition of the couple's promised gift of masterpieces by such artists as Ellsworth Kelly, Brice Marden, Donald Judd, Richard Serra, and Gerhard Richter.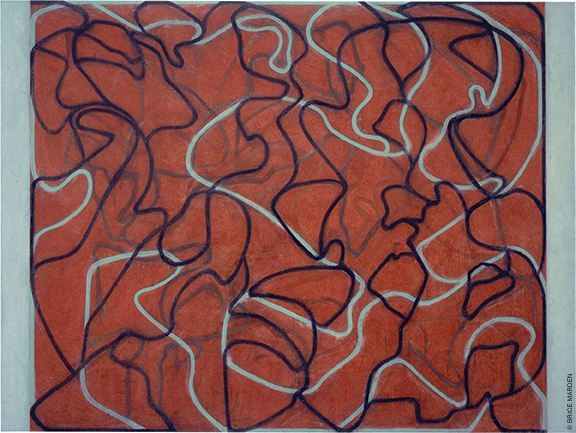 The museum is now showcasing the gift in "Embracing the Contemporary: The Keith L. and Katherine Sachs Collection of Contemporary Art," which opened last month and runs through September 5. The exhibit features nearly 100 selected works, including Portrait of Jean-Louis by Louise Bourgeois (the earliest work in the collection) and Charles Ray's Boy With Frog, whose simple subject and modern material—cast stainless steel that's painted white—whimsically allude to the marble and eloquence of classical statuary. That piece, says exhibition assistant Anna Mecugni, "conjures the sense of surprise and discovery and beauty that is the soul of the collection." Additionally, several "monographic" galleries are devoted to the works of Johns, Kelly, Marden, and other Sachs favorites; among the contents are video pieces—which, says Kathy, "enliven the collection without competing with the other work."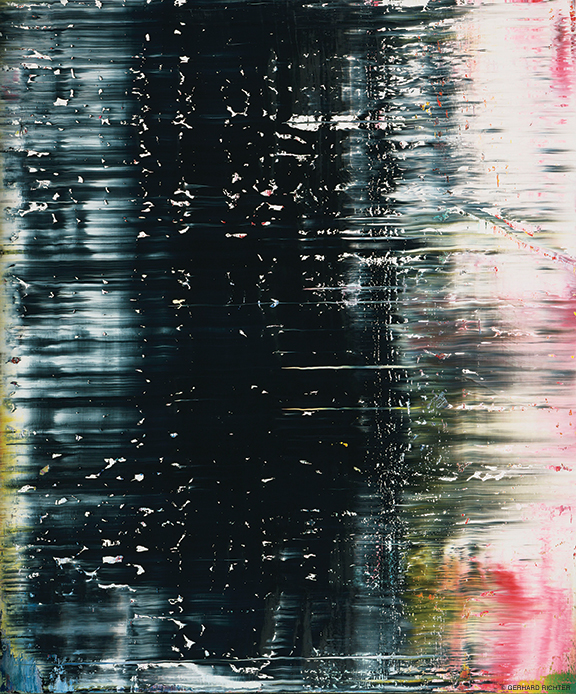 The exhibit caps a long and loving relationship between the museum and the Sachses that began in the early 1970s when Kathy—an art-history major fresh out of Penn—joined its public-relations staff; it continues today with Keith's tenure as a trustee and chair of the museum's contemporary-art committee. Along the way, they've served as everything from guide and co-curator (Kathy) to chair and co-chair of a range of trustee committees (Keith).
Their lives have been similarly interwoven with Penn. Kathy is an emeritus trustee of the University and sits on the board of overseers of the Institute of Contemporary Art (ICA), which she chaired for 10 years; Keith served as chair of the board of overseers at the School of Design for six years.
The couple met at Penn in the late '60s. Philly-born Kathy (née Stein) honed her eye as an art-history major, while Wharton undergrad Keith, a Chicago native whose family moved to Philadelphia when he was a teenager, occasionally staged art exhibits in Houston Hall. A blind date over coffee led to a real date at a Supremes concert on campus.
Art quickly became a part of their lives. When Keith graduated later that year, Kathy gave him an antique print of the school; as he entered law school at Harvard, she bought him a similar print; after they became engaged, she treated him to a Miró print.
When Keith assumed control of the family business following the death of his father, they found themselves back in the Philadelphia area (they still maintain a home, which houses most of their collection, in Rydal). Ten days after Kathy graduated from Penn, they married. For two decades, the Sachses educated themselves by gallery-hopping and fine-tuning their likes and dislikes. As they built a family, raising three children (Deborah C'95, Judy WG'06, and David CGS'98 WG'10), they also built a collection focused on minor works by major artists—works on paper, mainly, from such recognizable names of the '50s as Milton Avery and Alexander Calder.
The couple credits Mark Rosenthal, a former curator of 20th-century art at the museum, with upping their art game.
"At some point in the early '80s, we decided to start collecting the art of our time," says Keith, the former CEO of Saxco International, a leading supplier of glass and plastic bottles. "As we sit in the museum today, it's fair to say that being exposed to what was here helped to inform the kind of thinking of who it was that we wanted to collect. Over a period of time we developed a hit list—artists we systematically went after."
Ever since Kathy walked into Rosenthal's office and said: "We want to collect," the couple's purchases have been carefully considered.
"The very first was a Christopher Wilmarth," she recalls. "There were two that we liked. One was about this big, a tabletop. The other [Second Roebling] was a wall piece, so it took up a lot of space. Keith said—and this is what has driven the collection since—'If we are committed to the artist, we should buy the best piece available. We should buy the example, not an example.' And it was an important decision. We realized that if we couldn't buy a lot every year, it was ok. If we bought a few fabulous things and then didn't sell them, then eventually, over time—"
"It adds up!" Keith laughs.
The occasional outlier by their favorite artists added a richness to the mix. Take Jeff Koons' 1991 Small Vase of Flowers, an exuberant tromp l'oeil piece of painted wood that the couple had seen in another exhibit but hadn't looked at closely. "I spent most of my time trying not to look," Kathy laughs, alluding to that show's preponderance of photos and sculptures depicting the artist and his then-wife in an array of sexually explicit poses.
"The collection is, I don't know if restrained is the right word, but …" she adds. "When we brought in the vase, we realized that the contrast [helped] everything else, even more so than if it fit in perfectly."
One of the few works they've sold was a Lucian Freud, and they did so for a special reason—to help finance a $4 million gift to Penn. The monies have been used to endow the Keith L. and Katherine Sachs Professorship of Contemporary Art, and to set up a guest curatorship program at the ICA.
"The University means a great deal to us," says Kathy, "and we felt it needed more art in its life.
"For us, the arts are a resource like any other," she continues. "Instead of going to the library or the internet to discover something, you look at a work and experience it, and from that you understand a little bit more about what's happening in the world. We're also very pleased with the links between Penn and PMA, with curators teaching at the University and the University using the museum's collections in their teaching. By giving our collection to the museum, we're hoping to make that interchange even easier."
—JoAnn Greco