A National Maelstrom and a National Champion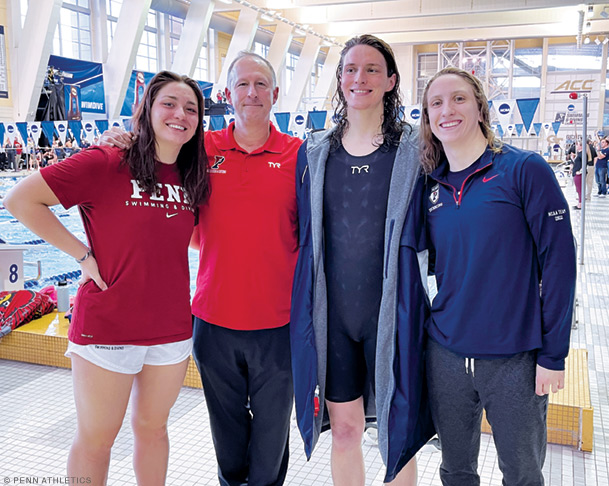 ---
When Lia Thomas touched the wall first in the 500-yard freestyle final at the 2022 NCAA Division I Women's Swimming and Diving Championships in Atlanta, she became the first Penn female swimmer ever to win an NCAA individual title.
The victory, of course, was more historic than that.
In taking home the gold on March 17, Thomas also became the first transgender athlete to win an NCAA Division I title, continuing to capture attention—from supporters and critics alike—in a story that thrust Penn into the center of a heated national debate ["Sports," Mar|Apr 2022].
In a brief poolside interview with ESPN after she pulled away from Olympians Emma Weyant, Erica Sullivan, and Brooke Forde with a winning time of 4:33.24, Thomas said "it means the world to be here with two of my best friends and teammates and be able to compete." Thomas, who previously competed on the Quakers' men's team, was referring to Penn juniors Catherine Buroker and Anna Kalandadze, who also took part in the 500 free (as well as the 1,650 free).
Before Thomas, Chris Swanson W'16 had been the only NCAA champion in Penn swimming history ["Sports," May|Jun 2016]. Freshman Matt Fallon came close to joining the club this year, finishing third in the 200 breaststroke in the national men's final.
Over the next two days of the NCAA championships, Thomas closed her college career with two more All-America performances, finishing fifth in the 200 free and eighth in the 100 free. A month earlier, the senior won four races with record-setting times at the Ivy League championships.
In one of her only sit-down interviews, Thomas told Sports Illustrated, "I don't know exactly what the future of my swimming will look like after this year, but I would love to continue doing it." —DZ