March Madness Restored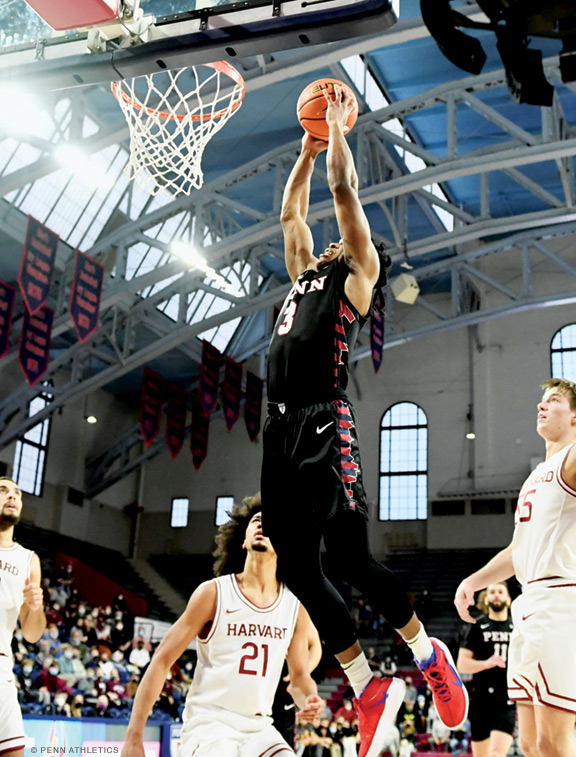 Hoop dreams at Penn, Philadelphia, and beyond.
---
Steve Donahue was just like everyone else at Philadelphia's Wells Fargo Center during the final minutes of an NCAA Tournament Sweet 16 game pitting tiny Saint Peter's against mighty Purdue on March 25: on his feet, cheering, hoping the underdogs could extend their Cinderella run.
And when Saint Peter's pulled off its third straight upset victory, the Penn men's basketball coach was reminded of the magic of the "coolest sporting event"—where a tiny school out of Jersey City, New Jersey, can go punch for punch with the bluebloods of college basketball and emerge as one of the last eight teams standing in the country.
"It's inspiring. I tell our guys the reason I love Penn is we can attract kids that can win Ivy League championships and make some runs—deep runs—in the NCAA Tournament," says Donahue, who took Cornell to the Sweet 16 in 2010. "I feel strongly we can do something like Saint Peter's did. To me, that's something that is realistic."
The Quakers didn't make this year's NCAA Tournament but enjoyed March Madness in other ways. Penn hosted the Sweet 16 and Elite Eight games in Philadelphia (meaning the athletic department's operations and media relations staffers pulled strings behind the scenes), and Donahue welcomed one of that weekend's participants, UCLA, to the Palestra for a practice and a tour. (He says he's trying to get UCLA to return for a game against Penn.)
And "Ivy Madness" returned after a two-season COVID hiatus, with Penn qualifying for the league's four-team postseason tourney at Harvard, losing to eventual conference champs Yale in the semifinals. But considering that several of the Quakers' home games were played in a near-empty gym due to COVID-19 restrictions, the chance to play in a charged-up atmosphere on national TV was a valuable opportunity for Penn's players, most of whom had never even played college basketball before this season.
Between the Ivy League's cancellation of sports last winter and multiple upperclassmen having missed time due to injuries, Donahue believes the 2021–22 Quakers were actually the most inexperienced team to ever play college basketball in terms of previous minutes played. So the team leaned heavily on sophomore Jordan Dingle, who became the fifth player in program history to average more than 20 points per game in a season and the first since Ernie Beck W'53 to record six 30-point games. (Dingle just missed his seventh 30-point game in the Ivy Tournament loss to Yale, finishing with 28. Only one other player, freshman forward Nick Spinoso, scored double figures that game.)
Donahue doesn't think the Quakers will be as reliant on Dingle next season. His teammates are "going to be bigger, stronger, and better," having learned from the "growing pains" that saw Penn lose 10 of its 13 non-conference games and, after surging to an 8–2 start in Ivy play, limp to the finish line.
"I think you're going to see another dramatic step for him—particularly with his floor game and understanding how to impact a game not just with scoring," says Donahue, who believes Dingle is good enough to play for any team in the country. "We're not going to need him going forward to score 30 points in a game."
With fellow sophomores Clark Slajchert and Max Martz—the team's next two top scorers—returning for two more seasons alongside Dingle, Donahue is excited for what's to come. And he can't help but dream about pulling off an NCAA run like Saint Peter's. "I think someone in our league is going to do it," he says. "And I want it to be us."
---
Coaching Carousel
From 1996 to 2000, Fran Dunphy coached a Penn team led by guard Mike Jordan C'00 to two Ivy League championships. Over the next two decades, both continued to have prosperous careers in basketball—and in the span of one week this spring, both landed new head coaching jobs.
The 73-year-old Dunphy, who amassed 580 wins in 30 seasons as the head coach of Penn and then Temple, came out of retirement to accept the head job at his third Big 5 team, La Salle, his alma mater.
Jordan, who ranks sixth on Penn's all-time scoring list, replaced Fran O'Hanlon (a former Penn assistant coach) at Lafayette. It's the first head coaching gig for Jordan, who had a long professional playing career overseas and spent nine seasons as an assistant under his old Penn teammate Matt Langel W'00 at Colgate.
Jordan is now the fourth active Division I head coach who used to play at Penn, joining Langel (who this March took Colgate to its third NCAA Tournament in four years), Fran McCaffery C'82 (Iowa), and Andrew Toole C'03 (Robert Morris). —DZ