A Record-Setting Performance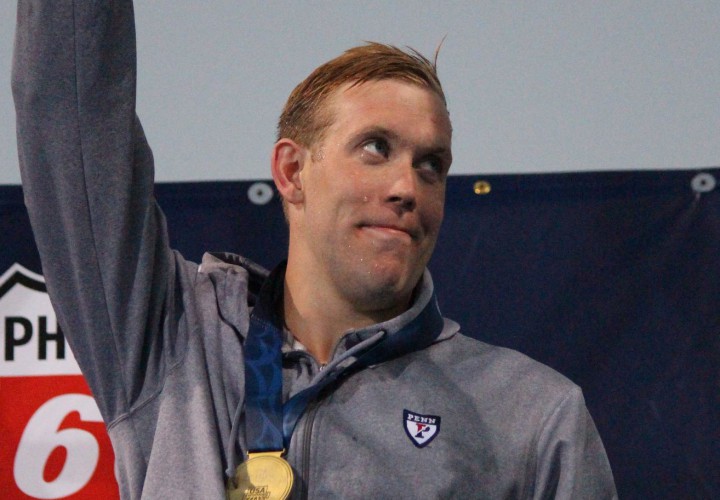 After just missing out on the 2012 Olympics, Brendan McHugh C'12 wasn't sure what would happen to his athletic career, telling the Gazette only that he would "try his best" to keep swimming competitively.
Two years later, he's doing a lot more than that.
With his eyes firmly trained on getting to the 2016 Summer Olympics in Brazil – and perhaps helping to continue Penn's remarkable Olympic streak – McHugh set a new U.S. Open record in the 50-meter breaststroke last week at a meet in Irvine, Calif.
That record-setting time of 27.10 seconds came in prelims of the 2014 Phillips 66 National Championships. McHugh, representing the Greater Philadelphia Aquatic Club, then won the event with a time of 27.24 in the finals – an upset that punched his ticket to the 2015 World Aquatics Championships in Russia.
Here's video of McHugh's national championship victory over the favored Kevin Cordes, complete with a whole lot of surprise from the announcers, one of who exclaimed: "You never know in this sport! Here's a guy I knew very little about coming into this meet." (The race begins at around the 2:00 mark and the post-race interview with McHugh starts a little before the 4:00 mark):
And here's video of a very happy McHugh being presented with his gold medal:
And, perhaps, most revealing, here's a slightly older video shot a few months before the meet in Irvine in which McHugh talks about his past accomplishments and his future goals in the pool.
I'd recommend watching the whole interview but here are some highlights:
McHugh chose to go to Penn because he wanted to "focus on academics instead of swimming because I never thought I'd be swimming post-college, but here I am." He also credited his alma mater, where he was a two-time Ivy champion for the evolution for helping him get "really fast."
McHugh started attending law school at Washington and Lee shortly after the 2012 Olympic trials and began working as a volunteer coach for the school's swim team after breaking his arm. Soon, he began to get into the pool with the college swimmers and realized that "I still love this."
His goal this year was to break the American record in the 50-meter breastroke (Mark Gangloff's 26.86 at the 2009 World Championships). He didn't get that one but he was certainly close, settling for the U.S. Open record (which was previously held by Kevin Steel with a time of 27.26).
He's working at a law firm in Philly this summer and has been training at Penn. He also plans to train at Penn leading up to the Olympic Trials because "they really know how to get me going" and he'd be nervous to go somewhere he's not familiar with.
As for the 2016 Olympics, he has no doubts he's going to push hard to get there, saying "I wouldn't be able to sleep at night when I'm 35 years old if I didn't try."
At the time of that interview, many people probably didn't know much about Brendan McHugh. But now the Penn grad will be swimming in Russia next year – and he suddenly looks like a pretty good bet to get to Brazil the following year too.
– Dave Zeitlin C'03