First NCAA Champion in Penn Swimming History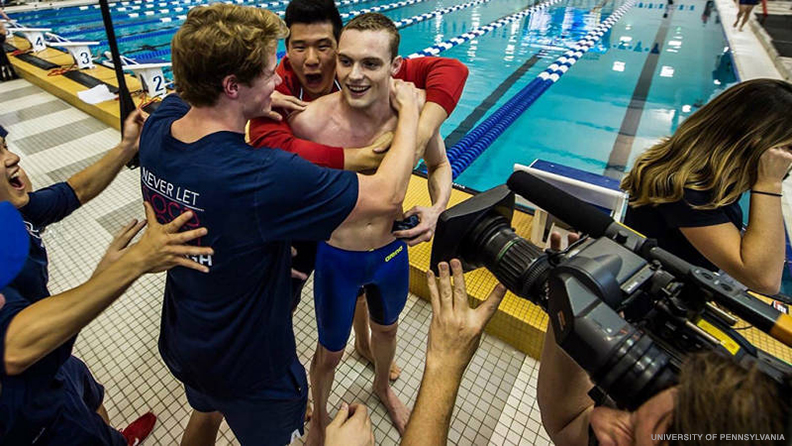 At first, Penn senior swimmer Chris Swanson was worried about a scoreboard malfunction. Could what he was reading actually be right? Was his time actually better than University of South Carolina's Akaram Mahmoud, who had been leading the 1,650 freestyle by a significant margin heading into the final two laps of the 66-lap race? And was that really the number 1 next to his time?
The announcer at March's NCAA Division I Swimming & Diving Championships in Atlanta had a similarly hard time processing it all. A few moments after the race ended, his voice boomed over the PA system: "I don't believe what I just saw!" Then he declared, "Ladies and gentleman, you may never ever see a finish like that again in your life!"
When everyone got done rubbing their eyes in disbelief, the reality set in. On the strength of an epic comeback, Swanson became the first-ever Penn swimmer to win a national championship—and the first Ivy Leaguer to do so in 26 years.
Although he enjoyed a decorated swimming career at Penn, winning nine total Ivy League championships, Swanson was an underdog on the national stage. And he tried to use that to his advantage. He knew, for example, that University of Texas junior Clark Smith, the American record-holder in the 1,000 freestyle, would be a big favorite and likely start out fast. Swanson aimed to stay consistent throughout while other swimmers surged to leads and then, if all went to plan, faded.
That strategy worked when Smith and, later, University of Michigan's P.J. Ransford both lost early leads while Swanson remained near the middle of the pack. But when Mahmoud took his lead near the end, Swanson thought the game was up; it seemed like the South Carolina swimmer was ahead by too much. At that point, all Swanson wanted to do was hold off University of Wisconsin's Matthew Hutchins, who was pushing him for second. But as Hutchins pursued, Swanson sped up. And in his final surge the Penn senior closed in on the leader. Making up nearly three full seconds over the final 50 meters—an astonishing feat in swimming—Swanson out-touched Mahmoud at the wall by 12 hundreths of a second. The crowd at the Georgia Tech Aquatic Center reeled in amazement. (A YouTube video of the race features an off-screen voice screaming "Unbelievable!" and "Where did he come from?" over and over again.)
Then Swanson turned to look at the scoreboard, held his hand on his head for a few moments, as he processed his winning time of 14:31.54, and ripped his cap off in celebration. When he got out of the pool, he was mobbed by five Quaker teammates who also made the NCAAs, as well as several Penn alumni and an assortment of other people who had been pulling for the underdog.
"I couldn't hear anything [during the race] but I could see my team on the sideline cheering," Swanson later recalled. "I could see the stands. A lot of people were jumping up and down at the end."
It had been a long road. After placing ninth in the event at the NCAAs as a sophomore, Penn's standout distance-swimmer was so disappointed with his 11th-place finish last year that he forced himself to watch all top eight swimmers get their awards, "because I wanted that memory stuck in my head." A year of 6:30 a.m. and between-classes training sessions later, he found himself atop the podium himself.
Swanson, who will graduate in May, is ready for his competitive swim career to end—almost. He has accepted a job with Anheuser Busch's global management trainee program. But that won't start until August. In the meantime, he'll continue his grueling training regimen with one more race in sight—at the US Olympic Trials in Omaha in June.
"I originally thought that I was gonna take spring a little bit easier," he said. "But after this [NCAA] meet, I don't think I can do that now."
—Dave Zeitlin C'03