Yo Zydeco!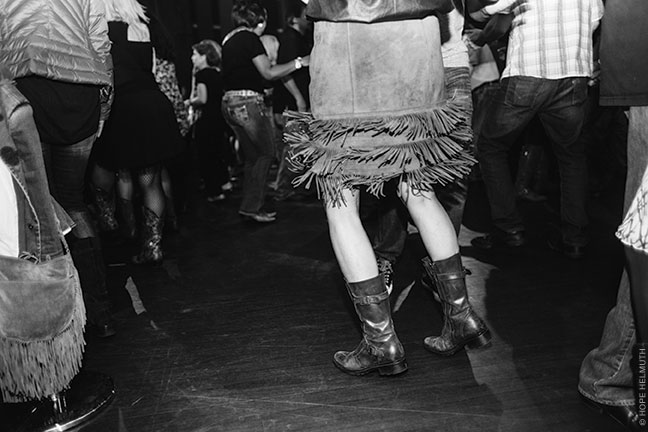 A year-long program by WXPN brought the rollicking music of southern Louisiana to the City of Brotherly Love.
The distance between southeastern Pennsylvania and southern Louisiana can be measured in more ways than miles (1,300-plus, if you're counting). Cuisines, patois, and ethnicities—all are distinct markers of regional character. And, of course, there's the music.
Zydeco—the name probably comes from a Creole French pronunciation of les haricots (string beans, which figure in a local phrase suggesting hard times)—is that uniquely Louisiana brand of syncopated dance music that somehow incorporates two-steps and Telecasters, button accordions and blues, fiddles and Fenders, washboards and waltzes, and artfully belted vocals in French and English. Its roots tap into the African-based rhythms of Louisiana Creoles, the hand-clapping and foot-stomping juré, and as it evolved into rural house-party LaLa music it soon absorbed such French Cajun influences as the accordion and fiddle. Later guitar-based infusions of blues and other urban strains spiced it up even more. Many visitors to Louisiana eagerly seek out the music, though how often they listen to it on their iPods is another matter.
Most of the time, it's fair to say, you won't hear much zydeco in Philadelphia. But for a one-year period that ended this past October, the City of Brotherly Love was a bubbling gumbo (to use the irresistible cliché) of zydeco and related rhythms.
"Zydeco Crossroads," as the program was dubbed, featured concerts by some top zydeco acts—no fewer than five in the final weekend alone, all broadcast live on WXPN—as well as a Zydeco Crossroads CD and dance lessons from the local outfit Allons Danser that had the audience two-stepping out enthusiastically, with varying degrees of experience and grace. The final day also featured a full-length Robert Mugge film, Zydeco Crossroads: A Tale of Two Cities, which was an update of his 1994 film The Kingdom of Zydeco. Much of the new film was shot during WXPN's recent trip to Lafayette, and it featured World Café host David Dye's interviews with band members as well as musical clips from zydeco sets at a number of venues, including the legendary (but struggling) El Sid O's club.
After the film's screening, Dye moderated a panel discussion that featured Tsitsi Jaji, associate research professor at Duke (and until recently at Penn); radio host and zydeco chronicler Herman Fuselier; and Stephanie Renée W'91, program director and radio host of WURD in Philadelphia. There was a suggestion that the migration of zydeco to Philadelphia was only fitting for a musical genre that owes its unique character to the forced migration of French Acadians from Canada to Louisiana and to the extremely forced movement of Africans to the region.
"The history of migration to this part of Louisiana plays into the music big-time," said Jaji. "The Cajuns were descendants of French immigrants who were kicked out of Nova Scotia 300 years ago, and walked a lot of that journey. We know about the Middle Passage and the very traumatic movement of black folks to the US. And what is really interesting about this part of Louisiana is that, in part because of the French Code Noir, but also because of people's absolute determination to hang onto their culture, there's a very distinctive grain to black culture, to Cajun culture, and to the interaction between those two."
The accordion, a French instrument, was only incorporated into the genre in the early 1900s, she added. While the fiddle also has a European lineage, it has a "lot of parallels" with some of the one-or-two-string instruments of West Africa.
"One of the moments where zydeco is emerging is with Amédé Ardoin and Dennis McGee," who played accordion and fiddle respectively, Jaji noted. "And we start to see the ways in which Cajun music and zydeco acquire more distinctive power. When Creole and LaLa music start to really get a zydeco sound is with the guitars and the drums—and it's still emerging."
Citing musicians like Clifton Chenier, who were "hearing the Mississippi blues but also the blues and rock and roll that are coming through Texas with the oil workers," she noted that "each generation integrates other musical traditions into the music."
"I always point to World War II as the time where the music started to be divided between Cajun and Creole," said Fuselier. "You go back to the roots with Amédé Ardoin, who's finally getting all the credit he deserves—he's such a godfather of Cajun music and zydeco, and if you go back and listen to the old stuff, there's not much difference." That began to change around World War II, as increased migration to places like Houston and Beaumont began to influence the zydeco sound. "Clifton Chenier was part of that migration, and that's why he deserves so much credit for taking the old French music and molding it with the rhythm and blues and soul in the juke joints around Texas—which kind of gave us that modern zydeco sound."
More recently, young musicians have brought rap and hip-hop into the mix, Fuselier noted. "Now some of the older people are saying, 'That's not zydeco,' but zydeco's always been part of change and been influenced by mainstream music, so that's what the young people know."
"Before we began this partnership with Zydeco Crossroads, if you would ask people about zydeco, they would not have pegged it as African-American music," said Renée. "So this is an opportunity for us to dig deep into the way that our experience has been encapsulated in one style of music that is part of the tradition that we should embrace. And as diverse and as deeply rooted in musical tradition as Philadelphia is, we had a sort of knowledge gap about where zydeco fits in this musical progression—and that gap has been profoundly closed because of Zydeco Crossroads bringing these artists here and bringing people together in order to dance and have a good time and not be so conscious of these socio-economic divisions that happen so often here.
"What I've heard from our listeners who have ventured out and joined in this party," she added, "is that they now feel a little bit more empowered to come out and try something different." —S.H.