Constructing a New Kahn
Sitting at a long table in the Architectural Archives, Harriet Pattison looks shyly stylish in a brown sweater with a dark, high collar. Beside her are Nathaniel, a portrait of thoughtful intensity as he listens to and occasionally prompts his mother, and Whitaker, who lays out a series of sketches and models and documents before her as we talk. Some of the drawings are Kahn's, many are hers, and they are kindling memories, most of them warm.
February 20, 1973. She remembers the day well. It was Kahn's 72nd birthday, and the day he brought the proposal for the memorial into her office.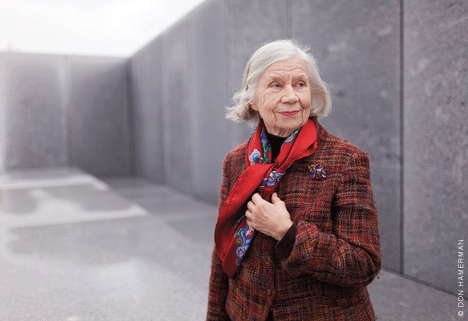 (Above) Harriet Pattison in the Room. (Below) One of her many sketches for the memorial.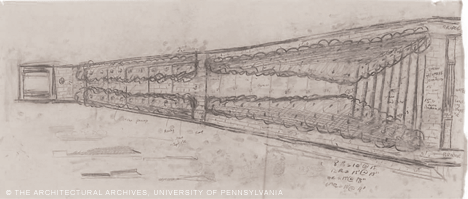 ---
"I spent five hours on it," she says, her memory precision-honed by the time cards in the archives. "I remember how Lou came in, pushed aside the stuff that I was working on, and laid out photographs and a site plan, a survey—just laid them out like a stack of cards and told me about it.
"He was very excited," she adds. "So was I. It was the best possible commission you can have." Kahn's proposal for the John F. Kennedy Library in Washington had recently been turned down, she recalls, as had one for another FDR memorial in that city. But this commission "was a great honor," and the site had tremendous potential—especially for a landscape architect.
"It had to involve landscape," she says. "It was four acres. So unless you were building the Pentagon or something, you wouldn't cover it altogether with architecture, although just an architect was hired for the job. So it was, from the beginning, a landscape and architecture thing."
While the location was "fantastic, both because of exposure and the views," it also presented some challenges. The long, thin, crocodile snout of land on which it was to be built was basically a "dump," formed from rock excavated from the subway tunnel beneath the river. In addition to being "featureless and level," its narrow shape meant that "you couldn't go anywhere," she explains. "You could go up, which is the first move that I made, to raise the ground and make a mount and exaggerate it and feather it down to the tip. Which is where Lou located the architecture, at the terminus."
The first serious design for the Room, which Kahn developed in March and April 1973, was a "monumental fortress," in Pattison's words. The walls were 60 feet high, with a "very broad" footprint, roughly 90 feet square. The building material? Brushed stainless steel.
"I called it the Bastion," she says. "But it was in stainless steel, which is kind of miraculous—and pretty Frank Gehry. And huge—it was a circle inside of a square, which was kind of a typical plan of Lou's. It was a whole theater of activity, with niches and balconies—just a great gathering place."
Compared with Kahn's usual solid austerity, she adds, that design was "gossamer—and very electrifying."
Pattison describes her early landscape design as "baroque and fantastic," large in scale and "grandiose."
"When you arrived, I had a circle of [European] hornbeams and a staircase," she explains. "I had a sycamore grove, to go with the scale of the Renwick Ruin because that was massive. And for an entrance, I chose cedars of Lebanon, because they're absolutely monumental and Old World. Ancient world, in fact."
There was one problem with the Bastion, though. It would have pushed the cost of the project to more than $6 million. The construction budget was $2.5 million. So much for stainless steel and 60-foot walls.
Kahn then switched to a scaled-down structure made of concrete, which he had used to brilliant effect at the Kimbell Art Museum in Texas (for which Pattison was the landscape architect) and the Salk Institute in California. He also introduced cantilevers and other new design elements into the Room, which would have been open on two sides.
As with brick and every material he worked with, he had very specific notions about concrete's personality.
"He was sensitive to the color of concrete—Portland cement from the East Coast versus West Coast," says Whitaker. "The East Coast stuff was greener. He didn't like that. It was too cool. He preferred the warmer tone."
For a visionary dreamer, Kahn was also a "practical architect," one who wouldn't compromise but would change, says Nathaniel. "Rather than say, 'Oh, I can't build the Bastion for $6.5 million, so what kind of material could we use to build it for $2.5 million?' he'd say, 'Well, we can't do my dream. Let me come up with a new dream.'"
"We had to come up with something totally different," explains Pattison, who wrote a four-page outline around that time describing their vision for what had now become the four sections of the memorial: the Room and the Statue, the Garden, the House of the Garden, and the Grove. All the amenities that had been planned for the Bastion were to be moved to the House—a sort of underground reception space and arcade with an "immense glass façade" and an "intimate, exuberant 'Rose Garden'" above the arcade. The Grove, which also went through numerous iterations before being scrapped, would have been at the north end of the park, forming an interface with the Renwick Ruin.
The idea "definitely was theater," she says. "And it was a narrative. I wanted people to come and have a journey through the American continent, through this mystery." When you arrived at the top of the stairs, you wouldn't "see Last Year at Marienbad or Kaiser Wilhelm on a horse, but you saw a village green that was very American." And, in the distance, "you just see the head of Roosevelt, the way you'd see him on a coin, the way we knew him—disembodied—on the radio broadcasts."
William Walton, the chair of the Washington Fine Arts Commission who had originally recommended Kahn for the project, was the one who suggested using the bronze head of FDR created by sculptor Jo Davidson, a contemporary of the president's, Pattison notes. "But it was Lou's idea to enlarge it, to play with scale and put it in a niche—welcoming people, welcoming new arrivals. Just an intimate, individual kind of greeting—but then you wanted to get beyond that to this sort of mystery of what was beyond, which was the Room."
The realistic sculpture of FDR's head was not the only idea considered for that space. A model from January 1974 shows an allegorical figure intended to suggest the Four Freedoms in the south side of the sculpture niche.
"Lou originally had an allegorical figure in the Room," says Pattison. "We both liked [Italian sculptor Giacomo] Manzù's work, and Lou was going to investigate and see Manzù. But he was definite about keeping any kind of image of Roosevelt outside, so it didn't become a ritual sanctuary."
The sense of mystery one feels in the Room is "really confrontation with one's self," she suggests. "And you turn back, and you see the inscriptions about freedom and reflect on that and what your role could be, so that there's a responsibility there that's given to you. You can't escape, either. You have to return, which is very different from most memorials. It's a sense of eternity."