Big Finish, Fresh Start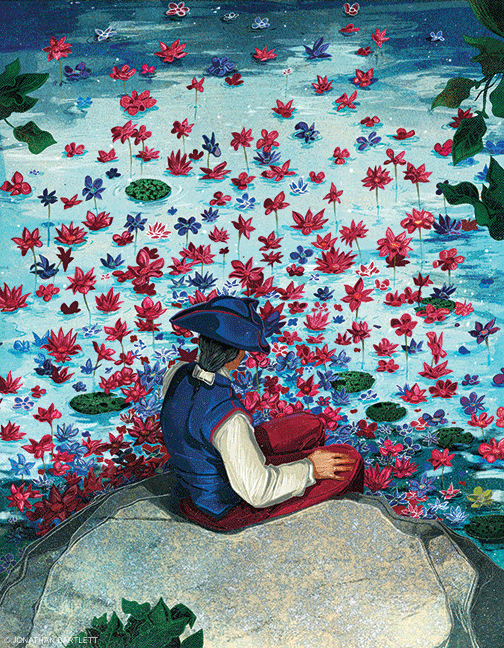 Penn's Making History campaign has exceeded expectations, raising $4.3 billion and "catapulting" the University "from excellence to eminence." After a pause to celebrate the more than 300,000 supporters who made that success possible, University leaders are determined to keep Penn's momentum growing.
BY JOHN PRENDERGAST | Illustration by Jonathan Bartlett | PDF download
---
"It's a wow for us, yes," says Penn President Amy Gutmann, summing up the results of the University's Making History campaign, which concluded on December 31, 2012.
It seems like a fair assessment.
Start with the total amount: $4,302,890,707. That's far and away the most money ever raised at the University, and among the largest capital campaigns ever in higher education. It's also about $800 million more than the announced goal of $3.5 billion—which was reached well over a year before the campaign's formal end.
(In fact, while the numbers that get cited in fundraising campaigns are amounts that people have pledged to contribute, it's evidence of how far Making History has exceeded expectations that the University has already received $3.6 billion in cash.)
Oh, and this outpouring of generosity took place during a period roughly coinciding with the worst economic downturn since the Great Depression.
"I have to say it feels amazing, given what we've accomplished, which is beyond our highest aspirations," Gutmann adds. "It feels a little like a dream that's come true on many levels."
Only the total amount raised and selected top-line figures were available before this issue of the Gazette went to press. (By now, all the details can be found at the Campaign Final Report website, finalreport.upenn.edu.) But here are some of the highlights:
• More than $652 million was raised for financial aid for undergraduate, graduate, and professional-school students, including $366.3 million for undergraduate aid. These contributions have assured that Penn can "follow through on our all-grant/no-loan financial aid policy, so our students can graduate [debt-free], as never before was possible," says Gutmann, referring to the program—which went into full effect in 2009—that replaced student loans with grants for all families eligible for financial aid.
• The University's ability to recruit and retain the best faculty has been enhanced by the establishment of 161 new endowed chairs, thanks in large part to $573.4 million raised for faculty support. That includes funding for 22 Penn Integrates Knowledge (PIK) professorships, a pioneering effort in interdisciplinary teaching and research in which faculty hold appointments in two separate Penn schools. (Sixteen positions for coaches, curators, and directors have also been endowed.)
• With a total of $752.7 million raised for buildings and renovations, the campaign has "beautified [Penn's campus] as never before," says Gutmann—funding major renovations and new construction projects for teaching, research, and patient care; creating 24 acres of new green space and athletic facilities at Penn Park; and achieving a striking redevelopment of the area around the Palestra and Franklin Field with Shoemaker Green and Weiss Pavilion.
• Some $2 billion was raised for programs and research—a very broad category that encompasses everything from research and development efforts and other programming throughout the University's schools and centers to student activities and support services provided by the Office of University Life.
• The total added to the University's endowment was $1.9 billion—an amount that topped the campaign's "hugely ambitious" $1.75 billion goal, and that puts Penn on a much stronger footing "in perpetuity," Gutmann adds. "A great university doesn't live only for the present. It really invests in the future. [This] means that Penn is not only strong today, but you can project Penn's strength indefinitely into the future."
• Finally, the campaign was highly effective in implementing a series of non-financial goals aimed at strengthening alumni participation and engagement. (The fact that these were explicitly included among Making History's priorities has been touted as a first for a capital campaign.)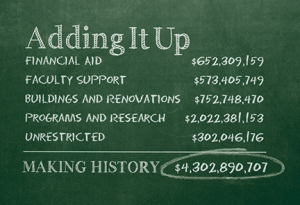 "The numbers there are staggering," says Gutmann. "Our alumni are more engaged than ever before." One indication: 117,148 of them contributed to the campaign, accounting for 62 percent of the amount raised. (The most inclusive count of donors, including parents, friends, foundations, and corporations, as well as alumni, was 326,952.)
Even without the "fabulous" $225 million unrestricted gift announced in Spring 2011 from Ruth and Raymond Perelman for the Perelman School of Medicine—the largest in Penn's history—the campaign still would have exceeded its goal with months to go, Gutmann adds. "So that's really the message and the lesson—the broad base of support makes all the difference in the success of Penn and our campaign."