Constructing a New Kahn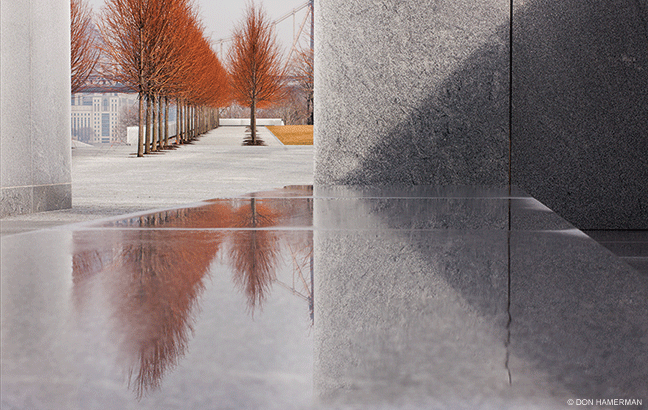 Louis Kahn had more or less completed his designs for Franklin D. Roosevelt Four Freedoms Park when he died in 1974. It finally opened last fall to glowing reviews—but it could easily have been a disaster. Or nothing.
BY SAMUEL HUGHES | Photography by Don Hamerman | PDF download
---
The October rain was slanting down by the time the car from Philadelphia crossed the bridge to Roosevelt Island. Bill Whitaker, the curator and collection manager of Penn's Kroiz Gallery and Architectural Archives, was at the wheel. Though the snarly New York traffic hadn't fazed him, he was starting to experience some palpitations now that he had reached the narrow island in the East River.
His destination was Four Freedoms Park, the near-mythical monument to Franklin Delano Roosevelt designed by Louis Kahn Ar'24 Hon'71, the legendary architect and Penn professor. The four-acre memorial was the last project Kahn designed, and the fact that its ribbon-cutting ceremony was just two weeks away was prompting numerous variations on the word miracle.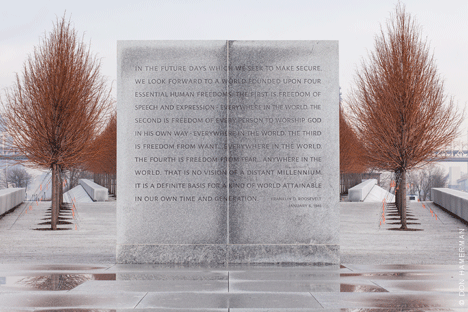 Freedoms amid the lindens.
---
Consider the circumstances: First announced in early 1973, it went through major changes in scope and materials as Kahn's vision adjusted to budgetary realities and his clients' taste. Then in March 1974, shortly before the final schematic designs were approved, Kahn suffered a fatal heart attack in a Penn Station men's room. His debt-strapped Philadelphia office was promptly shuttered, and most of his employees—including some key colleagues—were let go. Mitchell/Giurgola Architects' New York office, run by Kahn's friend Aldo Giurgola, took over the project, but the following year New York City was rocked by an epic financial crisis. Between that and a series of changing political administrations and sympathies, Four Freedoms Park was more or less dead in the East River for more than three decades, its empty site coveted by developers.
Building anything designed by a dead architect is considered a fool's errand. By the time the plans got jump-started seven years ago, the world—and certain codes relevant to architecture—had changed. Kahn was famous for last-minute alterations, and he might well have made some more had he lived. Yet any interpretations of his vision by others were bound to stir powerful passions.
Over the past few years, Whitaker had become deeply involved in the project. Trained as an architect himself, and intimately familiar with Kahn's work (the Kahn Collection forms the keystone of the Architectural Archives and represents the most significant repository of Kahn materials in the world), Whitaker had painstakingly recreated the evolution of Four Freedoms Park. His scholarly detective work—call it forensic architecture—would prove invaluable.
Now, on this rainy October morning, Whitaker suddenly had a sobering realization—that despite having given hundreds of tours of Kahn's buildings over the years, this was the first time he had ever visited one that was brand new. And in just a few hours he would be leading a tour of the memorial for a large contingent of Penn Design alumni and friends—not exactly a lightweight crowd, since many had known Kahn personally, some had studied under him, and all revered him and his work.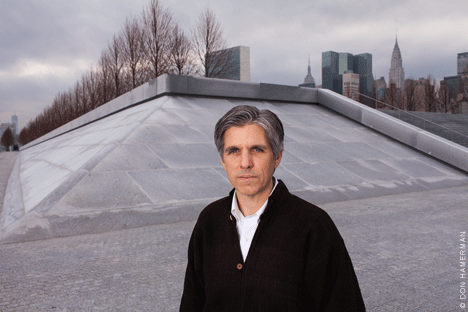 Bill Whitaker: "If you don't use the Kahn Collection for a project like this, why have it in the first place?"
---
The two passengers in Whitaker's car had even deeper connections. One was Harriet Pattison GLA'67, the landscape architect and romantic companion of Kahn who had worked closely with him on the landscape side of the memorial for the last 13 months of his life, only to be let go a few days after his death. The other was their son, Nathaniel Kahn, whose brilliant, poignant film, My Architect: A Son's Journey, is widely credited with bringing his father's work to a broad audience—and with rekindling interest in the moribund FDR memorial. In recent years Whitaker had gotten to know both of them well, and the more he learned the more he came to appreciate the vital but unknown role Pattison had played in the memorial's design. She had also given the archives more than 100 drawings and other materials pertaining to the project.
As they walked past the decrepit 1850s smallpox hospital known as the Renwick Ruin and approached the row of copper beeches standing sentinel at the park's entrance, Whitaker could sense Pattison's anxiety. She had been cut off from the project for nearly 40 years, and the one time she had been asked to attend a meeting with the key players two decades ago, her frustrations had spilled out. She was not asked back, and her isolation from the project only grew. By now she was dreading what she might find.
"I think anyone who's been involved in architecture, when you go and visit a building under construction, when it's being finished—and you were a part of it—you get incredibly excited," says Whitaker, whose thick head of brown-gray hair and steady gaze somehow combine to suggest a boyish unflappability. "Because you see all the wonder—and all the flaws."