You Can't Do That On Television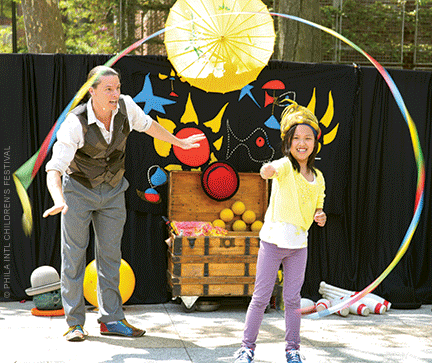 It was a moment the first and second graders from Saint Francis Xavier school had been dying for. Crowded around a microphone in their tartan skirts and navy cardigans, they held their breath while a familiar piano phrase ricocheted around the Annenberg Center Plaza … and then belted out the undisputed pre-teen anthem of 2014:
"Let it go! Let it go! Can't hold me back anymore!"
As any parent of a certain age will tell you, it takes a lot more than a warm May day to break Frozen's Disney-tight grip on the nation's seven-year-old sopranos.
Yet the Annenberg Center's Philadelphia International Children's Festival, which marked its 30th anniversary this spring, came pretty close. With a mix of performances ranging from a one-man silent comedy about homelessness, to a "hip h'opera," to what might be called existential shadow puppetry, the annual event aimed squarely for its pint-sized audiences' sophisticated side.
That's been the mission from the beginning. "In our country, there's cultural bias against material that deals with contemporary themes for children," festival founder Catherine Marshall CW'45 told The Philadelphia Inquirer in 1987. "We usually give children fairy tales or folk tales."
Marshall wanted to give young Philadelphians live theatrical performances of a caliber she felt American parents generally weren't demanding. "Our philosophy in the festival is that maybe children should be seeing the quality theater even more than the adults," she said.
This year's edition featured six productions, in 30 performances spread over five days, and a "Fun Zone" where kids could make crafts, get their faces painted, take in additional musical performances—and occasionally break out into Frozen songs. Some 5,200 children, plus 2,500 adults, attended, including 61 groups from local public, parochial, and private schools.
"We hew to our goal of bringing things that are a little bit more challenging, and have a definite educational purpose to them," said Edward Epstein, the Annenberg Center's associate director of education and special initiatives. Pennsylvania-based Cashore Marionettes set puppetry to classical music. London's Tall Stories company adapted Julia Donaldson's The Snail and the Whale for the stage. Opera Philadelphia teamed up with the Art Sanctuary to fuse opera, hip-hop, and spoken-word poetry. In the wordless "Snowflake," Gale LaJoye turned life in a vacant lot into a poignant exploration of simple objects. And Hans Christian Andersen and Aesop came to life in the "electroluminescent puppetry" of New Orleans-based Lightwire Theatre.
Epstein cited Australia-based Patch Theatre Company's "Me And My Shadow" as an example of programming that aims high even for the festival's smallest attendees.
"With its use of shadow puppetry, and lighting effects, it's really a groundbreaking piece on many levels. It kind of gets kids thinking about: what is a shadow? What does it mean for something to be equal and opposite? It's a piece about relationships, and friendship—but not in the usual sappy kind of way."
A non-random sample of the audience suggested that "Me and My Shadow" worked as slapstick, too. Your correspondent's tight-lipped six-year-old declared the show "too funny," while his three-year-old brother professed giddy delight that "the people ate red and blue lights that weren't food!" and "at the end they tore down that sheet between them!"
Both reviewers are already eager for next year. —T.P.