'A Couple of Ghosts Were Cheering For Us'
All of the players from Penn's 2004-05 men's basketball team that I reached out to almost had an identical response. Yes, they would love to talk about that incredible game 10 years ago when the Quakers came back from 18 points down with 7:35 left to stun Princeton at the Palestra. It was, they all said, one of their best college memories and even one of the best nights of their lives.
So in honor of the 10-year anniversary of that game (two days late but who's counting?), here's an oral history of one of the most magical wins in Palestra history, as told by Tim Begley W'05, Jan Fikiel W'05, Eric Osmundson C'06, Mark Zoller C'07 and Steve Danley C'07. To help set the scene, I've included some of the calls from Scott Graham, who was outstanding on the microphone that night. Enjoy!
"I might get in trouble fast, but our team will win our next 10 games in a row. I know that." – Judson Wallace, Princeton center
Coming into the 2004-05 season, Princeton was the overwhelming favorite to win its second straight Ivy League title. Led by Wallace and fellow star senior Will Venable, the Tigers were loaded and had more proven talent than the Quakers, who were coming off a disappointing year. And even though Princeton stumbled at the start of the Ivy League season, losing three of its first four conference games, the Tigers came into the Palestra on Feb. 8 confident they would turn their season around, as seen above by the bold guarantee Wallace made before the game. For the first 30 or so minutes, Princeton backed it up by jumping out to a huge lead and stunning the home crowd.
Mark Zoller, Penn sophomore forward: Pretty much everyone had written Princeton into the [NCAA] tournament that year. Before we even started the season, it was Princeton was definitely going to win the Ivy League and we were kind of that afterthought.
Steve Danley, Penn sophomore forward: I remember it all through the lens of Judson Wallace. He actually went out before the game and said not just that they'd win the game but they'd go undefeated through the rest of the Ivy League season.
Eric Osmundson, Penn junior guard: He definitely made some comments and we took that to heart. We wanted to use that as motivation. People counted us out.
Zoller: Leading up to that game, we thought we could play with anybody in the league – and, for that matter, the nation.
Tim Begley, Penn senior guard: I feel like I was having a real good game but I just felt like guys weren't up for it. I don't know what it was. Maybe they were nervous. Princeton played a different brand of basketball, so it's always kind of an awkward game.
Danley: There wasn't a whole lot we could do in the first half. They made everything.
Zoller: I was probably one of the major contributors to why we were down 18 points. I wasn't playing that well.
Osmundson: We just couldn't do anything right. But we knew we were on our home court and there was still time left to turn things around.
Jan Fikiel, Penn senior forward: We did not give up because there was still enough time left.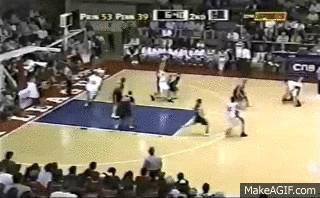 "Oh, my! That's a chance at a four-point play! Look out, we might still have a ballgame!"
One of the big turning points in the game came with 6:38 left when Osmundson buried a three-pointer right in front of the Penn bench before getting crushed by Princeton's Andre Logan. In front of a roaring crowd practically willing the home team to get back into the game, Osmundson completed the rare four-point play to trim Penn's deficit from 14 points to 10.
Osmundson: At that point, we were just trying to get points however possible. When I released it, it was like a prayer. That's not normally within our offense. That wasn't my role on the team, coming off down picks and jacking up threes. I was more of a facilitator that year. I just remember releasing the ball and just getting destroyed into our bench. And [head coach Fran Dunphy] picked me up and the crowd was gong crazy.
Danley: That was kind of a classic no-no-no-yes-yes-yes. You don't want to take a contested shot. And the he takes it and there's a giant collision right there on our bench.
Fikiel: It was a great shot by Oz but at the same time a bad play by Logan. He jumped straight into Oz. There was no way the referee would not call it a foul. The play got us fired up, and the crowd as well.
Osmundson: I thought maybe it was a technical foul. I come to find out I made the shot and I was like, 'Oh my gosh, this is insane.'
Begley: I remember clearly how loud the crowd cheered when we had the four-point play and thinking to myself, 'Why are they cheering so loud? We're down by so much.' It was one of those things where guys had been there all night dying for something to cheer about and then all of a sudden it felt like maybe we're onto something here.
"You can see a little lack of confidence right now against the pressure from the Tigers."
Although the tide started to shift following the four-point play, the Quakers still needed stops to keep Princeton's lead from growing. To do that, Dunphy employed a fullcourt press that forced turnovers and seemingly caused the Princeton players to panic.
Danley: The turning point to me was when we started going with the fullcourt pressure.
Osmundson: They weren't expecting that.
Zoller: We weren't playing our game but then we went into that 1-2-2 trap where Steve Danley was at the top of the press and running around like a madman. I just remember steal after steal.
Begley: I was never much for a full-court press but it was working against those guys. We just picked the pace of play up and everything changed within minutes.
Danley: They're doing things and grimacing because they're trying to follow instructions but it wasn't a very natural way to play the way [Princeton head coach] Joe Scott was asking them to play.
Osmundson: I think everybody on their team, including the coach, started to panic. They didn't know what to do. It was like a hot potato whenever they had the ball. No one wanted the touch the ball. As soon as they had it, they wanted to get rid of it.
Begley: They had good players making really awkward plays. They didn't want to attack. It felt like they just wanted the game to end.
"Have we seen this before? We have seen it before – except this time the place is going berzerk. I don't know how much louder this building can get!"
After one bad Princeton throwaway with about four-and-a-half minutes left, Osmundson came down the court and set up Fikiel for a huge corner three that sliced Princeton's lead to six. At that point, the crowd went nuts again and the announcers harkened back to the Penn-Princeton game six years ago when the Quakers were on the other side of an incredible comeback, blowing a 27-point second half lead in a night remembered at Penn simply as "Black Tuesday."
Begley: It was probably the loudest I'd heard it. You had everything – an unbelievable comeback, a rivalry game, a full house. It was perfect.
Zoller: You couldn't even hear yourself think.
Danley: I had never been in a gym that was louder than during that game. We couldn't think anything. I just remember you kind of became one with the noise and you were flying around and that was it.
Fikiel: I don't remember the Palestra being any louder as it was on that night. The closer the score was getting, the louder people were getting. It definitely helped us leave everything out on the court and I am sure it intimidated Princeton a little bit.
Osmundson: By far the loudest. I don't think we would have won that game if it wasn't for our fans getting behind us and rattling Princeton.
Danley: My dad came up to the game. He said at one point in overtime he almost blacked out. He said it was so hot and everyone was standing so much, it was almost as exhausting to watch as to play. That's his version. Everyone has their own version of the story.
"And the shot tickles the rim and falls! Three-point game!"
With Penn already on a 15-2 run, Logan traveled right in front of the Princeton bench and then Penn got the ball inside to Danley, who was exhausted from running around in the press so much. But the Quakers big man still managed to score inside to cut the deficit to three – but only after nearly losing the ball and seeing his shot dance around the rim a few times.
Zoller: Typical Steve. Dancing around and making awkward moves. Slow and slow, I guess you would say.
Danley: I didn't look pretty in the post very often. That sort of wasn't my thing.
Osmundson: That shot was hilarious. That's just Danley to a tee right there. He just grinded out that play. He was tripping over himself. He was tripping over other players. But with his grit and determination, he was going to make that shot.
Danley: Afterwards [Begley] came up to me and said, 'Why are we trying to give you the ball? You're the tiredest man in America.'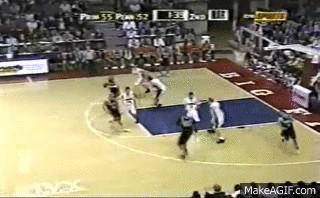 "And look at that! Begley picked the pocket!"
In what was perhaps the most poetic play of the game, Penn's senior leader (Begley) practically ripped the ball out of the hands of Princeton's senior leader (Wallace) and then flew across the court in the other direction. Begley then scored an uncontested layup to bring Penn within one with 1:30 left.
Zoller: The one play I remember so vividly was Judson Wallace had the ball at the top of the key and Tim Begley whacking the ball out of Judson's hands as hard as he could.
Osmundson: I think that was the turning point. Without that steal, they could have easily scored.
Begley: I knew the Princeton offense better than the Princeton guys. I kind of always felt that way. I ran the same sets in high school. That's one of those plays you watch for four years and you wanted to take a chance and steal that ball. But the time was never right. I think it was right at that point.
Danley: That was something we had in our pocket. We planned it. We practiced it. We knew it was good for one a game.
Fikiel: At first I thought 'What is he doing? He is leaving his man wide open.' But Wallace never saw him coming.
Osmundson: For Begley to have such awareness and court presence to know the guy's back was turned and to steal the ball from him, it was huge. That got the crowd even more into it and made it more realistic that, 'Hey, we can win this game.'
"Oh, they called it on Wallace! They called it on Wallace!"
Things didn't get any better for Wallace, who posted up Danley on Princeton's next trip down the floor and was called for a questionable offensive foul by referee Joe DeMayo. Wallace, who fouled out on the play, looked absolutely shocked as he walked to the bench, his night finished. His coach, meanwhile, simply looked lost.
Begley: I think for anyone involved with the Penn basketball family during my four years, nobody liked Judson very much.
Zoller: He was an arrogant guy. To be honest, I didn't really like anyone on that team.
Danley: I didn't like Judson but I didn't like any of their bigs. And I don't think any of them liked me either.
Begley: It was a great call for us. I'm sure they thought it was a crazy call. It was one of those things where things were just going our way. Who knows? Maybe the refs got caught up in the emotion of it all.
Zoller: Oh yeah, the hook! That was a great call, I think.
Danley: Well, that's my big secret. I just pushed him out of bounds. I thought that was a terrible call. I was walking to the bench because that was my fifth foul. I was absolutely shocked with that call. I chalk that one up to the crowd.
Osmundson: It's one of those things where he should have been called for a hook earlier in the game. It all kind of evens out throughout the game.
Danley: There's no better feeling than seeing Judson Wallace looking at the ref and asking for a call.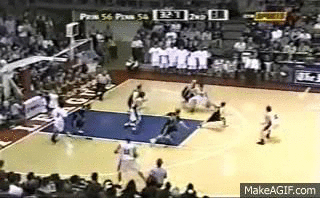 "Osmundson quickly on the run … blocked away but he's fouled."
After battling back for so long, the Quakers finally tied the game when Osmundson drove the lane and was fouled (in what was another questionable call) and drained two free throws with 31.1 seconds left.
Osmundson: Some would say it almost looked like I traveled. You know, it's debatable. But there was no stopping me. I was just playing in the moment. I kind of just got a full head of steam and I was getting to the basket one way or another.
Danley: I thought Oz traveled and then he had a charge. I thought there were two calls that could have gone against us on that final play. But I'll take 'em. That's why the crowd gets loud and the Palestra wins games for you.
Zoller: Those are kind of like the afterthought. But those were clutch free throws. The Palestra's going wild and you have to calm down and make two foul shots?
Osmundson: I bet you Dunph was probably thinking, 'Oh man, Oz is going to the free throw line.' I was a horrific foul shooter. For some reason, I just couldn't shoot free throws. It was like a mental block. I don't know what it was but I knew in my mind I was going to make those free throws and I wasn't going to let down my team.
Begley: Oz made the first free throw and I walked right up to Ibby [Jaaber]. I remember clear as day walking up to Ibby and saying, 'Yo, you know Oz is going to miss this shit, so go get the damn rebound and get us the ball back.'
Osmundson: It was almost like an out-of-body experience when I was making those free throws.
Begley: I'm sure Oz has the game on at repeat at his house.
Osmundson: I would definitely say it's one of the highlights of my career at Penn. I still bring it up in conversation.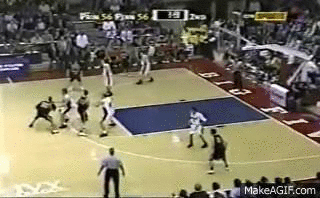 "Logan, with one second to go – stripped! And we're going to overtime!"
After Osmundson's two free throws, the Quakers still needed to make one more defensive stop to get to overtime – which they did when Danley stripped Logan. At that point, with five extra minutes on the clock and Wallace out of the game, Penn had all the momentum in the world. But the Quakers were also mentally and physically drained.
Zoller: Danley was exhausted. I've played with him for four years and I've never seen him that tired. He was running around like a madman at the top of the zone.
Danley: I can't tell you a single word that was said almost at any point in the game. It was so loud you were just trying to catch your breath.
Fikiel: Obviously you are exhausted in this situation but we didn't notice it. We had the adrenaline pumping and we knew that we were going to win. There was no way that we would lose after coming back from 18 down.
Zoller: Going into overtime, in that huddle, there was no way we were losing that game.
Osmundson: I knew in my mind – and I'm sure the other guys did too – that we were going to win that game. I mean, you can't come from that far behind and not pull it out.
Danley: At that point, they were missing free throws, they were looking at the refs for every call. There was no doubt we were winning that game if we got to overtime.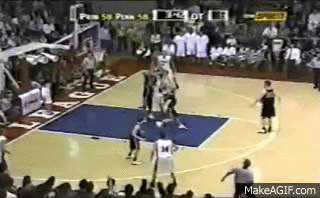 "And Fikiel has given them a big lift off the bench!"
The Quakers indeed rose to the occasion in the extra session with Fikiel – who was playing big minutes off the bench in place of Zoller – hitting another huge corner three to put Penn up three with 3:40 left.
Danley: Jan was a great, great shooter. Sometimes the challenge with him was getting him to be aggressive and take his shots. But he got on a roll and we trusted him.
Zoller: You could tell he was not missing. He was kind of in the zone, if you will.
Begley: Jan was a great mid-range shooter when we got to school and kind of worked on stepping back a little further and further. By the time we were seniors, Coach had given him the green light to chuck 'em up from pretty much anywhere.
Fikiel: Usually, I am a quiet and calm guy. But those shots felt so good that I couldn't help it. When the ball went in and I heard the Palestra explode around me, that was an awesome moment and a great feeling. I had to let my emotions out.
Zoller: He was pumping his arms. Once he made that, it was like, 'There's no shot that they're winning this game.'
Osmundson: It was crazy to see the different player step up in that game. For Jan to hit a three in that type of situation was huge.
Begley: It was our senior year! We were playing Princeton! Jan was as excited as anybody. I'm sure when got to Philly from Germany his freshman year he didn't give a damn about playing Princeton. But after four years of chasing those guys around and making sure they don't cut backdoor on you, you want to beat the hell out of them.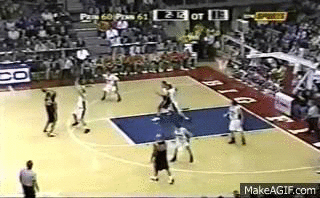 "Jaaber! Extends the Penn lead to three!"
Ibby Jaaber, who at that point was starting to turn into a star, also had a huge overtime, scoring Penn's first bucket, getting the assist on Fikiel's three, and then picking off a Princeton pass and coasting to the other end to put Penn back up three with two minutes left in OT.
Danley: We weren't allowed in that game to overplay anything to avoid the backdoor cut. You see Ibby out there in the passing line and you think it's a layup for them. But of course rules only apply to good players – not to great players. So Ibby gets in the passing lane and it's a basket for us. That's what made him special.
Osmundson: I think he took one dribble and got from end of the court to the other because he's such a freak of nature.
Begley: That was one of those games where you got to see Ibby become what he ended being at Penn. I remember being absolutely exhausted in overtime and Ibby getting a couple of steals. It was watching those guys grow up a little bit.
Zoller: There was no one better in the Ivy League – and I want to say the country – than Ibby at stealing the ball.
Osmundson: Ibby was one of the best players that ever played in the Ivy League. It was only natural for him to come up with a huge play.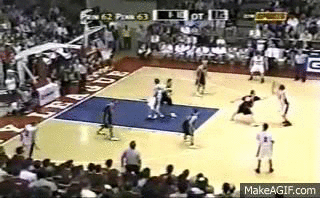 "No, he didn't call it! No, he doesn't care!"
It was a memorable cap to the night when, with Penn clinging to a one-point lead and just over one minute left, Begley shot a contested three-pointer that went in off the backboard. That shot pretty much sealed the win for the Quakers and led to perhaps the best Scott Graham call of the night.
Begley: It was my senior year. I knew I wasn't passing the ball. I didn't want to pass it. I was definitely gonna shoot it.
Zoller: Tim Begley was the leader of our team. That's one of the wins he'll be remembered for at Penn.
Osmundson: He was a consummate leader throughout the entire year. A lot of times he carried us.
Zoller: I think he almost did a split after he made that shot. I feel like after each made shot, his legs spread wider and wider on his landing.
Begley: I went to shoot it on the kid and he slapped my wrist. I knew I got fouled. I was just chucking it up and that damn thing went in. It was amazing.
Danley: I look like a total jackass. I'm slamming the ball on the ground afterwards. At that point, it's just pure adrenaline. I have no idea where that came from. Thank god I didn't get a technical because Dunph would have probably made my run into this decade.
Osmundson: I was trying to get a little face time and do a little chest bump for the fans.
Fikiel: I don't think he meant to hit it off the backboard but it didn't matter. That's how things can change in basketball. In the first half, we didn't make any shots and in the second half one we even made off the backboard.
Osmundson: It kind of just went along with the entire game of things just started falling our way. How often do you see a three-point shot bank in with a hand in your face three feet behind the three-point line?
Begley: I remember being out partying with my friends that night and every SportsCenter had that shot on replay. I've seen that bank shot so many times, it's unbelievable.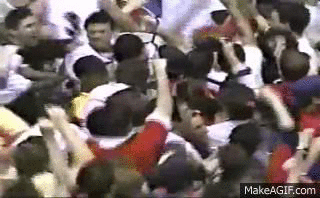 "What an incredible comeback tonight at the Palestra!"
Princeton didn't score again after Begley's three, and Penn earned the 70-62 win as students rushed the court to celebrate.
Osmundson: That was one of the coolest things I've seen while I played basketball.
Danley: At the end of the game, Begs comes over and jumps on my back and my knees buckle. And the two of us almost fell to the floor right as everyone's storming the court.
Osmundson: I think there was one player that got involved in the court storming. [Reserve forward Ryan] Pettinella was definitely hamming it up a little.
Zoller: Pettinella was almost carried off the court, jumping over everybody with his headband on.
Begley: There's a photo of Ryan Pettinela on top of the crowd. It's the coolest photo of a guy I ever played with. It's basically him looking like a giant among thousands of people. I'm jealous there's not a photo of myself.
Danley: Pett was just fist pumping the whole way. I was trying to get over to shake everybody's hands – mostly because I was worried if we didn't, then we'd hear about it at practice the next day. My biggest regret from the game is I wasn't in the middle of it all. I kind of watched the whole thing from over by the bench.
Begley: I remember we got in the locker room after the game and [reserve guard] Friedrich Ebede punched a hole in the ceiling. And Freidrich was always getting into trouble with Coach at the time. But I remember Dunph just laughing at him because it was exciting to see how excited Friedrich was.
Zoller: Friedrich was crazy.
Osmundson: That guy was a ball of energy.
Danley: A lot of the guys went out after the game. Oz and I just went to the Triangle Diner.
Osmundson: We just went out and ate some food and just reflected on the game. You're definitely exhausted. It was such an energy suck. We weren't used to pressing for six minutes straight like we did at the end of that game.
Danley: I like to tell this story. This is the biggest win of my life to this point and someone at the diner came up to us and said, "Are you Steve Danley?' And I'm like 'Yeah.' And they go, 'I really love your poetry.' That's when I realized I wasn't at Duke or Villanova.
Begley: I had tears in my eyes when I walked off the court. And I remember thinking that it was the first time in my life I actually had tears of joy. I never knew that was an actual thing.
"If you've been around long enough, these things will happen. And it happened against us a few years back. Tonight everything went our way." – Fran Dunphy
Penn's win over Princeton ten years ago was momentous for many reasons. Not only did it serve as a measure of revenge for what Princeton did at the Palestra in 1999, it also set the stage for the Quakers to cruise to the 2005 Ivy League championship in Begley's final season, before riding Jaaber, Zoller and Danley to two more titles in 2006 and 2007. And while Penn, sadly, hasn't won the league since then, it's still fun (and maybe a little sad too) for fans — and of course these former players – to look back at that game as one of the apexes of Penn's storied basketball tradition.
Begley: We felt like we owed them one. You never wanted Princeton to have anything up on you in any way. It was nice to be like, 'All right, that's one for the old guys.'
Danley: The Palestra has so much history and we knew all that lore. We didn't put it together in the moment. But you just want to be a part of that history in the sense there's a little revenge. At that point, everything was about Penn-Princeton.
Zoller: I remember going to the locker room and everyone was like, 'We got that one back.' [Then-assistant coach Matt] Langel was on that 1999 team and he shows no emotion at all but he was pretty happy about that.
Danley: We did not lose a league game at the Palestra after that in my career. We knew there were a couple of ghosts that were cheering for us.
Zoller: We were a young team. And I think this game kind of built a lot of confidence for us. These were guys we were supposedly not supposed to beat.
Begley: We had all the right pieces. I think that was one of the games where it all finally came together.
Osmundson: Dunphy would tell us that this is as good as it gets. He'd say, 'You may go on to play professional basketball, but the time you're at Penn being part of this team, it will never get better.' And I think of that moment and I think of that statement, and I smile because it's so true.
Fikiel: It's arguably my fondest college memory.
Osmundson: I went on to play a little bit after college as a few other guys did. But there was never a moment that could have matched what happened on that court that night.
– Dave Zeitlin C'03