Football In His Blood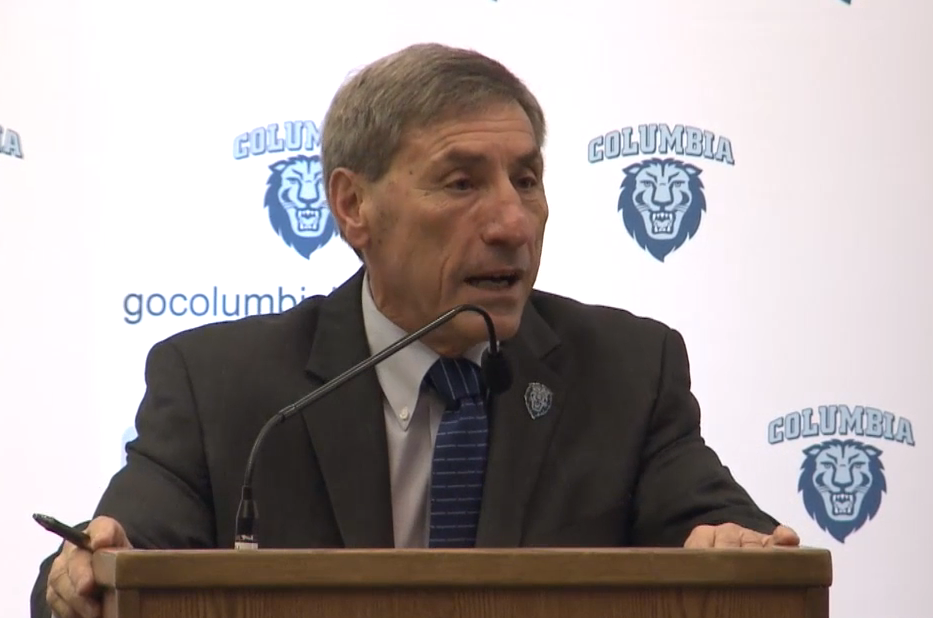 Al Bagnoli was restless. He missed football. And he loves a good challenge.
If you're looking for answers as to why Bagnoli made the shocking decision this week to take over Columbia's downtrodden football program three months after retiring as Penn's coach, that pretty much sums it up right there.
Even still, it's a lot to swallow. And there are still other questions some Penn people might ask, saying nothing of the fact that the head coaching job at Columbia has traditionally been one of the toughest football jobs in the country. For instance:
Why did Bagnoli announce his retirement before the 2014 season and go through the entire year on something of a retirement tour, only to return to Ivy League football at another school the very next season? Did he feel like he was under a time crunch with a new athletic director coming in to pass the torch to longtime defensive coordinator Ray Priore, who took over as Penn's head coach in November? How will Priore and the current Penn players now handle facing their former coach after their emotional sendoff to him? Why did Bagnoli ask for a job in Penn administration and then ditch that after just three months?
Bagnoli explained some of his reasoning behind the move in a press conference at Columbia on Tuesday. Below I've included some select quotes, specifically focusing on what he had to say about Penn.
On the reaction from Penn alumni when they heard he'd be coming out of retirement to go to Columbia:
"I was a little bit nervous, to be honest with you, how I was going to be received on the Penn side of things. But the people there, the players, alums, have been nothing but positive to me and have wished me nothing but the very best."
On the comparisons of Columbia and Penn both being in urban locations:
"I think you have to sell the city. That's been a great asset for us at Penn, and it should be a great asset here. We're dealing with a city obviously everyone recognizes. It will be our job to make that a real big selling point. I think we can have some carryover to what we did at Penn."
On the desk job he took on in the Penn athletic department following his departure from the football program. (To his credit, Bagnoli had always said that he wanted to maintain some type of career. And in an interview with the Gazette after the season, he noted he was "excited to see what else is out there on the professional side.")
"When I retired, I was given some administrative duties. They weren't as challenging as I had hoped. And it's really nobody's fault. I really didn't have any idea what administration was, to be honest with you. I had never been in the administrative world and three months into it, I was like, 'All right, I can tell this is probably isn't going to be suited for me.' … I'm just much more comfortable working with student-athletes. I'm much more comfortable in this environment. It's as simple as that. And I'm well rested. It was like being on sabbatical."
"I had the title of Director of Special Projects. I'm not exactly sure what all that means but that was my title. I guess it was kind of a catch-all for everything they wanted me to do. I've done everything from writing recruiting protocols to financial aid explanations to equipment inventory procedures to a little bit of football scheduling. It was everything."
On the reaction of Priore and the rest of the Penn football coaches and players:
"I've seen staff. I've been in the building. I was there trying to take care of some HR stuff. I still remain great friends with Ray. I'm an admirer of Ray. I was one of the people, along with Steve Bilsky, who pushed for him to be the head coach. I've got the greatest respect for him. We still have friendship. I'm happy for them. It's a great place to work. And I'm happy for myself that I'm taking on a new challenge."
You can note in that last quote that Bagnoli doesn't specifically say how Priore responded to the news that his mentor is now his rival. And who knows how Penn's new athletic director, Dr. M. Grace Calhoun, feels about essentially creating this fleeting position after inheriting Penn's succession plan of Bagnoli passing the torch to Priore in the first place?
In many ways, the move makes sense for Bagnoli, who quickly realized he wasn't suited for a desk job and was likely wowed by an offer from a new athletic director at Columbia trying to make his own mark. The interesting thing now is how the school that employed him for 23 years handles a Penn legend now working in a very public way at another Ivy League institution.
Here's one thing we do know for certain: the Penn-Columbia football game this fall will be interesting.
"Thank god it's at Columbia," Bagnoli told a reporter after the press conference. "I would feel really strange the first time going there and standing on the other side of the field. That would be somewhat surreal. But it will be fun. I have nothing but the highest regard for Penn and Coach Priore and the staff we put together. I've got nothing but fond memories."
– Dave Zeitlin C'03