Walk This Way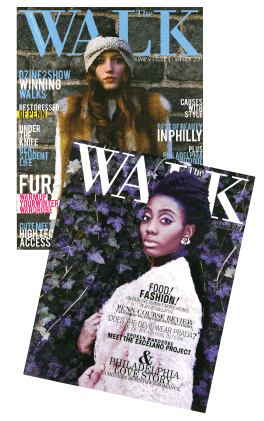 "Clothes make the man. Naked people have little or no influence in society." 

Like any magazine editor worth her salt—and in need of a wry quotation—Jocelyn Teece knows there's one well that never runs dry. But it's one thing to trot out Mark Twain, and quite another to put out a student-run publication that does justice to his wit. Especially when the publication in question is (steel yourselves, Ivy purists) a fashion rag.

In her valedictory issue as editor-in-chief of The Walk, Teece and several dozen undergraduate collaborators pulled it off with style to spare, bagging the top prize (and a couple of lesser ones) at the 2011 Penn Publications Cooperative awards. 

If you're wondering how high-minded publications like Synapse and Penn Political Review got bested by a magazine whose masthead lists a beauty director and a senior shopping editor, look no further than its richly layered graphic design and the edgy—and often funny—photo spreads that suck you in. 

"Most Penn student publications are editorial-focused," Teece says matter-of-factly. "We try to focus on design and artistic creativity. I think there's a niche on campus where there are these students interested in arts and fashion, and this is a place for them to express themselves in a magazine that looks quite professional."

That it is. But one thing that impressed the PubCo judges (two of whom spend their days at the Gazette) was the way The Walk struts its intellectual style. As contributing writer Jim Santel put it in the Winter 2012 issue, "I like clothing, and try to dress in a way that suggests I give a damn, but I spend far more time thinking about Jonathan Franzen than I do shawl-collar sweaters." So alongside fashion shoots of Penn's class presidents done up like Mad Men, or student models rocking cabbage-leaf shoulder pads and chili-pepper necklaces, The Walk has also featured poetry by members of Penn's Excelano spoken-word group, an anonymous first-person account of breast-reduction surgery, and—on its website, thewalkmagazine.com—a recap of January's Wharton Retail Conference. 

Asked what makes a fashion magazine click on a campus where double-majoring is the new black, Teece points to the hard-driving academic atmosphere itself.  

"The magazine is an outlet for creative interests of all sorts—writing, photography, style, and design," she notes. "Often, I think students are so focused on their coursework or a pre-professional career path that they don't have time to pursue these interests in a purely academic setting. The Walk lets them explore them in a free-flowing and fun atmosphere with no cap on their creative aspirations."

"Penn is also an urban campus," she adds. "I rarely see students walking to class in sweatpants, a fact that my friends at other schools find astonishing. Penn students, for whatever reason, tend to dress for class."   

The advertising-supported magazine, which debuted in 2006 under the leadership of Lea Artis C'08 and now counts Macy's as a corporate sponsor, also aims to be a professional springboard for the students who produce it. 

"By learning the skills involved with marketing and advertising, and working with professional apparel companies, students interested in going into retail or fashion gain a valuable skill set," notes Teece, adding that she interned at Ralph Lauren the summer before her senior year. "It's a field that's often overlooked and dismissed. I don't know that I'll go into fashion, but it's definitely a passion of mine."

For now, she's just happy that the staff "who work so hard" to put out each issue will enjoy a bit more credit around campus. But perhaps not too much. "We distribute all over campus," she says, "but also downtown, since we have relationships with boutiques. And there, often people don't know it's a student publication."

Which is about the best praise a student publication can possibly get.
—T.P.

---
The Penn Publications Cooperative is a consortium of 20 student-run publications, many of which have Web sites. Find links to the PennBioethics Journal, Penn Appetit, International Business Review, and more at www.dolphin.upenn.edu/pubco.