Waiting Game
With Ivy League sports on hold, two new head coaches are trying to navigate an unusual situation.
---
Instead of leading practices or workouts, Meredith Schamun started a book club with her team. Casey Brown had her players come to a Zoom meeting with an item or souvenir that explained why they play the game.
What do you do when you're hired to coach a team right as your new campus is being shut down by a global pandemic? How do you keep your players engaged when your first season as head coach is put on hold, as the Ivy League announced in July with the cancellation of all intercollegiate competition for the entire fall semester?
For Schamun and Brown—the new head coaches of the Penn women's volleyball and women's soccer team, respectively—it's all about resilience and resourcefulness.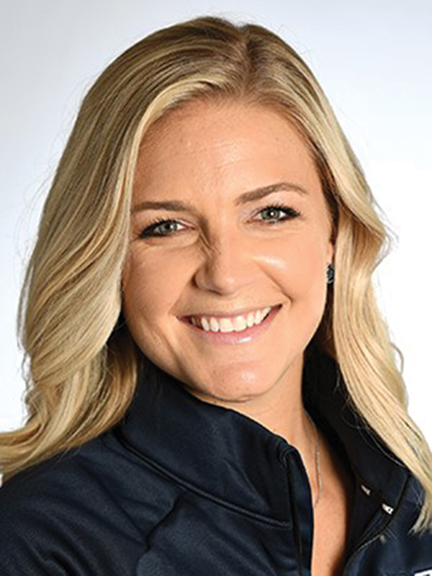 "We've laughed," Schamun says. "And we've had more serious conversations about what we're trying to do to get past some of the weirdness of not being able to be with our teams. We'll swap stories and ideas—and give each other a little support along the way."
One of the only times Schuman has ever been on Penn's campus was on March 11, for her final round of job interviews. While there, the Ivy League announced that the remainder of the spring sports season would be cancelled ["Dashed Dreams," May|Jun 2020], adding a foreboding aura to what should have been an exciting time. "It was a little bit of a hectic day," says Schamun, who was officially hired to run the volleyball program on March 20. Three days later, Brown was named the head women's soccer coach, as both coaches snuck in under the wire before a University-wide hiring freeze.
Schamun grew up in southern California, played volleyball at Rice University, and coached at Tulane and the University of Central Florida, before "taking a leap of faith" to head north to Villanova, where she served as an assistant coach the previous two years. Transitioning from a nearby Philly-area college (and not having to move off the Main Line) made things slightly easier to manage for Schamun than Brown, who recently left New England (where she's lived almost her entire life) for a new place in Cherry Hill, New Jersey. "I don't recommend moving during a pandemic," says Brown, who finds herself missing little things that new staff members may have once taken for granted. "You know what I can't wait to do?" she says. "Just take a proper tour [of campus], where you actually learn the ins and outs, just like a student would."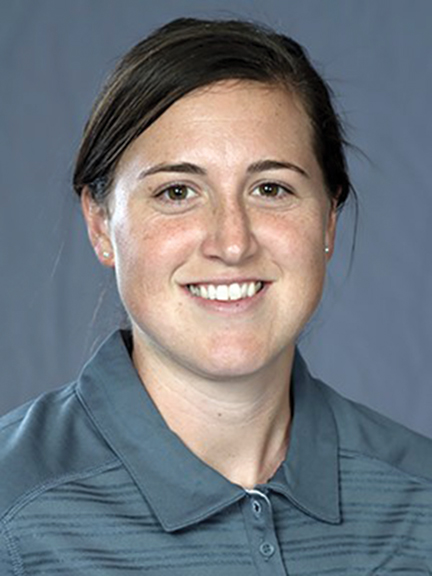 Like Schamun, Brown was a collegiate star only about a decade ago, graduating Boston University as an All-American and getting drafted by the Boston Breakers of the old Women's Professional Soccer (WPS) league in 2010. She quickly left playing to get into coaching, working her way from LIU Brooklyn back to her alma mater and then to Holy Cross, where she served as head coach for the last four seasons and was the 2019 Patriot League Coach of the Year.
Brown replaced Nicole Van Dyke, who left for the University of Washington in January after five seasons at the Quakers' helm, highlighted by an Ivy League co-championship in 2018.
"I'm excited to not just continue what's been good," Brown says. "I'm a competitor. I'm hungry to win. I want to compete for Ivy League championships, I want to be in the NCAA tournament, and I want to push the threshold of what we can be nationally."
Schamun might have a tougher road ahead of her. She'll be the fourth coach in five years for a volleyball program that's been beset by upheaval, with players filing formal grievances against former coach Iain Braddak two years ago and the 2019 season getting cut short due to the discovery of offensive posters in the team locker room.
Schamun notes the "best part" so far has been how receptive the players have been to "good, positive change"—even though she only got to meet two of them in person during her first few months on the job. "I'm excited to come in and provide some continuity and stability," she says. "I became a coach because I had great coaches in college that made me feel very loved and supported."
Like other fall-sport coaches, Brown and Schamun will try to treat this semester as an offseason—with a lot more Zoom meetings. The hope, then, is that their seasons will be moved to the spring—though that all depends on how the pandemic looks in the coming months. (From the Ivy League's July announcement: "A decision on the remaining winter and spring sports competition calendar, and on whether fall sport competition would be feasible in the spring, will be determined at a later date.")
"It's nice to have something to look forward to and prepare for," Schamun says. "The people navigating the most uncertainty are the seniors and freshmen, but we're all taking it in stride. Not every day is great. But overall, I think they feel blessed for whatever we can do and however it looks."
"Whatever it's going to look like," adds Brown of an uncertain future for her players, "we want to be prepared for it. And we want to be the best at it."
---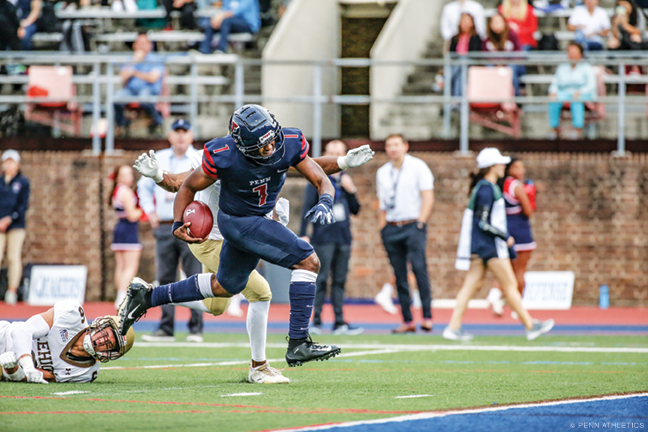 A Practice in Patience
Before arriving at Penn in the fall of 2017, Ryan Glover had an encouraging message for Penn football head coach Ray Priore. "I told Coach 'P' that I'm gonna get him some rings," says Glover, now a senior quarterback. "I haven't been able to get him any rings but I have one more opportunity. So I definitely plan on succeeding with that."
It may be out of his control.
With the Ivy League football season cancelled, Glover is hoping to get a chance to lead the Quakers to an Ivy championship in the spring. If sports are not resumed then (and the football season moved), he plans to graduate from Wharton in May and perhaps use the season of eligibility lost to COVID-19 at a different school. (The Ivy League does not allow graduate students to play intercollegiate sports, but some students may have the option to graduate later so they can play another season at Penn.)
Glover's college football career has already been an exercise in patience. A highly touted recruit out of Georgia who comes from a celebrity family (his mother is the famous fashion stylist Tameka Foster, who used to be married to the iconic musician Usher), Glover only appeared in one game as a freshman. Then, after starting all 10 games at QB as a sophomore in 2018 (during which time Usher attended—and Instagrammed—a game at Franklin Field), he mainly served as a backup last year as the Quakers finished fourth in the Ivies for the third straight campaign following back-to-back co-championships.
"It's been three upsetting seasons for me in a row," Glover says. "So for this last one, it's all or nothing."
Despite not knowing when he'll get the opportunity to be a starting senior college quarterback, Glover worked out with teammates in both Atlanta and Los Angeles over the summer. And he returned to campus to live in an off-campus apartment in late July, eager for "a little human interaction" despite the social distancing rules in place.
Glover has also been a leading voice in conversations about diversity and inclusion within the athletic department and football team. Just like Penn basketball senior Jelani Williams (see "Seizing the Moment"), Glover felt compelled to act during the protests for racial equality following the police killing of George Floyd, and has helped create a new group for Black student-athletes at Penn that he hopes will foster change—including more ways to "reach out and give back" to the local West Philly community.
"I think everyone on the team is on board and everyone wants to help," says Glover, adding that he felt "proud" and "optimistic" while attending a couple of protests in California this summer. "Now it's just time to actually take action and do it." —DZ