Dashed Dreams
When sports stopped, out went the championship goals of standout seniors like Gabby Rosenzweig and Nia Akins.
---
Nia Akins had just landed in Albuquerque, New Mexico. Penn baseball players were warming up for a game in Boca Raton, Florida. The Penn men's lacrosse team was in the middle of a practice inside Franklin Field, from which the women's lacrosse team was getting ready to board a bus.
No matter where Penn's spring-sport athletes were at the time they learned their seasons—and, in some cases, their athletic careers—had ended months earlier than expected due to the COVID-19 pandemic, they had to process the stunning news on their own terms.
"When it first happened, it was one of the hardest days, honestly, in my life," says senior women's lacrosse star Gabby Rosenzweig. "Especially because the Ivy League was first—we felt kind of blindsided."
While many students were home for Spring Break, Rosenzweig and her teammates had a "full day of lacrosse" on March 11, before the Ivy League indeed became the first athletic conference to cancel all spring sports that afternoon. There was a lifting session in the morning, followed by a two-hour practice and then a film breakdown of Duke, which the Quakers were scheduled to play on March 14.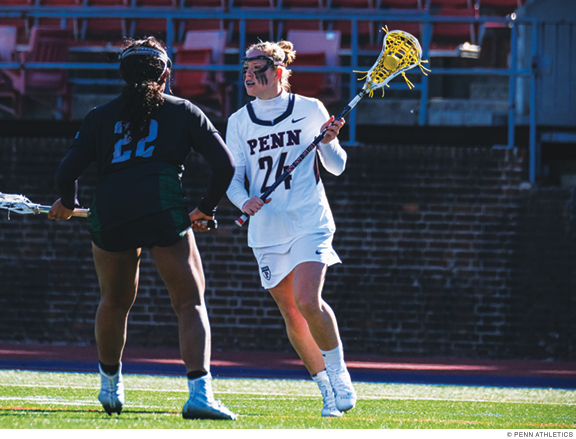 They were about to get on a bus for a team dinner at freshman Izzy Rohr's suburban Philadelphia home when head coach Karin Corbett and the other coaches called them into the Dunning Coaches' Center to break the news. "I kind of knew based on their faces," Rosenzweig says. "It's just crazy how you can go from normal and fine to that upset in an instant."
The team still went to Rohr's family home for one last dinner together, but Rosenzweig and the rest of the seniors stayed back before joining them later. They needed some extra time in the locker room "just to gather ourselves," she says. When they left, Rosenzweig noticed the men's lacrosse team still practicing, even after head coach Mike Murphy had told the players, in the middle of the practice, that the season had ended after only five games, scuttling the Quakers' chance to defend their Ivy League title. "That was probably what I would have done too in that situation," she says, smiling as she watched them play on the Franklin Field turf just a little bit longer.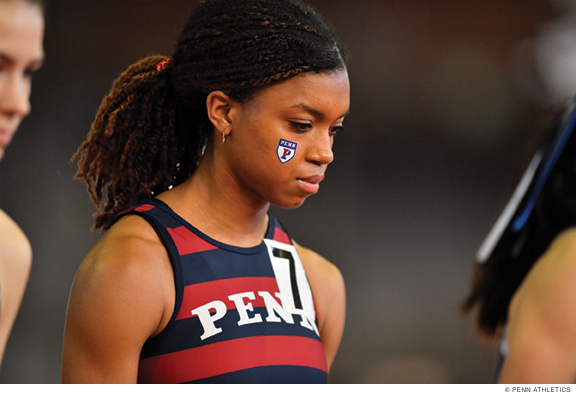 For Nia Akins, one of the greatest runners in Penn history, it was a double whammy; first she learned that the spring track season would never start, and the next day news broke that the NCAA would cancel its Indoor Track & Field Championships. Akins had just arrived in Albuquerque for that event, which had been scheduled for March 13–14, where she was favored to win the 800-meter run.
"I did feel like it could have been a special performance for me," says Akins, who had been the national runner-up in the 800 at both the indoor and outdoor championships in 2019. No one in Penn women's track history has ever been an NCAA champion—something Akins was poised to change after running the second-best indoor 800 in collegiate history (2:00.71—the fastest time in the country this year by more than two seconds) at a mid-February meet.
Yet even though she had to fly back from New Mexico before ever getting on the track, the senior has managed to keep her spirits remarkably high. "We really don't have anything to be disappointed over," she says. "This was something really out of our control."
As a nursing student, Akins understood the rationale behind the NCAA's decision and is now excited to work in healthcare and perhaps "help fight this" pandemic. She's also considering her running options and may train for the Summer Olympics—which will now be held in 2021, after being delayed for a year. "I'm honestly thinking an extra year may help me more than it will hurt me," says Akins, who had hoped to dip below the 2-minute mark in the 800 during the outdoor season (which is what the Olympic qualifying standard will be). "It's just delayed," she adds of her running goals. "It's not entirely gone."
(For anyone looking to extend their collegiate career, the NCAA will grant an extra year of eligibility to all student-athletes in spring sports whose seasons were cancelled because of the COVID-19 outbreak. But the Ivy League released a statement that its "existing eligibility policies will remain in place, including its longstanding practice that athletic opportunities are for undergraduates." That means the only ways for a Penn spring-sport athlete to gain back the season they lost would be to scale back their coursework to delay graduation by a year, or potentially transfer to a different school.)
For Akins, the cancellation of the spring season "hit hardest for me," because she relishes the time spent with teammates and she believes she could have been a part of multiple winning relay teams at the Penn Relays, which was halted for the first time in 125 years. But she's grateful the women's track team nabbed its first-ever Championship of America title at last year's Penn Relays with a dramatic win in the distance medley relay, and that the program has also become a force in the Ivy League with several overall team wins at the Heptagonal Championships.
"Looking back, I'm even more thankful for those times," Akins says. "We'll still get together in the future to celebrate the success the program has had the last couple of years. It just probably won't be any time soon."
Rosenzweig, too, has plenty of good times to remember, helping the Quakers win two Ivy League championships and continuing the program's streak of consecutive NCAA Tournament appearances (now at 13). And in the five games that were played this year, she got to enjoy some huge personal accomplishments, setting the program record for career points in a February 22 win over Johns Hopkins and scoring four goals versus Loyola in a March 7 showdown between two teams in the NCAA Top 10. That game had extra special meaning for Rosenzweig; her younger sister, Livy, plays for Loyola. It was the first time the two sisters had ever faced each other—and the last game either would play this year.
"It was a really special day," says Rosenzweig, who now spends most of her time doing puzzles or family workouts with Livy in social isolation in their home in Somers, New York.
"I feel even more blessed now knowing the season ended the way it did." —DZ