Transience Preserved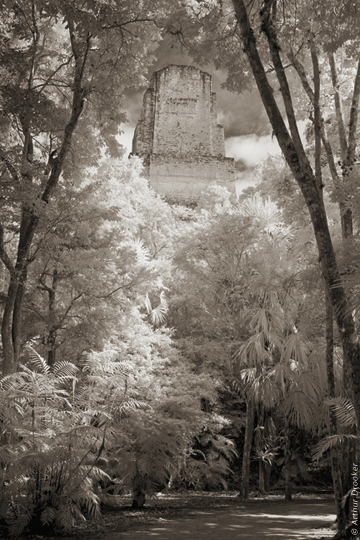 ---
LOST WORLDS: 
Ruins of the Americas
Photographs and text by Arthur Drooker C'76
Antique Collectors' Club, 2011. $49.95.
---
A few years ago we highlighted the work of Arthur Drooker C'76, a photographer who uses a special 35mm digital camera to record infrared light—normally invisible to humans—that gives his images a haunting, otherworldly appearance. Drooker had used the technique to striking effect in a collection of photographs called American Ruins, which included 25 sites of ruins within the United States ["Ghost Landscapes," Jan|Feb 2008].
Now, in Lost Worlds: Ruins of the Americas, he expands his geographic focus to sites in the Caribbean, Mexico, Central America, and South America, with equally dramatic results. Among the 33 sites he photographed in 16 countries—all preserved as historic ruins—are those pictured here: Sans Souci, in Milot, Haiti, built in 1810 as a royal residence after Haiti had won its independence from France, looted in 1820 when the government was overthrown, and further destroyed by earthquake in 1842; Tikal in northern Guatemala, a dominant Maya kingdom with 100,000 inhabitants in the eighth century CE, later abandoned (and site of a longtime Penn Museum excavation); and Machu Picchu, the famed "lost city of the Incas" in Urubamba, Peru.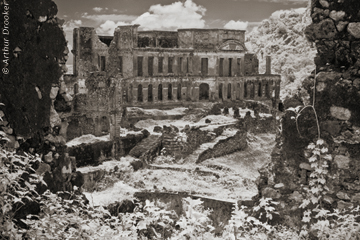 In an introductory note, Drooker cites the influence of John L. Stephens' seminal travel narrative Incidents of Travel in Central America, Chiapas, and Yucatán—rated "perhaps the most interesting book of travel ever published" by Edgar Allan Poe—and the 19th-century photographers who were inspired by the book. These include Emanuel von Friedrichstahl, who made the first known daguerrotypes (since lost) of Mayan cities in 1840; Claude-Joseph Désiré Charnay, whose photographs of ancient sites in Mexico in the 1850s established photography as a serious tool of archaeology; and Alfred Percival Maudsley, whose research on his excavations at Copán and other Mayan sites, accompanied by his photographs, was published in 1902.
But Drooker differentiates his approach from his "illustrious predecessors." Rather than documenting a site, his goal is to "capture the essence of a place," he writes. "They conducted archaeological investigations, while I pursued artistic interpretations. They proved these ruins' existence, while I emphasized their transience."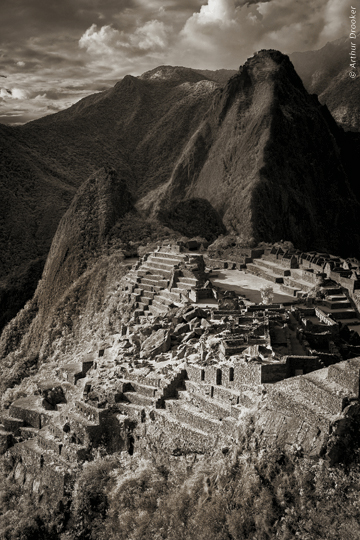 He hopes this work will continue in future generations. As civilizations "rise and fall and their architecture soars and crumbles," he calls on the photographers who will come after him to "[p]reserve them with your unique vision. Extend the tradition of ruins photography in the Americas and ensure that the future has a past."
Or, as the novelist and travel writer Pico Iyer puts it in the book's foreword: "The beauty of the lost world is that there is so much to be found there."
— J.P.