'This Is A Place I Love'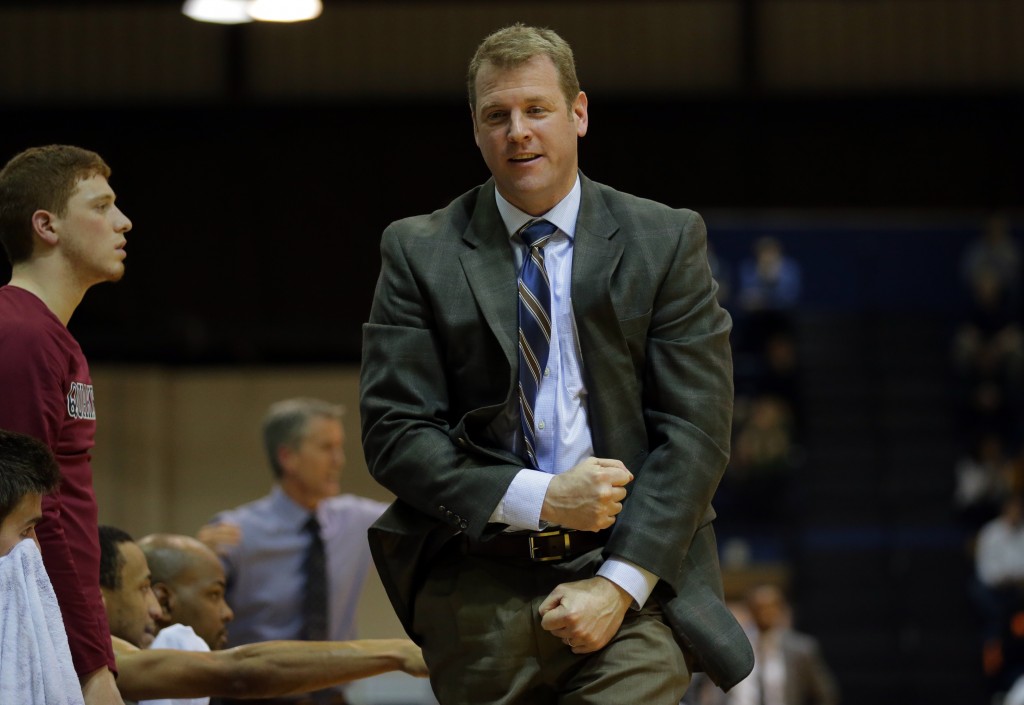 When Penn won its first Ivy League men's basketball championship in 11 years this past March, head coach Steve Donahue was effusive in his praise of the team's top two assistants, both former players: Ira Bowman W'96 and Nat Graham C'97.
And so it's been something of an impactful six months since as Donahue and the Quakers said goodbye to one and promoted another, with Bowman leaving his alma mater to join the coaching staff at Auburn and Graham this week getting named Penn's associate head coach.
"Something I think people don't realize is how important assistant coaches are," Donahue said from his office Thursday, a day before the first official practice of the 2018-19 season. "To me, they're as important of an aspect to the team as anybody, if not the most important. You're really not going to get great players if you don't have great assistants. You're not going to develop players if you don't have great assistants."
Sitting in the office next door, the affable Graham was humbled by his promotion and grateful for what Donahue has meant to his career, saying that the best part is "knowing he believes in me and trusts me."
The former Penn player began coaching in Canada before hooking up with Donahue at Cornell, following him to Boston College, and then reuniting with him at Penn. And together last season they helped the Quakers climb back to the top of the Ivy perch they held so thoroughly in the mid-1990s when Graham and his good friend Bowman were players and Donahue was an assistant under Fran Dunphy.
"He's meant a lot to me personally over the years," Donahue said of Graham. "I've been fortunate to have him as my lead assistant for many years. And in particular when I came back here, I think he's taken another step as an assistant coach. I think he's responsible for a lot of our success in recruiting, on the offensive side of the ball, and developing our culture.
"He's a head coach. He's done enough in his career, for me, to prove he's ready to be a head coach. We're fortunate to have him as an associate right now."
Becoming a head coach, of course, is the endgame for most, if not all, college assistants. And there's typically a lot of opportunity for advancement if you're willing to move, given all the coaching shakeups every offseason. (Just at Penn, Joe Mihalich Jr. was promoted to Bowman's spot on the bench while Trey Montgomery was hired to fill Mihalich's previous role as the program's volunteer assistant coach.)
But Graham, who's already made a lot of coaching stops and still has plenty of time to be a head coach, won't just jump at any opening.
"I've certainly looked at some stuff and thought about it," he said. "It's certainly something where if everything worked out perfectly I'd love to get the chance. But I also know it's going to take a good opportunity because I've got a great job. This is a place I love."
There are many things Graham loves at Penn, including the historic Palestra, the upgraded practice facilities, and the program's tradition and culture.
When he makes his recruiting pitch to high school players and their families, however, he sells a lot more than just basketball, or even academics. Oftentimes, he paints a heartfelt picture of what the University stands for, citing personal reasons for why he chose "elite but not elitist" Penn as a public-school kid from Miami 25 years ago and why he'd do it again in a heartbeat today.
"The direction the school's going jives with my beliefs," Graham said. "Some of the things Amy Gutmann has done trying to get in first-generation students or students from lower socioeconomic groups, for me, that's very meaningful. We have to sell this place. It makes it easier when you believe what the place is doing. That's been great for me."
Perhaps Graham's honest and personal approach to recruiting has helped, as the Quakers continue to raise the talent level inside the program. Heading into the 2018-19 campaign, a strong core of players led by two of Donahue's first recruits in juniors AJ Brodeur and Ryan Betley are back to help Penn stay atop the Ivies, before an exciting crop of soon-to-be-Quakers will aim to keep them there for years to come.
"I've never been part of a recruiting process where we've gotten all the guys we've targeted from early on," Graham said of next year's class. "It's been pretty remarkable. It's been great.
"This is a place that's built to attract both very talented players but also great people," he added. "I love the guys on our team."
— Dave Zeitlin C'03